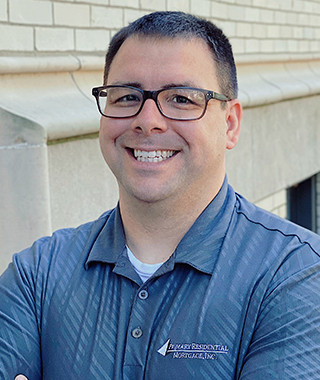 Tim Foor has been a loan officer since July 2012 and focuses primarily on Reverse Mortgages while also handling purchases and refinances.  He is a 2007 graduate of Walsh University where he studied Education.  Tim is a diehard Notre Dame football fan, and was born in Defiance, OH.  He currently resides in Akron.
State Licenses:
NMLS # 938047
California - Licensed by the Department of Business Oversight under the California Residential Mortgage Lending Act 4130403. A copy of our Privacy Policy and Notice is accessible by going to Primary Residential Mortgage's website and clicking on the "Privacy Policy" link located at the bottom of the page. https://www.primeres.com/privacy-policy Autorizado por el Departamento de Supervisión de Empresas bajo la Ley de Préstamos Hipotecarios Residenciales de California 4130403. Usted puede obtener una copia de nuestras Políticas de Privacidad y Avisos, si visita nuestra página de internet Primary Residencial Mortgage y abre el enlace que dice "Privacy Policy" y que se encuentra localizado en la parte baja de la página. https://www.primeres.com/privacy-policy
Colorado - Colorado- Regulated by the Division of Real Estate. Colorado- Regulado por la División de Bienes y Raíces.
Michigan - Michigan-Department of Insurance and Financial Services FR0017172 Second Lien License SR0975. Michigan-Oficina Reguladora de Finanzas y Seguros FR0017172 Licencia de segundo grado SR0975.
New Jersey - New Jersey Department of Banking and Insurance. Departamento de Banca y Seguro de Nueva Jersey.
Ohio - Ohio Department of Commerce Division of Financial Institutions, #MB.802748.000. Departamento de Comercio de Ohio, División de Instituciones Financieras, #MB.802748.000.
Pennsylvania - Pennsylvania Department of Banking and Securities. Departamento de Pennsylvania de Banca y Valores.
Texas - This office is licensed and examined by the Office of Consumer Credit Commissioner of the State of Texas. Esta oficina está autorizada y es examinada por la Oficina del Comisionado de Crédito al Consumidor del Estado de Texas.