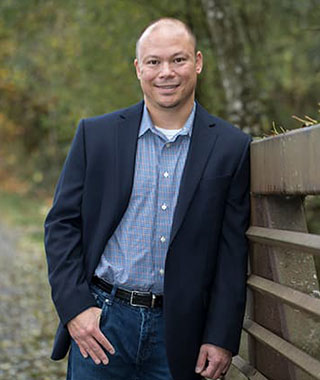 Hello and welcome to my webpage! My name is James Beutler and I'm here to help! I'm an Originating Branch Manager for Primary Residential Mortgage, Inc and I've been in lending for nearly 25 years and boy have I seen a lot through those years. From "Bubbles" bursting to the great recover and most recently the great inventory crisis, I'm confident we have the experience to help you be your best. Originally from the Tri-Cities I attended college at Linfield University in McMinnville, OR graduating with a B.S. in Finance in 1998. After graduation I moved to Vancouver, WA and have called SW WA my home ever since.
I'm formerly the Vice President of the Lighthouse Resource Center, a non-profit organization whose mission was removing barriers to financial empowerment through education. My passion is guiding first time home buyers through the complexities of their first home purchase. This is the primary reason I teach home buyer education classes monthly. I truly enjoy demystifying the home buying process and coaching my clients through everything from making the right program choices, learning about down payment assistance, credit repair, differences in income and more. I also enjoy the mortgage planning aspect of helping my clients if and when a refinance makes the most sense for their situation. I would love to learn about your situation and see how my team and I can help you purchase your next home or refinance your existing one!
When not working, my wife, two daughters and our two French Bulldogs love to travel around in our Family RV. We call it "Glamping" some call it camping but either way it's a great way to see the beautiful Pacific Northwest and all it's amazing sights. It's also an opportunity to spend time with our parents, other family members and friends who enjoy these adventures as well. I like firing up the Traeger and grilling up some tasty offerings for my family and friends and we love to visit all the amazing wineries in the Willamette Valley, Walla Walla and surrounding areas.
State Licenses:
NMLS # 518871
Idaho - Idaho Department of Finance, #MBL-1703. Departamento de Finanzas de Idaho, #MBL-1703.
Oregon - Oregon-Department of Consumer & Business Services Division of Finance and Corporate Securities, #ML-1729. Oregon-Departamento de Servicios para Consumidores y Negocios, División de Finanzas y Valores Corporativos, #ML-1729.
Washington - Washington-Department of Financial Institutions CL-3094 (http://nmlsconsumeraccess.org/EntityDetails.aspx/COMPANY/3094). Washington-Departamento de Instituciones Financieras CL-3094 (http://nmlsconsumeraccess.org/EntityDetails.aspx/COMPANY/3094).