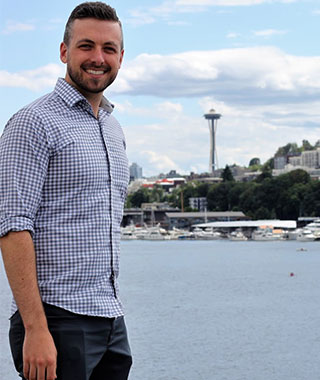 Scott has been in the mortgage industry for three years and brings a fresh millennial flair to the mortgage industry and is well-versed in the most modern, efficient, and convenient way to get things done. He combines these skills with a genuine love of his work and recent experience in what is it like to be a first and second-time home buyer.
Scott has been in the service industry since his first job at 16 bagging groceries and learned right from the start to be customer focused. He leads with service, which is why his clients refer him to family and friends. He is a proud Coug with a degree in Criminal Justice from WSU, spending a year working as a Probation Officer as well as Juvenile Correctional Officer in Northern California. His time as a Correctional offer only reinforced his philosophy of leading with kindness, compassion, and humility no matter who the "client" may be.
Outside of the office, Scott enjoys anything outdoors such as overnight backpacking in the PNW, rock climbing at Stone Gardens in Ballard, walking his Boston Terrier and Boxer, anywhere that serves good beer, cooking up delicious plant-based meals, watching Seahawk and Cougar football, and spending time with friends and family.
State Licenses:
NMLS # 1360050
Washington - Washington-Department of Financial Institutions CL-3094 (http://nmlsconsumeraccess.org/EntityDetails.aspx/COMPANY/3094). Washington-Departamento de Instituciones Financieras CL-3094 (http://nmlsconsumeraccess.org/EntityDetails.aspx/COMPANY/3094).