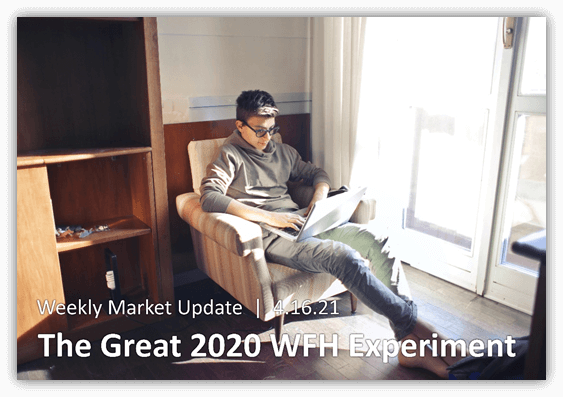 By: Kyle Bergquist
The Puget Sound Real Estate Market
Puget Sound Real Estate: The Great 2020 WFH Experiment
2001, 2009, 2020 ß All these years had profound effects on the every day life of Americans. 2020 didn't invent work from home, but it definitely pushed the WFH agenda up 5-10 years to make it, well, pretty darn commonplace nowadays. That had many surmising that this could be the demise of big cities as people no longer needed to live close to work, but could instead move to the suburbs or countryside in search of more square footage per dollar. Luckily for big cities, what offset the outflow was the constricted inventory, thus pushing median house prices a bit higher in 2020 despite fewer overall buyers in the market. Now, with almost 4.3m doses of vaccine given statewide (total population of Washington is 7.615m people, thus, 56.46% of all Washington residents have now received at least one dose of vaccine), prices in the city centers are on the rise…again…but perhaps the biggest winners of the Great 2020 WFH Experiment were the outlying areas.
Suncadia is 82.6 miles away from Seattle in Kittitas County, and boasts 199 sunny days per year and only 118 days of precipitation. Seattle on the other hand is at 152 sunny days per year, and 156 days of precipitation…so a +81 to -4 Sunny Day to Precipitation comparison. And let's be honest, of those 118 days of precipitation over in Suncadia, there's a good portion of those that are beautiful snowy days, and not gray, dreary, rainy ones.
It appears that in a world where maybe people only have to be 60% in the office in any given week, those boundaries of where people are willing to live relative to their work have moved out a bit. Case in point: According to the NWMLS, prices rose 14.5% year over year in King County last month and 22% in Snohomish County; but soared a staggering 43.8% in Kittitas County! March is the first month where we can really compare post-COVID markets to pre-COVID markets, and I'm going to go out on a limb and say that Kittitas was the big COVID winner on the NWMLS. That said, because inventory levels were so low across the board, no one really lost: Kitsap and Pierce Counties both outgained King County; Skagit County was up 27.3%, Thurston County 21.2%, and Whatcom County 20.8%.
Summary
Real estate in the city is doing JUST FINE, and it looks like it will be doing fine for a while – King County has about 2.5 weeks of inventory, Snohomish County has about 1 week of inventory, and Pierce County has about 1.5 weeks of inventory. Not months. Weeks. Thus, the urban housing markets will continue to see their home prices rise as buyers compete and escalate. But with the likes of Kittitas, Island, and Chelan Counties all under 1 month of inventory as well, look for those housing prices to climb even further, faster. Remember, its easier to double a dollar than it is to double ten dollars, and with median house prices a few hundred thousand lower in the outlying areas, there's more room for those prices to run than in the TriCounty area.
Extra Credit
The median price of a home in Kittitas County in March 2020 was about $360,000. Thus, if you put 20% down on that home, your $72,000 down payment would have earned you $157,500 in equity throughout the course of the year…or a 218.75% return on investment.
The greatest investment on earth, is earth.
Interest Rates
Per Bankrate's survey of large lenders, the 30 year mortgage interest rate on purchases fell slightly this past week to 3.27%, with .34 in discount and origination points.
According to Bankrate, 30 Year Fixed Rates have fallen .31% since their 52 week high of 3.58%

(That's a savings of $86.09 per month on a $500,000 loan!)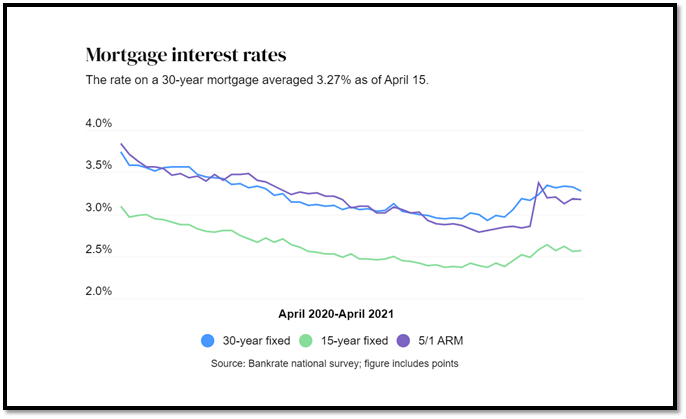 Kyle's Quick Take – Mortgage Market Week in Review
This past week St. Louis Fed President James Bullard stated that if 75% of people were vaccinated, the Fed could start tapering or reducing its purchases of MBS and Treasuries. Then on Thursday Fed Chair Jerome Powell laid out a three part test before hiking rates:
Recovery in labor market effectively achieved

Things are getting better in the labor markets, but there are still about 9 million people unemployed now versus pre-COVID. For reference, the entire state of Washington consists of 7.6m people.

Inflation reaches 2%

…and stays there. We're above 2% right now, but a lot of that is because we were in a deflationary mode 12 months ago, so the data point we're measuring today's inflation against is somewhat soft
With the Fed giving full transparency on their viewpoints, investors no longer had to guess as to what might happen and when. Generally investors will err on the side of caution, thus when they're left guessing we're likely going to end up in an over-sold climate…which is what happened to mortgage bonds and TBills these past couple months. However, with some clarity, investors are now returning to the bond markets which is driving mortgage interest rates slightly lower. Throw in a Johnson and Johnson Vaccine scare (6.8m people vaccinated with the JnJ vaccine, resulting in six reported cases of severe blood clot), which could slow the overall recovery, and we're at a place where investors are feeling ok about returning to the mortgage bond markets. This settling of the dust has mortgage interest rates trending slightly lower over the past two weeks.
Puget Sound Real Estate: Charts and Data
Alex Black Absorption Rates per NWMLS Real Time Data
Absorption Rate is calculated as: (Pending Sales) / (Active + Pending Sales)
SFR in Seattle
SFR Pending Sales in Seattle: 1,073 homes
SFR Active Listings in Seattle: 599 homes
Absorption Rate for SFR in Seattle: 64.17%

Competition is driving prices higher…already about $60,000 higher since our winter low. So long as the absorption rate can stay high, escalation clauses will likely keep pushing prices even higher than where we're at today in the weeks to come.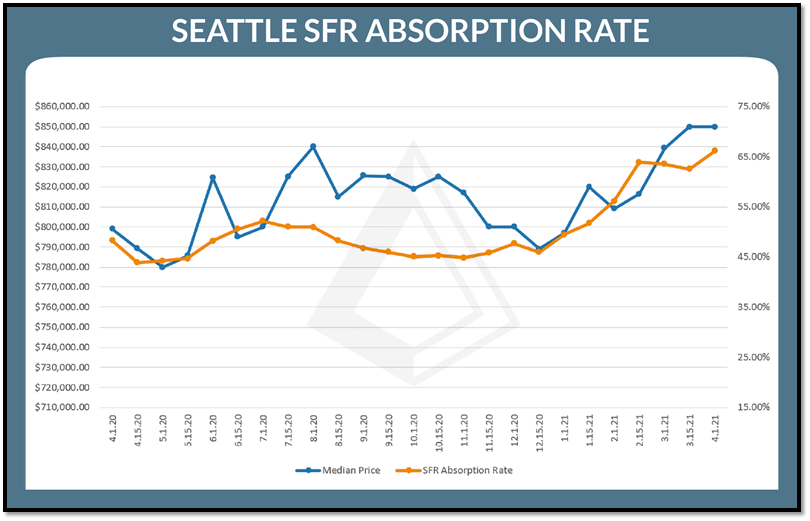 Condos in Seattle
Condo Pending Sales in Seattle: 368 condos
Condo Active Listings in Seattle: 613 condos
Absorption Rate for Condos in Seattle: 37.51%

A relatively high absorption rate gave us a strong floor for median condo prices to jump higher. So long as the absorption rate can stay strong, escalation clauses will likely keep pushing prices even higher than where we're at today in the weeks to come.