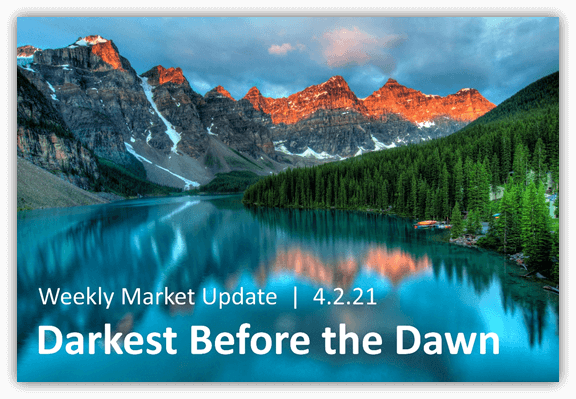 By: Kyle Bergquist
The Puget Sound Real Estate Market
Puget Sound Real Estate: It's Darkest Before the Dawn
The writing was on the wall as we entered 2021 – Interest rates were at all time record lows, the light at the end of the COVID-tunnel was getting brighter, buyers were antsy, and sellers were no where to be found. All the data and news articles coming out today are a direct result of the economic factors industry insiders could see from a mile away, but it all boils down to one thing: Demand CONTINUES to outpace Supply. With more buyers than sellers currently playing in the Puget Sound Housing Market, we find ourselves with:
An all-time high absorption rate approaching 70%. We're at a 2.19 WEEK supply of homes in all of Seattle if no new inventory hits the market (assuming an average 30 day close on all transactions).
5.3% of all homes in the Seattle area are selling for ABOVE the asking price (third highest rate in the nation according to Redfin)
Almost 3/4ths of all homes sell in a bidding war (also according to Redfin)
Aaaand for the 12th month in a row, Seattle ranked second nationally in home price appreciation (Phoenix was first…for the 12th month in a row)
I know this sounds about as doomy and gloomy as you could get, and Seattle Times headlines like "1 House, 45 Offers" don't help to soothe the buyer-soul, BUT there's hope on the horizon. As the calendar turns to April, May, then June, sellers will start to play. According to Altos Research, inventory grew 47% in 2019 between April and May; and in 2018 it grew 112% during this same time period. 2020 was an interesting year with one-off factors at play in our housing market, but even then inventory grew about 62% in the Spring last year as well. Long story short, as sellers come to the table, competition will wane…slightly. It will still be competitive out there, it just won't be as competitive as it is today.
Summary
What's driving all this demand for housing? I'm sure you're tired of this answer by now, but it's Tech. In 2020 Seattle metro was the number one region for new tech leases at 3,000,000 square feet of NEW tech real estate deals. At 175 square feet per tech employee, that's roughly enough new office space for 17,140 new employees (There are currently 545 homes for sale in all of Seattle proper). As the Seattle tech snowball continues to pick up steam, more and more well-paid people are moving in and looking for housing, thus driving up prices.
Extra Credit
Including renewals, Seattle notched 14 of the nations 100 largest commercial lease deals in 2020, for a cumulative 3.4 million square feet. Second place was DC and New York, tied at 1.8 million square feet…barely over HALF of Seattle's 2020 tally. So much for Work from Home…
Interest Rates
Per Bankrate's survey of large lenders, the 30 year mortgage interest rate on purchases rose slightly this past week to 3.33%, with .32 in discount and origination points.
According to Bankrate, rates have fallen .41% since their 52 week high of 3.74%

(That's a savings of $114.69 per month on a $500,000 loan!)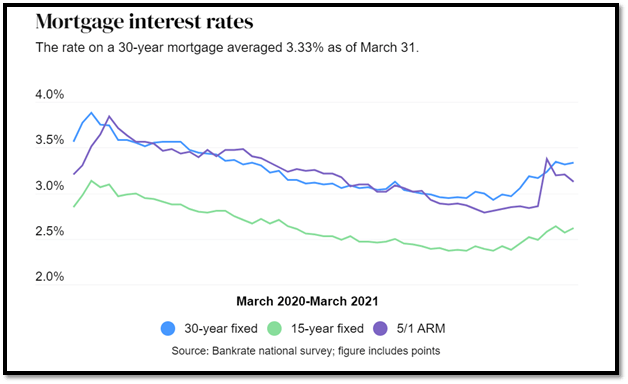 Kyle's Quick Take – Mortgage Market Week in Review
Employment is picking up which is holding mortgage interest rates in check. There were 517,000 new jobs created in the month of March, which was the best number in 6 months. Breaking that down, the services sector accounted for 437,000 of that; and small businesses accounted for 174,000 (NOTE: Some small businesses are also in the services sector, so there's some crossover in these two numbers). With a significant amount of people getting back into the workforce, overall spending is expected to increase…obviously. More spending = more potential for inflation = higher mortgage interest rates (see reasoning for why this is so below).
What's keeping mortgage rates from increasing MORE is the fear of a slight dip in the stock market. The US has pumped $5.335 Trillion Dollars into the economy, and we have to pay for that somehow. According to Elliot Eisenberg:
With the stimulus package done, now comes a proposed $3 trillion infrastructure bill, and importantly, tax hikes to help pay for some of this spending. Assuming the corporate tax rate rises from 21% to 28%, and assuming P/E ratios remain unchanged, which is optimistic, corporate earnings would decline 8% and equity prices 7%. Assuming the rate rises to 25%, the earnings hit would be 5%, and equities would decline 3%.
If investors fear a stock selloff, then some of those investing Dollars would naturally find its way from the stock market and into the mortgage bond market…thus helping to offset inflationary fears and keeping interest rates in check.
Baseline Context for What Drives Mortgage Markets
Large institutions, endowments, organizations, WHOEVER will park money in Treasury Bills and Mortgage Backed Securities as a way to stay ahead of inflation at relatively low risk. The problem with this is that when inflation fears grow, all those institutions, endowments, organizations, WHOEVER will bid yields higher as a way to maintain their margin over inflation. For example, if they're expecting 1% inflation and they want a 2% margin over that, they'll bid yields (or mortgage interest rates) to be around 3% in the mortgage markets. However, if inflation expectations rise to 2%, then all those institutions, endowments, etc will bid yields to be 4% to maintain their 2% margin…thus increasing mortgage interest rates to homebuyers.
Interest rates have been rising on inflation fears since Presidents Day, 2021. According to Bankrate.com, rates are about .4% higher than their 52 week low from a month or so ago. Unfortunately, moving forward, inflation news is going to get worse, which means mortgage interest rates are likely going to continue rising in the short and medium runs here. The reason inflation news is going to get worse… Well, let me defer to my favorite Bow-Tie Economist Elliot Eisenberg. Elliot states: A year ago today, the WHO declared Sars-CoV-2 a global pandemic. Lockdowns commenced and prices of many goods and services collapsed, airline tickets, clothes, oil, as examples, and M-o-M inflation readings went negative in March, April, and May [of 2020]. Comparing those pandemic-induced prices to what they are now will soon show year-over-year inflation rates exceeding 3%/year. IGNORE IT! These Base Effects are one-off and indicate nothing about current inflationary pressures.
The problem is: The market don't care. Thus, inflation data is about to get worse here in the next few months = expect mortgage interest rates to rise.
Puget Sound Real Estate: Charts and Data
Alex Black Absorption Rates per NWMLS Real Time Data
Absorption Rate is calculated as: (Pending Sales) / (Active + Pending Sales)
SFR in Seattle
SFR Pending Sales in Seattle: 1,002 homes
SFR Active Listings in Seattle: 545 homes
Absorption Rate for SFR in Seattle: 64.77%

Competition is driving prices higher…already about $60,000 higher since our winter low. So long as the absorption rate can stay high, escalation clauses will likely keep pushing prices even higher than where we're at today in the weeks to come.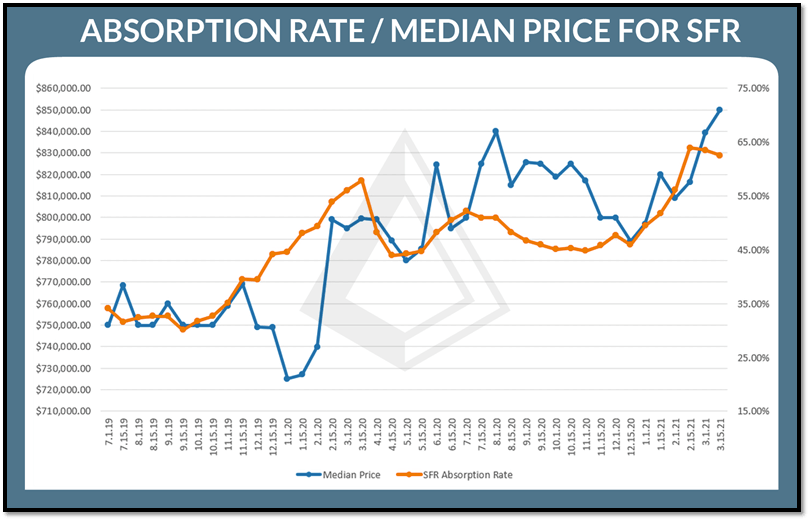 Condos in Seattle
Condo Pending Sales in Seattle: 355 condos
Condo Active Listings in Seattle: 588 condos
Absorption Rate for Condos in Seattle: 37.65%

A relatively high absorption rate gave us a strong floor for median condo prices to jump higher. So long as the absorption rate can stay strong, escalation clauses will likely keep pushing prices even higher than where we're at today in the weeks to come.