By: Kyle Bergquist
The Puget Sound Real Estate Market
Puget Sound Real Estate: Buying a Home with Crypto
Every couple years as Bitcoin pops we get asked the question: How can I buy a home with my crypto? Well, BTC is POPPING!!!...so let's talk about how to turn your BTC, XRP, LTC, ETH or any of the other 2,000+ crypto coins and tokens into a new home.
Quick Context: As silly or ridiculous as you may think crypto currencies are (my wife refers to them as Monopoly Dollars), the total market cap of all crypto currencies is on par with the likes of Apple, Microsoft, Google, and Amazon; at $1.61 trillion Dollars. Bitcoin and Etherium alone are worth 215 Nordstroms, 9.3 Starbucks, 1.4 Facebooks, 2 Teslas, and/or 8.5 Boeings, at $1.15 TRILLION. So it may be Monopoly money, but you could buy a LOT of homes with that much cash…
Alright, let's do this: How do you convert that crypto cash into a home?
The easiest way to convert your crypto into a home is simply by planning for it. Mortgage lenders require 2 months of bank statements for sourcing assets to be used for earnest money, down payment, prepaid taxes, and closing costs. If you have $50,000 in BTC right now and want to buy a home sometime this summer; sell it now, move it to your bank account, and let is season…so that when your lender asks for 2 months of bank statements there's no $50k deposit needing to be sourced. This strategy is call "Seasoning your Funds", and it is the easiest way to go about converting crypto into an acceptable down payment
For the more impulsive types who decide NOW'S THE TIME TO BUY, but haven't seasoned their crypto assets yet by letting them sit in their bank account for 2 months, we can still do it, but it's going to be a laborious process. Here's what your lender will need to make it happen:

2 months bank statements sourcing the initial deposit into your Coinbase or Coinme account (or whichever your desired platform may be).
Transaction receipt showing the initial purchase of your BTC, ETH, LTC, etc – Ie. The conversion of your USD into Crypto
A statement from your Coinbase/Coinme/Etc account for each month you held the crypto currency ß This is getting easier to obtain, but may still prove to be a bit of a hurdle
Transaction receipt showing the sale of your BTC, ETH, LTC, etc; and ultimately the conversion back into USD
And then finally, the bank statement showing the wire transfer of your USD from your Coinbase/Coinme/Etc account into your actual bank account
Summary
Crypto currency CAN be used to purchase a home, but you will either need to season your funds, or plan to do some Olympic-Level documentation. All that said, usually best to sync up with your lender and create a plan for what's in your best interest as there may be other options available to you, or additional requirements for making it happen.
Extra Credit
If you bought one BitCoin 12 months ago, you would have earned a 659% return, and $44,066.38 (as of this writing). Investors like to buy cryptocurrencies because they can be used as a hedge against inflation…if, for example, you were worried about the consequences of the US Treasury printing $5.335 Trillion in the name of COVID stimulus
Interest Rates
Per Bankrate's survey of large lenders, the 30 year mortgage interest rate on purchases fell slightly this past week to 3.31%, with .33 in discount and origination points.
According to Bankrate, rates have fallen .43% since their 52 week high of 3.74%

(That's a savings of $120.21 per month on a $500,000 loan!)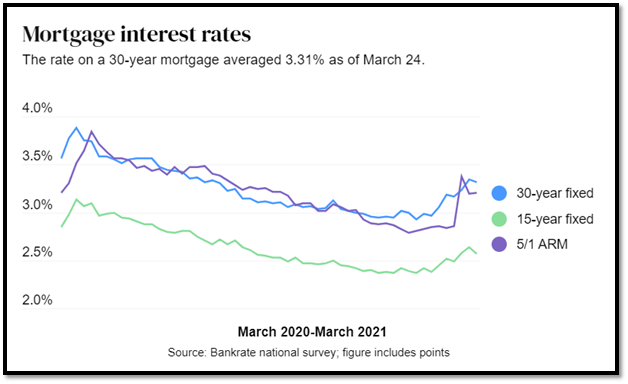 Kyle's Quick Take – Mortgage Market Week in Review
The biggest news this past week was the Treasury auctions. The 10 year US Treasury Note is a great parallel to mortgage interest rates. Ultimately, the average margin after accounting for any origination points is about a 1.7 to 1.9% spread between the 10 year Treasury and mortgage interest rates. So when the yields of Treasury Notes fall, they pull mortgage interest rates slightly lower as well.
On January 26th (exactly two months ago), the UST was trading at a yield of 1.03%. As of last Friday, we were at 1.72%. At some point investors look at the current yields and say to themselves "Ya know, yields should be higher based on what's going on in the economy, but should they be THIS much higher? I'm not sure…so I'm going to buy some Treasury Notes." ß Which then pushes the yields on Treasury Notes lower, thus pulling mortgage interest rates lower.
It was a nice reprieve this week, but I'm not expecting it to last as year over year inflation data will likely drive mortgage interest rates higher over the next couple months (see below for why).
Baseline Context for What Drives Mortgage Markets
Large institutions, endowments, organizations, WHOEVER will park money in Treasury Bills and Mortgage Backed Securities as a way to stay ahead of inflation at relatively low risk. The problem with this is that when inflation fears grow, all those institutions, endowments, organizations, WHOEVER will bid yields higher as a way to maintain their margin over inflation. For example, if they're expecting 1% inflation and they want a 2% margin over that, they'll bid yields (or mortgage interest rates) to be around 3% in the mortgage markets. However, if inflation expectations rise to 2%, then all those institutions, endowments, etc will bid yields to be 4% to maintain their 2% margin…thus increasing mortgage interest rates to homebuyers.
Interest rates have been rising on inflation fears since Presidents Day, 2021. According to Bankrate.com, rates are .4% higher than their 52 week low from a month or so ago. Unfortunately, moving forward, inflation news is going to get worse, which means mortgage interest rates are likely going to continue rising in the short and medium runs here. The reason inflation news is going to get worse… Well, let me defer to my favorite Bow-Tie Economist Elliot Eisenberg. Elliot states: A year ago today, the WHO declared Sars-CoV-2 a global pandemic. Lockdowns commenced and prices of many goods and services collapsed, airline tickets, clothes, oil, as examples, and M-o-M inflation readings went negative in March, April, and May [of 2020]. Comparing those pandemic-induced prices to what they are now will soon show year-over-year inflation rates exceeding 3%/year. IGNORE IT! These Base Effects are one-off and indicate nothing about current inflationary pressures.
The problem is: The market don't care. Thus, inflation data is about to get worse here in the next few months = expect mortgage interest rates to rise.
Puget Sound Real Estate: Charts and Data
Alex Black Absorption Rates per NWMLS Real Time Data
Absorption Rate is calculated as: (Pending Sales) / (Active + Pending Sales)
SFR in Seattle
SFR Pending Sales in Seattle: 969 homes
SFR Active Listings in Seattle: 558 homes
Absorption Rate for SFR in Seattle: 63.46%

Competition is driving prices higher…already about $60,000 higher since our winter low. So long as the absorption rate can stay high, escalation clauses will likely keep pushing prices even higher than where we're at today in the weeks to come.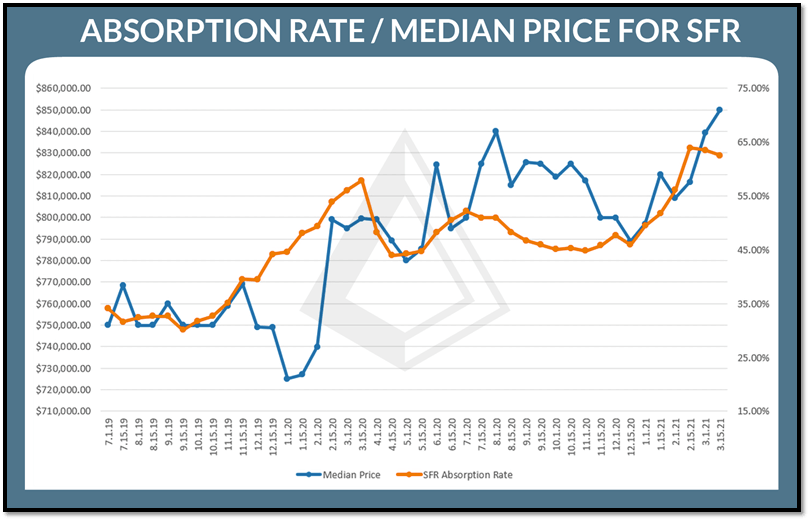 Condos in Seattle
Condo Pending Sales in Seattle: 339 condos
Condo Active Listings in Seattle: 602 condos
Absorption Rate for Condos in Seattle: 36.03%

A relatively high absorption rate gave us a strong floor for median condo prices to jump higher. So long as the absorption rate can stay strong, escalation clauses will likely keep pushing prices even higher than where we're at today in the weeks to come.