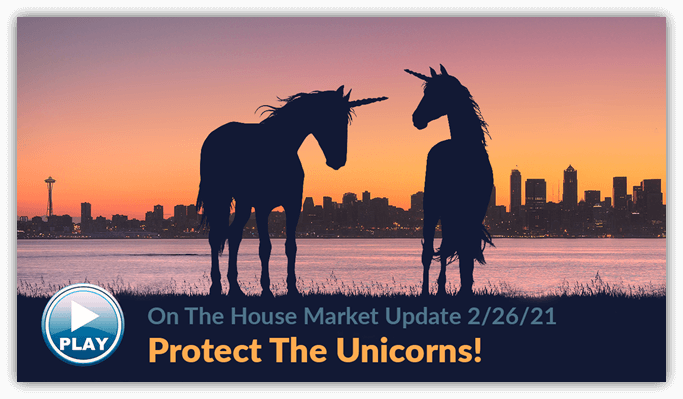 By: Kyle Bergquist
The Puget Sound Real Estate Market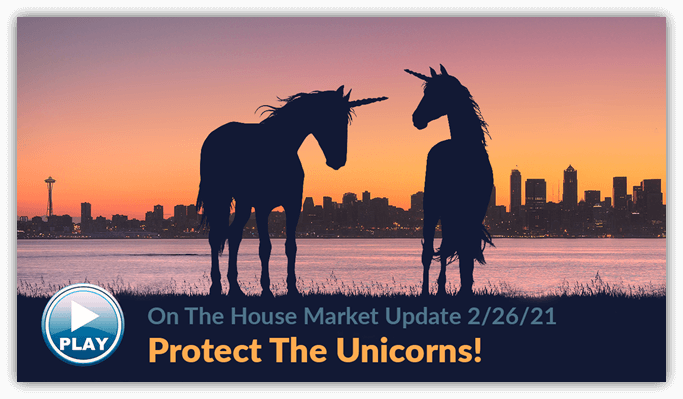 Puget Sound Real Estate: Protect the Unicorns!
Let's really quick discuss the proposed Capital Gains Tax, and the possible effects on our housing market.
The Issue: Governor Inslee is proposing a 9% Capital Gains tax on the sale of stocks, bonds and other assets to increase the share of state taxes paid by Washington's wealthiest taxpayers. The state would apply a 9 percent tax to capital gains earnings above $25,000 for individuals, and $50,000 for joint filers.
The Updated Issue: Last week the State Senate Ways and Means Committee approved Senate Bill 5096 - A 7% tax on capital gains of the sale of assets like stocks and bonds above $250,000. It includes a host of exemptions, such as retirement accounts, sales of real estate, livestock, timbers and certain agricultural lands. Also exempt is the sale of sole proprietor businesses with a gross revenue of up to $6 million, and sales of certain automobile dealerships. This is clearly a compromise between Republicans who want no new taxes, and Inslee who wants a larger Capital Gains tax than Senate Bill 5096 calls for.
The Reason (so they say): Washington needs more tax revenue and wants to reshape its "Regressive" tax system. (A Regressive Tax System is one that taxes everyone uniformly – thus taking a larger percentage of income from low-income earners than from high-income earners).
My Concern: Every time a new tax is even discussed, a Washington State Unicorn Loses its Wings…and we have a lot of Unicorns in the making. The reality is if I'm an Entrepreneur, most of my compensation is in the form of ownership of my company! Implementing a Capital Gains Tax simply means that future Unicorn Founders may not start their company here in Washington since they'd literally be walking into a 7% tax bill that other states don't charge. So maybe they start their companies in Austin, Texas or Memphis, Tennessee - Friendlier taxes, ample supply of tech talent to recruit from – doesn't sound so bad! Why are these Unicorns so important? Because they drive the job market that drives our housing market. Without them, our housing market loses.
Summary
I'm all about keeping Puget Sound as the number one educated region in the United States (if not the world). And I'm also all about helping others by building up our mental health facilities and/or building additional shelters to help house our urban campers…Two items politicians say the additional tax revenue will go towards. But our budget under Inslee has grown from $38.2 billion in 2015, to his proposed $57.6 state budget this year. We shouldn't implement a tax for taxation's sake – We need to take what we have, and simply operate more effectively and efficiently – thus keeping the door open for tomorrow's unicorns, and the ceiling high for our housing market.
The Final Word
We've increased the state budget $19.4 billion dollars in the last 6 years alone. Did you know that the estimated cost per year to totally solve homelessness in Puget Sound is estimated to be between $712m to $1.362b per year? That's only 7.02% of the budget increase over the last 6 years, and 2.36% of the overall budget…if assuming the higher cost estimate of $1.326b per year.
Alex Black Absorption Rates per NWMLS Real Time Data
Absorption Rate is calculated as: (Pending Sales) / (Active + Pending Sales)
SFR in Seattle
SFR Pending Sales in Seattle: 876 homes
SFR Active Listings in Seattle: 496 homes
Absorption Rate for SFR in Seattle: 63.85%

Don't let the declining median list price catch you. Make no mistake about it: At an all-time high absorption rate for SFR in Seattle, THIS IS A SELLERS MARKET. Chalk the overall declining median

LIST

price up to new sellers wanting to sell fast and entice buyers with below "market" pricing. But as all of us in the industry know, this declining median list price is temporary, and ultimately escalation clauses between competing buyers will drive prices higher.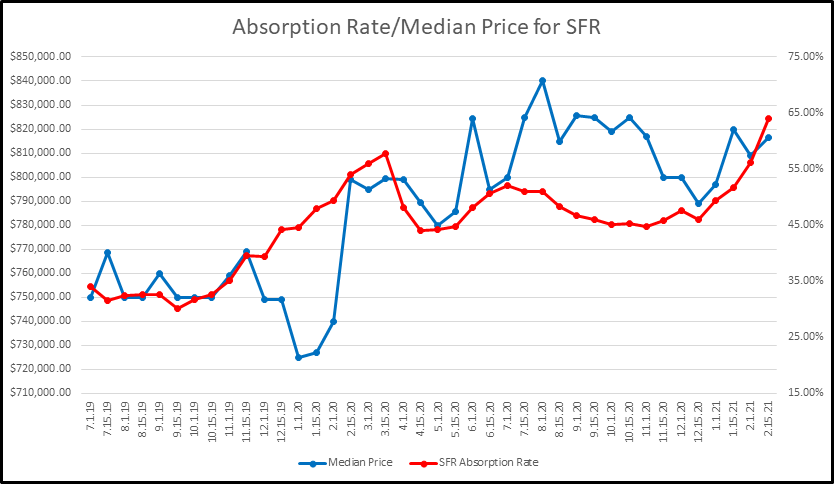 Condos in Seattle
Condo Pending Sales in Seattle: 296 condos
Condo Active Listings in Seattle: 585 condos
Absorption Rate for Condos in Seattle: 33.60%

Similar to SFR, don't let the declining median

LIST

price fool ya. The absorption rate for condos in the city is DOUBLE what it was when we entered December, and the reality is the price per square foot is up since December 1…implying that the main reason the median list price is down is because the average size of condo on the market right now is simply smaller than it was at the beginning of December.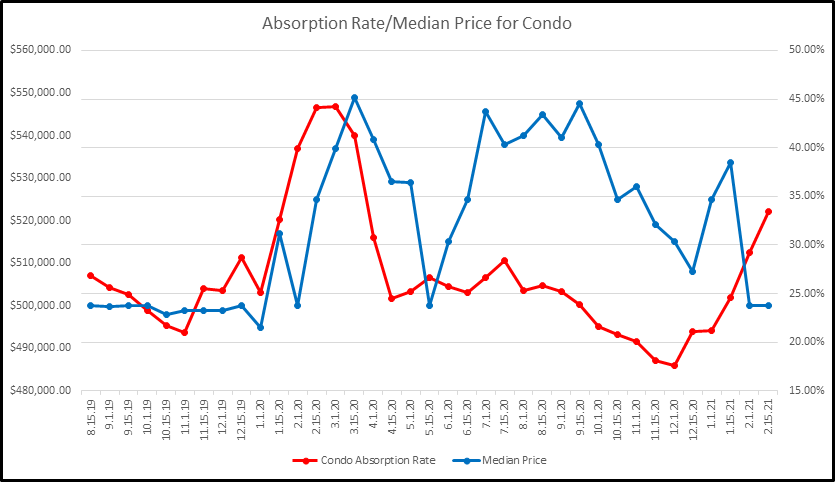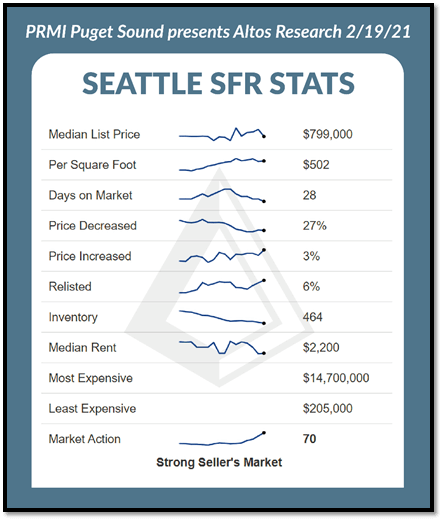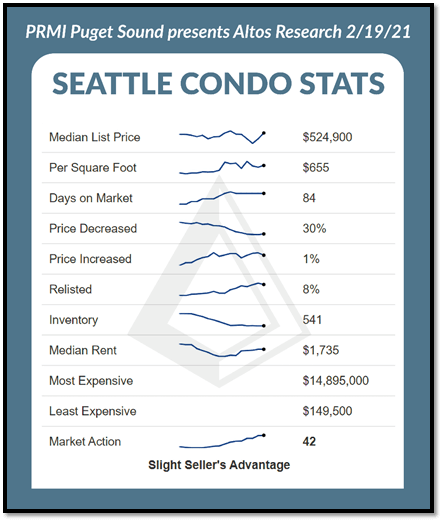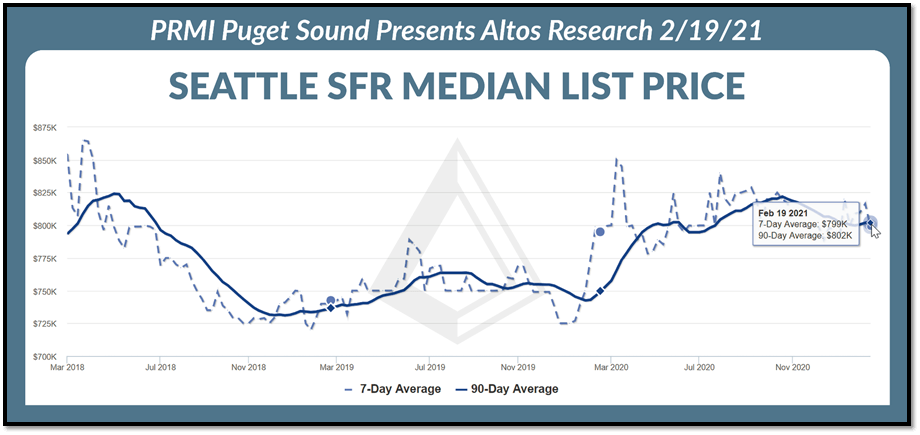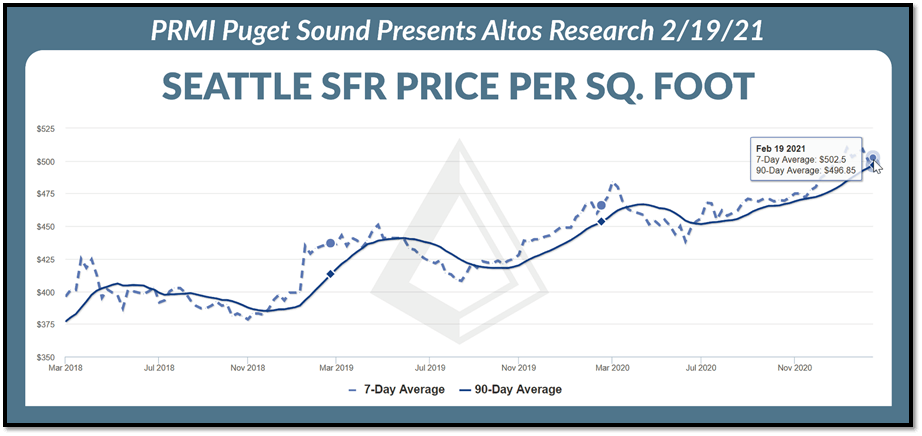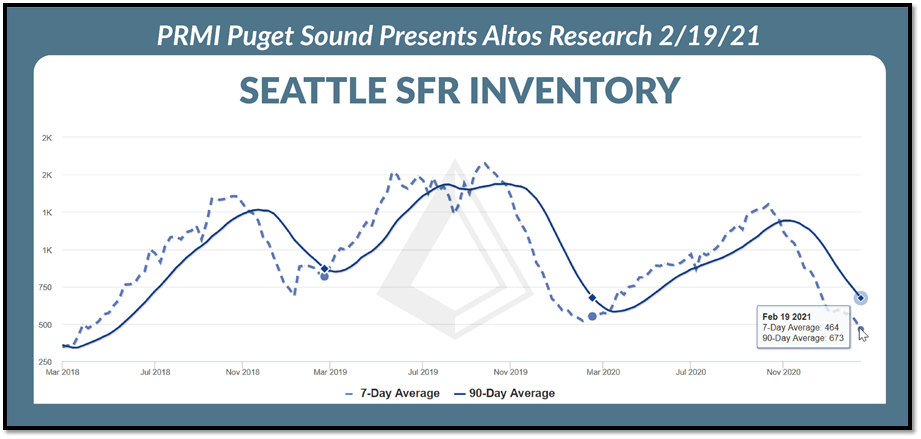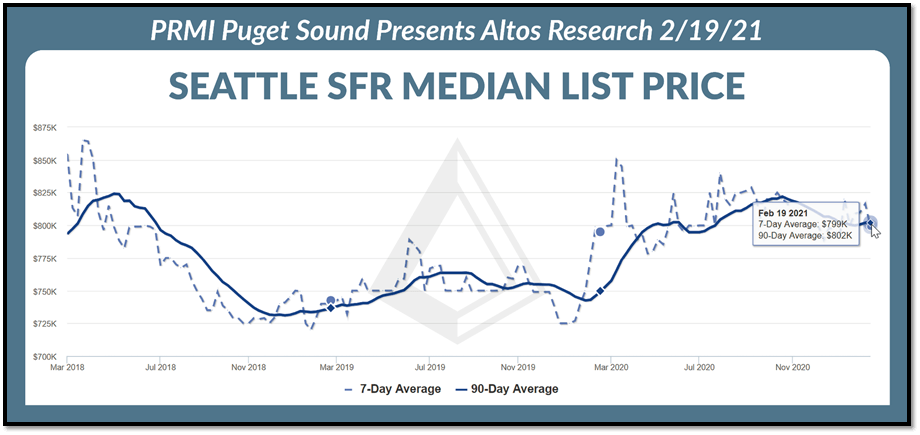 Interest Rates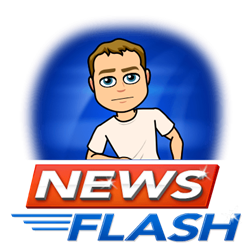 Per Bankrate's survey of large lenders, the 30 year mortgage interest rate rose this past week to 3.18%, with .34 in discount and origination points.
According to Bankrate, rates have fallen .7% since their 52 week high of 3.88%(That's a savings of $195.75 per month on a $500,000 loan!)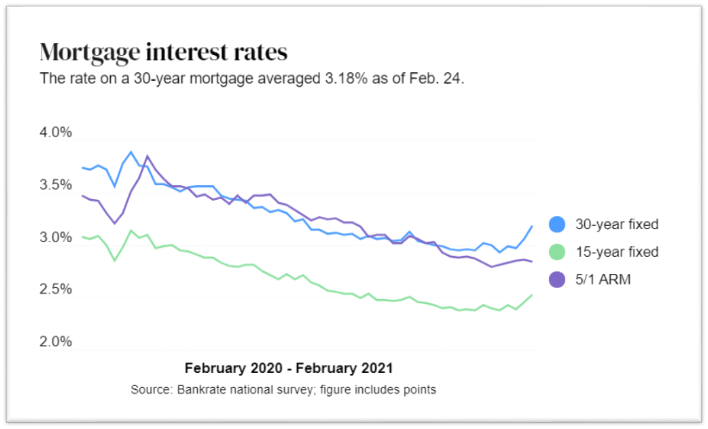 Kyle's Quick Take
Inflationary fears on the heels of stronger than expected Manufacturing Index and Producer Price Index reports last week have CRUSHED the mortgage bond. But it's not so much the numbers themselves (Headline PPI was at 1.7%, Core PPI was at 2%), as much as it is investors seeing the data and projecting what may happen in the not too distant future when the vaccines create herd immunity and the masks come off. Throw in DCs push for more stimulus = more Dollars in Americans' pockets to spend, and investors of low risk/low yield investments like mortgage bonds are highly sensitive to inflation as it noticeably eats into their very small profit margin. For example, if an investor is targeting a 3% return on their money given inflation of 1%...If inflation rises to 1.5%, then that investor is going to seek a return on their money of 3.5% to keep their 2% profit margin. That's why we're seeing mortgage interest rates rise right now – Investors are simply trading the mortgage markets in a way that helps them keep ahead of perceived future inflation. I suspect interest rates will rise in the short run, and possibly continue rising in the medium run so long as inflationary fears persist. We'll see how the Fed reacts as they believe that there's still a lot of recovery left needed, but even the Fed might not be able to ward off this run. It is quite possible that Tuesday February 16th, 2021 was the official end to our low-interest-rate party.