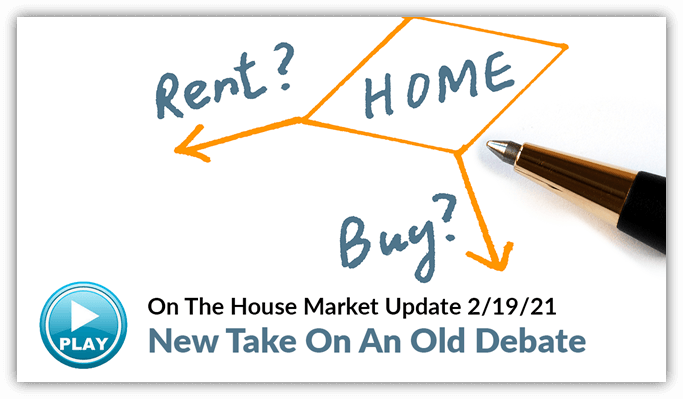 By: Kyle Bergquist
The Puget Sound Real Estate Market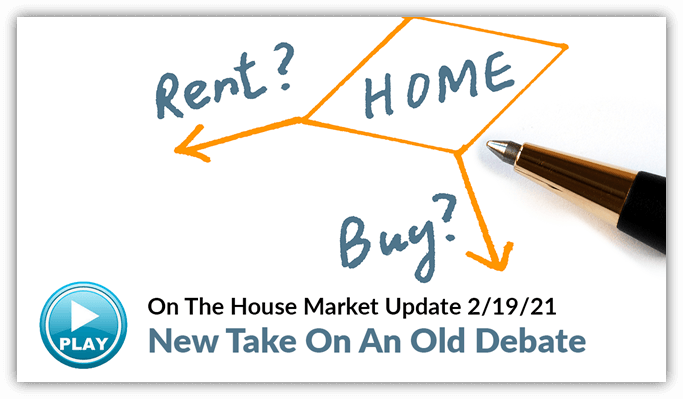 Puget Sound Real Estate: New Take on Old Debate
You guys ready for a new take on an old debate? It's a classic: To Buy or Rent. Buckle up! Here's the 2021 edition.
With all the buzz about how rents are falling in Seattle (See Here, Here, and Here); while median house prices are soaring (See Here, Here, and Here), one could probably make a pretty strong argument for renting over buying. There are, after all, a lot of Pros to renting. But if we're going to discuss the debate in a financial sense, you might be surprised at who wins…especially given the current market. Here are two quick anecdotes that point pretty clearly in one direction:
We'll start with a low down payment scenario, since that's the number one reason renters don't buy – I don't have the money and/or I don't want to pay mortgage insurance! Well, here we go: I closed on a mortgage for a borrower last May who used a Down Payment Assistance program through the Washington State Housing Finance Commission. The purchase price was $495,000. The first loan was a $486,034 FHA loan, with a $19,441 Down Payment Assistance second loan. The borrower paid $14,691 out of pocket for closing costs and prepaid taxes. The interest rate was 3.25%. The term was 30 years. And the mortgage insurance was .85%. We are now 9 months later – February 2021. This borrower has paid $3,155 in monthly mortgage insurance, added $8,359 in upfront mortgage insurance to their initial loan, and was initially out of pocket $14,691. That's a total investment of $26,205 to stake their claim in the Puget Sound Housing Market. But if I average the current Redfin and Zillow estimated values for the home now, I get a value of $541,328 on this particular property. Thus, this buyer has realized a net gain of $541,328 - $495,000 = $46,328 on their investment of $26,205. That is a return on investment of 176.8%. The S&P has returned an extremely healthy 32.4% since that time…but it doesn't come anywhere close to this borrowers return on investment even after accounting for the mortgage insurance they've paid in the meantime. This is merely the case study for how Homeowners in Seattle have a net worth of $898,000 compared to renters in Seattle who have a net worth of $36,000.
The average rent for an average apartment in Seattle is $1,933 per month for a 693 square foot apartment according to RentCafe. That's an expense equal to $2.79 per square foot per month. Did you know that the median list price for a home in Seattle right now is $816,499. Assuming 20% down, that gives us a loan amount of $653,199. The monthly payment on that is $2,753.91 per month if we assume a 3% interest rate… but on a square foot basis, given the average square foot of a home is 1,629; that's actually only an expense of $1.69 per square foot per month…which makes owning a home about 39.43% cheaper per foot than renting an apartment.
Summary
The market is tough out there – 6 out of the 10 most competitive cities in the nation right now are located in Puget Sound - but with the Puget Sound's tech industry growing and current housing prices 45% less than our Big Sister city to the south (San Francisco), it may still be worth jumping into the insanity of the Puget Sound housing market to stake your claim of homeownership. Of course, there are many factors to consider when buying a home, but analyzing Rent vs. Buy from a financial standpoint? Even today's crazy real estate prices continue pointing the arrow in one clear direction – Buy.
Alex Black Absorption Rates per NWMLS Real Time Data
Absorption Rate is calculated as: (Pending Sales) / (Active + Pending Sales)
SFR in Seattle
SFR Pending Sales in Seattle: 842 homes
SFR Active Listings in Seattle: 486 homes
Absorption Rate for SFR in Seattle: 63.40%

Don't let the declining median list price catch you. Make no mistake about it: At an all-time high absorption rate for SFR in Seattle, THIS IS A SELLERS MARKET. Chalk the overall declining median

LIST

price up to new sellers wanting to sell fast and entice buyers with below market pricing. But as all of us in the industry know, this declining median list price is temporary, and ultimately escalation clauses between competing buyers will drive prices higher.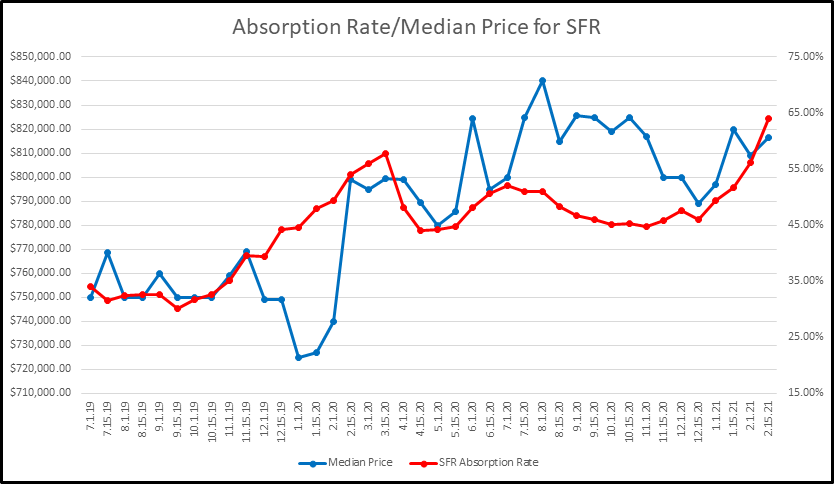 Condos in Seattle
Condo Pending Sales in Seattle: 310 condos
Condo Active Listings in Seattle: 568 condos
Absorption Rate for Condos in Seattle: 35.31%

Similar to SFR, don't let the declining median

LIST

price fool ya. The absorption rate for condos in the city is DOUBLE what it was when we entered December, and the reality is the price per square foot is up 3% since December 1…implying that the main reason the median list price is down is because the average size of condo on the market right now is simply smaller than it was at the beginning of December.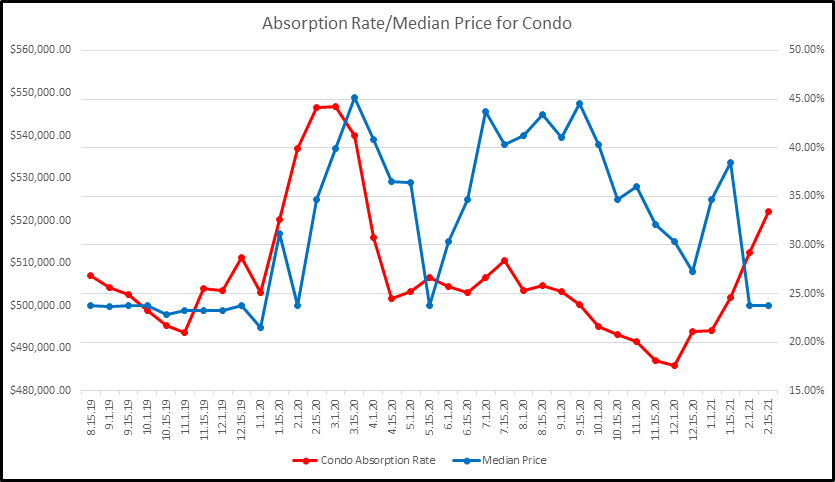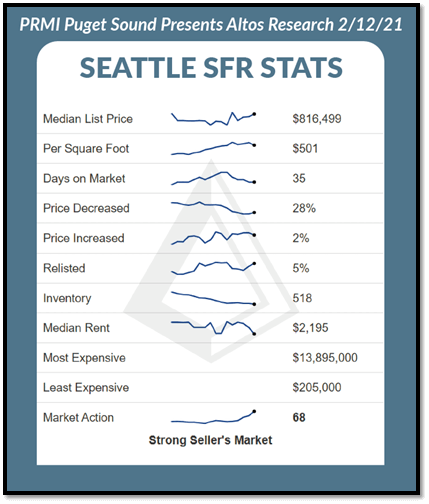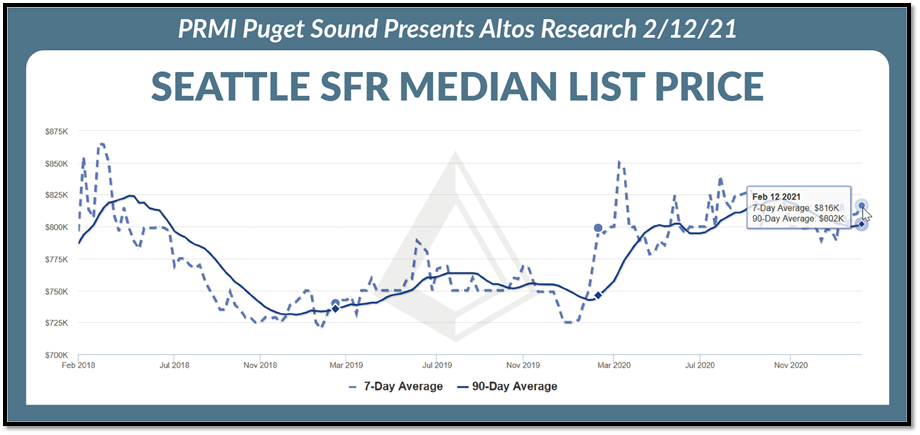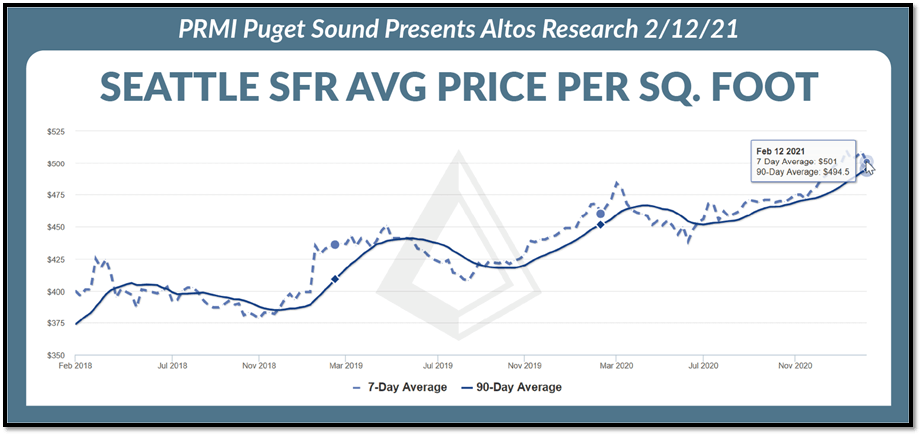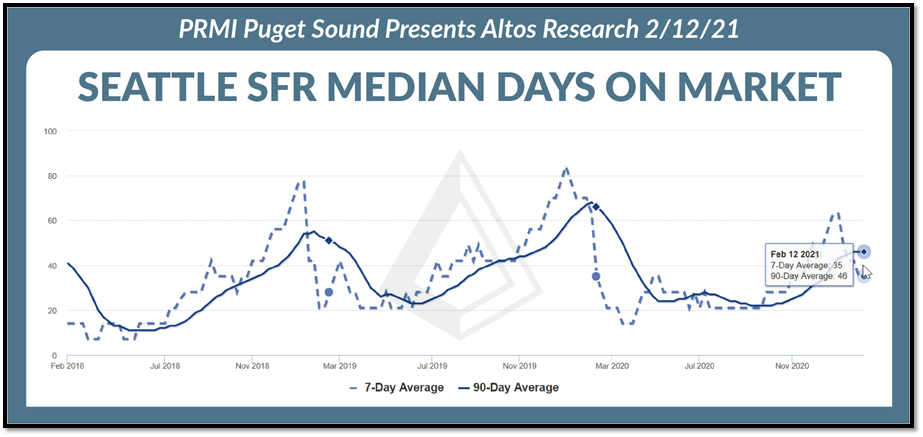 Interest Rates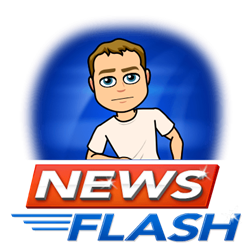 Per Bankrate.com's survey of large lenders, the 30 year mortgage interest rate rose slightly this past week to 3.05%, with .32 in discount and origination points.
According to Bankrate, rates have fallen .83% since their 52 week high of 3.88%
(That's a savings of $231.09 per month on a $500,000 loan!)
Kyle's Quick Take
Inflationary fears on the heels of stronger than expected Manufacturing Index and Producer Price Index reports this week have CRUSHED the mortgage bond. But it's not so much the numbers themselves (Headline PPI was at 1.7%, Core PPI was at 2%), as much as it is investors seeing the data and projecting what will happen in the not too distant future when the vaccines create herd immunity and the masks come off. Investors of low risk/low yield investments like mortgage bonds are highly sensitive to inflation as it noticeably eats into their very small profit margin. For example, if an investor is targeting a 3% return on their money given inflation of 1%...If inflation rises to 1.5%, then that investor is going to seek a return on their money of 3.5% to keep their 2% profit margin. That's why we're seeing mortgage interest rates rise right now – Investors are simply trading the mortgage markets in a way that helps them keep ahead of perceived future inflation. I suspect interest rates will rise in the short run, and possibly continue rising in the medium run so long as inflationary fears persist. We'll see how the Fed reacts as they believe that there's still a lot of recovery left needed, but even the Fed might not be able to ward off this run. It is quite possible that Tuesday February 16th, 2021 was the official end to our low-interest-rate party.

Mortgage rates this week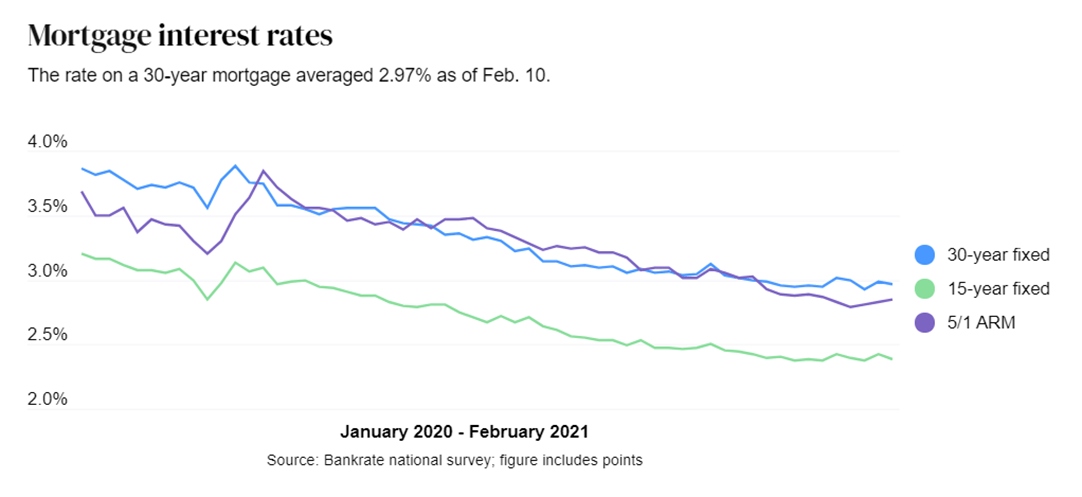 The benchmark 30-year fixed-rate mortgage rose this week to 3.05 percent from 2.97 percent, according to Bankrate's weekly survey of large lenders.
A year ago, it was 3.71 percent. Four weeks ago, the rate was 3.01 percent. The 30-year fixed-rate average for this week is 0.83 percentage points below the 52-week high of 3.88 percent, and is 0.12 percentage points above the 52-week low of 2.93 percent.
The 30-year fixed mortgages in this week's survey had an average total of 0.32 discount and origination points.
Over the past 52 weeks, the 30-year fixed has averaged 3.28 percent. This week's rate is 0.23 percentage points lower than the 52-week average.
The 15-year fixed-rate mortgage rose to 2.45 percent from 2.38 percent.
The 5/1 adjustable-rate mortgage rose to 2.86 percent from 2.85 percent.
The 30-year fixed-rate jumbo mortgage rose to 3.41 percent from 3.36 percent.
At the current 30-year fixed rate, you'll pay $422.14 each month for every $100,000 you borrow, up from $418.91 last week
At the current 15-year fixed rate, you'll pay $665.00 each month for every $100,000 you borrow, up from $661.16 last week.
At the current 5/1 ARM rate, you'll pay $412.49 each month for every $100,000 you borrow, up from $410.33 last week.
Where mortgage rates are headed
Mortgage experts were mixed on rate trend predictions in Bankrate's survey this week (Feb. 17-Feb. 24). In response to Bankrate's weekly poll, 61 percent said rates will go up, and 31 percent said they would remain the same. Just 8 percent said mortgage rates will decline next week.
"As expected, last week rates indeed moved higher as yields on the 10-year Treasury test 1.25. I look for rates to rise near term and then settle back down. The tough part will be not panicking and paying too much to chase a rate from a week ago," said Gordon Miller, owner, Miller Lending Group, LLC, Cary, North Carolina.
Now is a good time for a refinance
Rates are just above a record low, but they might be going up soon. The rate on 10-year bonds issued by the U.S. government has stayed above 1 percent for more than a month now. The 10-year Treasury is closely tied to 30-year mortgage rates.
Even if you don't own 10-year Treasury notes, the rate on the benchmark bonds still can affect how much you pay for your mortgage. The 10-year Treasury acts as a reliable indicator of economic sentiment and as a key benchmark for mortgage rates. In 2019, the gap between the 10-year Treasury and the 30-year mortgage averaged 1.79 points, according to a Bankrate analysis of data compiled by the Federal Reserve Bank of St. Louis.
A year ago, the rate on the 10-year Treasury was north of 1.9 percent. Then the coronavirus pandemic hit, and rates on 10-year bonds plummeted. The 10-year rate fell as low as 0.52 percent in August.
The bottom line: It may be time to do that refinance sooner rather than later.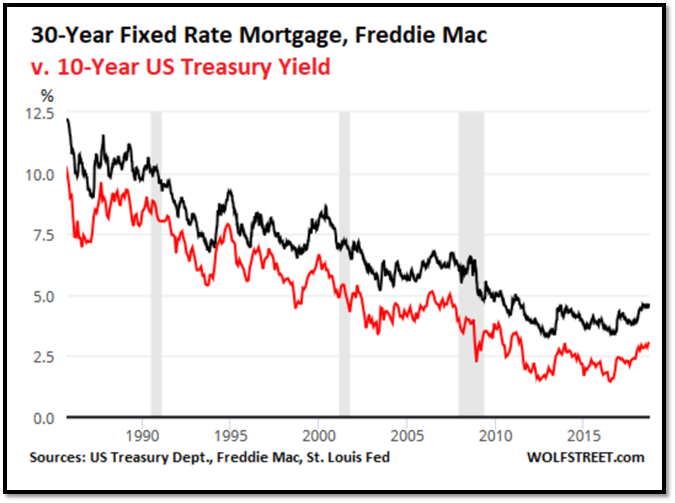 The Bankrate.com national survey of large lenders is conducted weekly. To conduct the National Average survey, Bankrate obtains rate information from the 10 largest banks and thrifts in 10 large U.S. markets. In the Bankrate.com national survey, our Market Analysis team gathers rates and/or yields on banking deposits, loans and mortgages. We've conducted this survey in the same manner for more than 30 years, and because it's consistently done the way it is, it gives an accurate national apples-to-apples comparison. Our rates may differ from other national surveys, in particular Freddie Mac's weekly published rates. Each week Freddie Mac surveys lenders on the rates and points based on first-lien prime conventional conforming home purchase mortgages with a loan-to-value of 80 percent. "Lenders surveyed each week are a mix of lender types – thrifts, credit unions, commercial banks and mortgage lending companies – is roughly proportional to the level of mortgage business that each type commands nationwide," according to Freddie Mac.