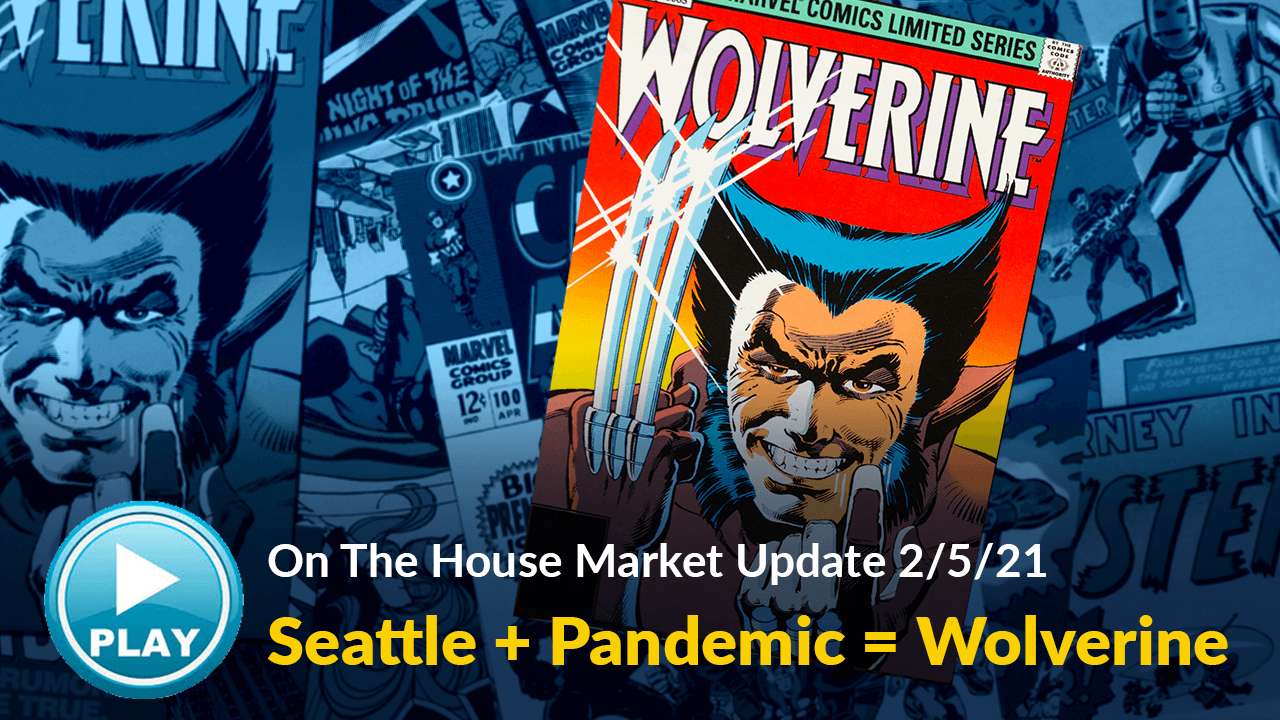 By: Kyle Bergquist
The Puget Sound Real Estate Market
Puget Sound Real Estate: Seattle + Pandemic = Wolverine
Thanks to a Pandemic that expedited a paradigm shift in how the world stores data and buys things, Seattle's Housing Market backbone (it's economy and job market)…kinda looking like the story of Wolverine.
Long story short, Wolverine was galvanized by experiments by Weapon X and Apocalypse, ultimately leaving him with bones coated in the strongest metal in the Marvel Universe (Adamantium); and Seattle's economy just got galvanized by a worldwide pandemic that saw society move online even more than before!
Seattle is now ranked as a Top 10 Regional Economy in the United States. Yep. After growing Real Regional GDP by 5.1% to $382.6 billion Dollars in 2019, we moved past Atlanta to become Top 10 material. Some thoughts:
This outpaced the United States Real GDP by 121.74% (GDP growth of 5.1% for Puget Sound compared to the national growth rate of 2.3%)
This accounted for 1.785% of all US GDP in 2019
While our population only accounts for 1.212% of the total US Population
Those numbers might not seem big, but check my math here, I'm thinking this means that our GDP per person is 47.28% higher than the national average
Can Seattle Drop the Mic right now? That's freaking amazing.
The answer's No, btw. I have more stats.
Not only All of the Above, but we were the fastest growing among all the other Top 10 metros…meaning we could potentially be running up the ranks here pretty quickly with Philly, Boston, Houston, Dallas, and DC all within striking distance in the next few years. Wait, let's talk about that. What might the next few years hold?
Well, we led the entire nation in 2019 in net percentage gain of tech talent (so much for a flight from the cities) with a net tech job gain of 6,575. Our tech job growth of 7.6% outpaced number 2 Austin, Texas by more than double…they came in at 3.6%. SFO and DEN came in 3rd and 4th at 2.8% and 2.4% respectively. At total annual compensation of $279,084 per year per tech employee, this influx of high paying tech jobs is really good for the future of Seattle's housing market.
Summary
Online shopping and cloud storage are the drivers of everything mentioned above. With Amazon and Microsoft doubling down on their northwest footprint, it's doubtful we'll see a flight from Seattle like SFO is seeing right now (Tesla, Oracle, HP Enterprise, all recently announced HQ moves out of the Golden State). At the end of the day, there's lots of highly paid jobs being created in the Northwest, and less than a month of housing inventory in almost every county on the Northwest MLS.
Alex Black Absorption Rates per NWMLS Real Time Data
Absorption Rate is calculated as: (Pending Sales) / (Active + Pending Sales)
SFR in Seattle
SFR Pending Sales in Seattle: 791
SFR Active Listings in Seattle: 539 homes
Absorption Rate for SFR in Seattle: 59.47%

Don't let the declining median house price catch you. Make no mistake about it: At an all-time high absorption rate for SFR in Seattle, THIS IS A SELLERS MARKET. Chalk the overall declining median house price up to new sellers wanting to sell fast and entice buyers with below market pricing. But as all of us in the industry know, this declining median house price is temporary, and ultimately escalation clauses between competing buyers is driving prices higher.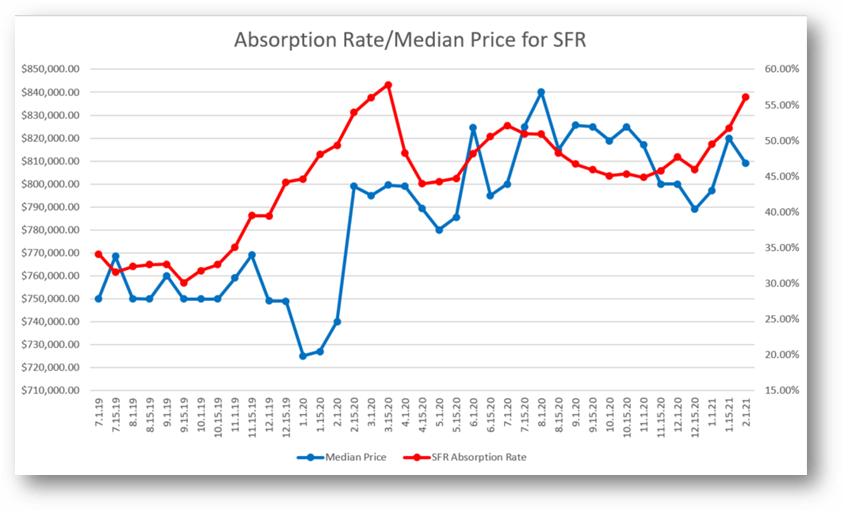 Condos in Seattle
Condo Pending Sales in Seattle: 268
Condo Active Listings in Seattle: 579
Absorption Rate for Condos in Seattle: 31.64%

Similar to SFR, don't let the declining median list price fool ya. The absorption rate for condos in the city is almost double what it was when we entered December, and the reality is the price per square foot is up 2.8% since December 1…implying that the main reason the median list price is down is because the average size of condo on the market right now is simply smaller than it was at the beginning of December.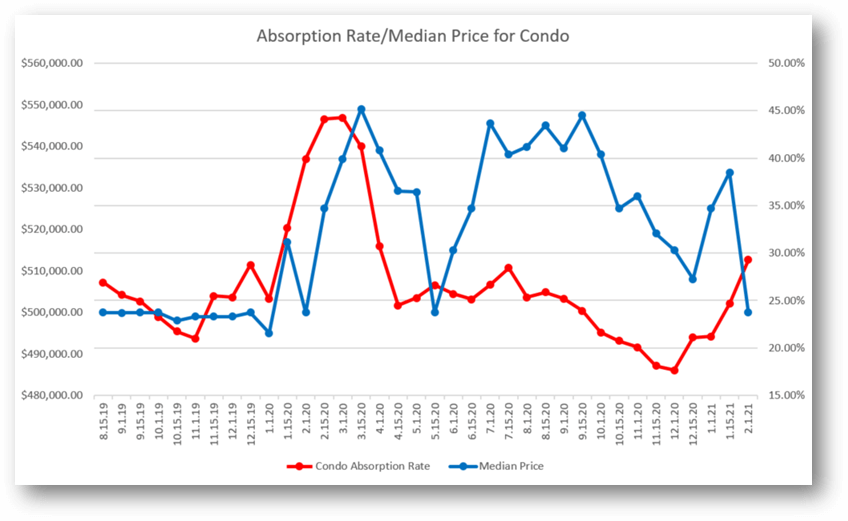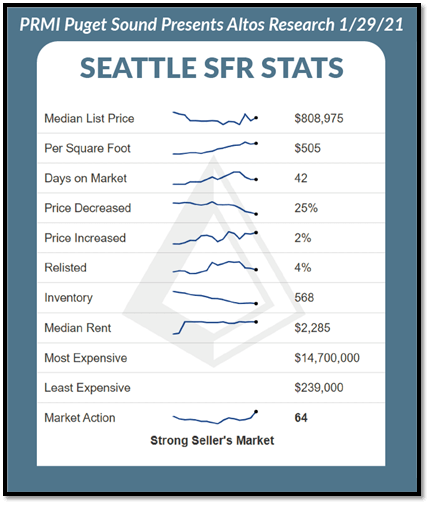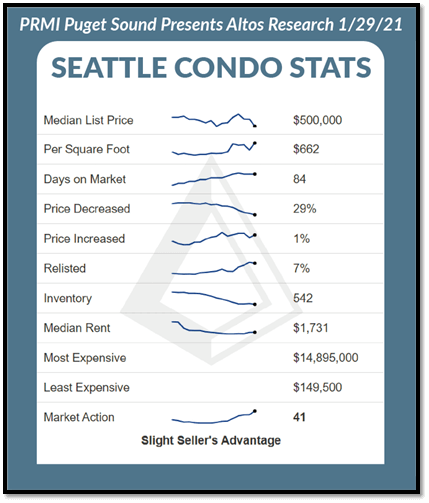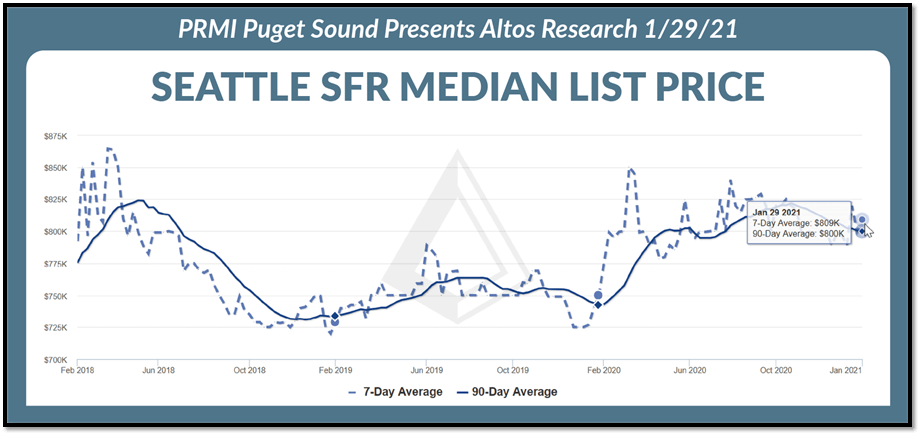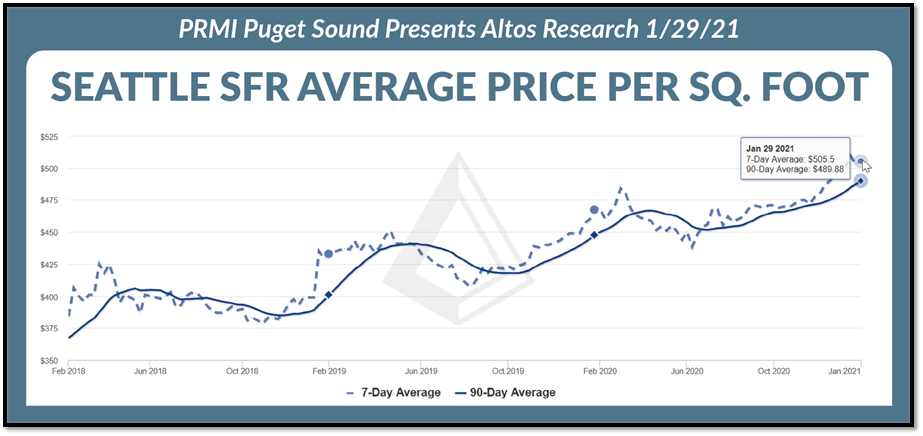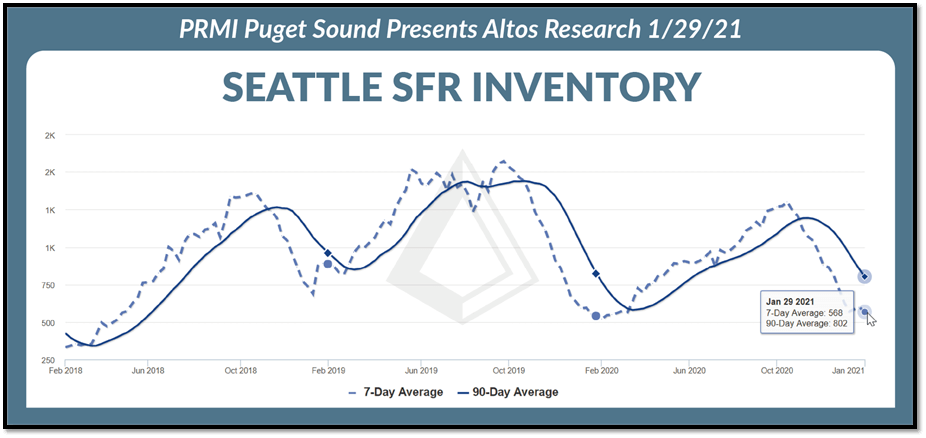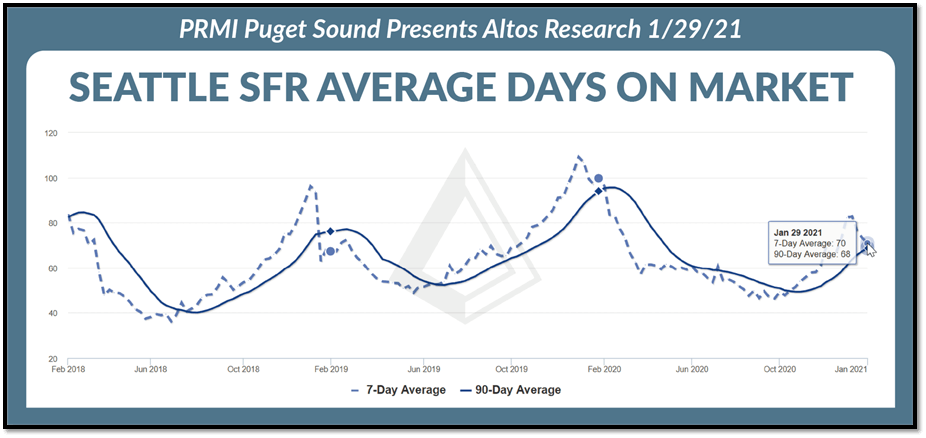 Interest Rates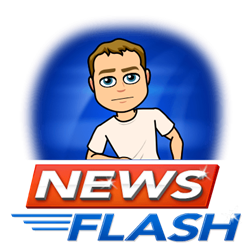 Per Bankrate.com's survey of large lenders, the 30 year mortgage interest rate fell slightly this past week to 2.99%, with .31 in discount and origination points.
According to Bankrate, rates have fallen .89% since their 52 week high of 3.88%
(That's a savings of $247.30 per month on a $500,000 loan!)
Kyle's Quick Take
Moving forward, interest rates will be HIGHLY sensitive to whatever the Fed is thinking with regards to their current bond buying program – Nicknamed QE4Ever. But the reality is it won't be 4Ever…it will end, and when it does, it's going to be a rough day/week for me and every Loan Officer out there. For context: When Ben Bernanke first MENTIONED the word "Taper" back in May 2013, mortgage interest rates skyrocketed in the ensuing trading days. He didn't even announce they were doing it, just that they needed to start thinking about it! (Read Taper Tantrum to learn more about what will likely happen again in the not too distant future here). Anyway, rates are low now but they won't stay this way forever. Good economic news that investors believe may put pressure the Fed to begin tapering sooner than later will cause interest rates to jump higher…And vice versa, any bad economic news will be viewed as a reason for the Fed to continue bond buying, which will keep rates right where they are.

Mortgage rates this week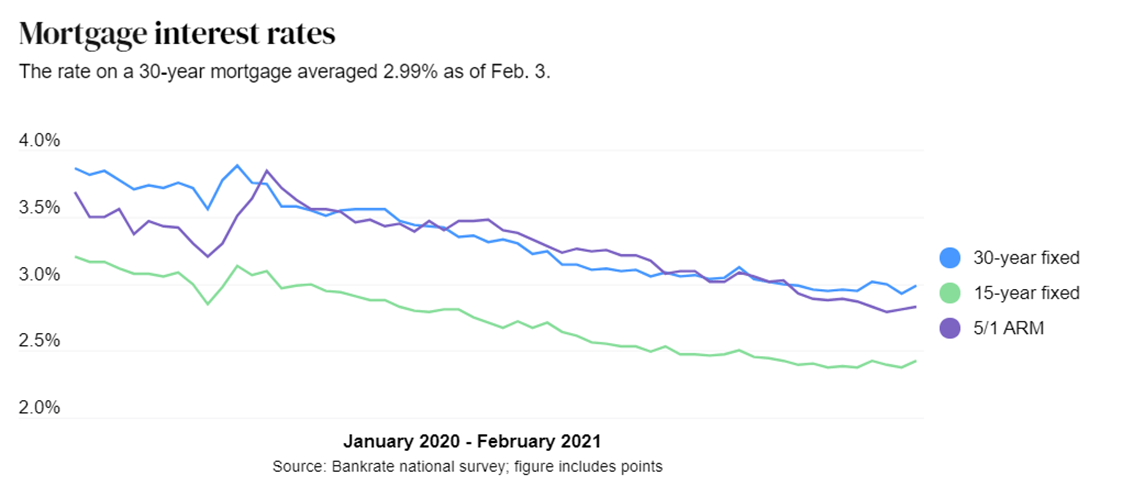 The benchmark 30-year fixed-rate mortgage rose this week to 2.99 percent from 2.93 percent, according to Bankrate's weekly survey of large lenders.
A year ago, it was 3.73 percent. Four weeks ago, the rate was 2.95 percent. The 30-year fixed-rate average for this week is 0.89 percentage points below the 52-week high of 3.88 percent, and is 0.06 percentage points above the 52-week low of 2.93 percent.
The 30-year fixed mortgages in this week's survey had an average total of 0.31 discount and origination points.
Over the past 52 weeks, the 30-year fixed has averaged 3.29 percent. This week's rate is 0.30 percentage points lower than the 52-week average.
The 15-year fixed-rate mortgage rose to 2.42 percent from 2.37 percent.
The 5/1 adjustable-rate mortgage rose to 2.83 percent from 2.81 percent.
The 30-year fixed-rate jumbo mortgage fell to 3.37 percent from 3.39 percent.
At the current 30-year fixed rate, you'll pay $421.06 each month for every $100,000 you borrow, up from $417.84 last week.
At the current 15-year fixed rate, you'll pay $663.03 each month for every $100,000 you borrow, up from $660.69 last week.
At the current 5/1 ARM rate, you'll pay $412.49 each month for every $100,000 you borrow, up from $411.43 last week.
Results of Bankrate.com's weekly national survey of large lenders conducted February 3, 2021 and the effect on monthly payments for a $165,000 loan:
Where mortgage rates are headed
Mortgage experts were mixed on rate trend predictions in Bankrate's survey this week (Feb. 3-Feb. 10). Some 50 percent said rates will go up next week and 42 percent said they would stay the same. And 8 percent said next week will see mortgage rates decline again.
"Rates may drift a bit higher this week after all the Reddit excitement led to lower Treasury's. The market seems to have taken back control thus creating an early stock run up for the week, which — if it continues — could push the ten-year back over 1.15 percent," said Gordon Miller, owner, Miller Lending Group, LLC, Cary, North Carolina.
Now is the right time for a refinance
Rates are just above a record low, but they might be going up soon. The rate on 10-year bonds issued by the U.S. government has stayed above 1 percent for several weeks. The 10-year Treasury is closely tied to 30-year mortgage rates.
Even if you don't own 10-year Treasury notes, the rate on the benchmark bonds still can affect how much you pay for your mortgage. The 10-year Treasury acts as a reliable indicator of economic sentiment and as a key benchmark for mortgage rates. In 2019, the gap between the 10-year Treasury and the 30-year mortgage averaged 1.79 points, according to a Bankrate analysis of data compiled by the Federal Reserve Bank of St. Louis.
A year ago, the rate on the 10-year Treasury was north of 1.9 percent. Then the coronavirus pandemic hit, and rates on 10-year bonds plummeted. The 10-year rate fell as low as 0.52 percent in August.
The bottom line: It may be time to do that refinance sooner rather than later.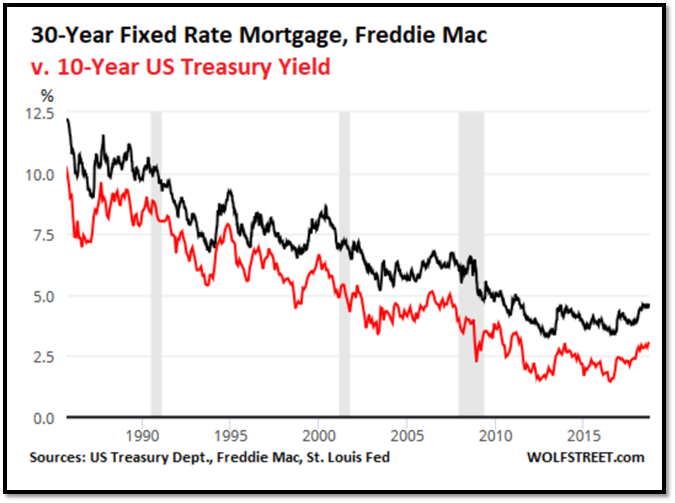 The Bankrate.com national survey of large lenders is conducted weekly. To conduct the National Average survey, Bankrate obtains rate information from the 10 largest banks and thrifts in 10 large U.S. markets. In the Bankrate.com national survey, our Market Analysis team gathers rates and/or yields on banking deposits, loans and mortgages. We've conducted this survey in the same manner for more than 30 years, and because it's consistently done the way it is, it gives an accurate national apples-to-apples comparison. Our rates may differ from other national surveys, in particular Freddie Mac's weekly published rates. Each week Freddie Mac surveys lenders on the rates and points based on first-lien prime conventional conforming home purchase mortgages with a loan-to-value of 80 percent. "Lenders surveyed each week are a mix of lender types – thrifts, credit unions, commercial banks and mortgage lending companies – is roughly proportional to the level of mortgage business that each type commands nationwide," according to Freddie Mac.