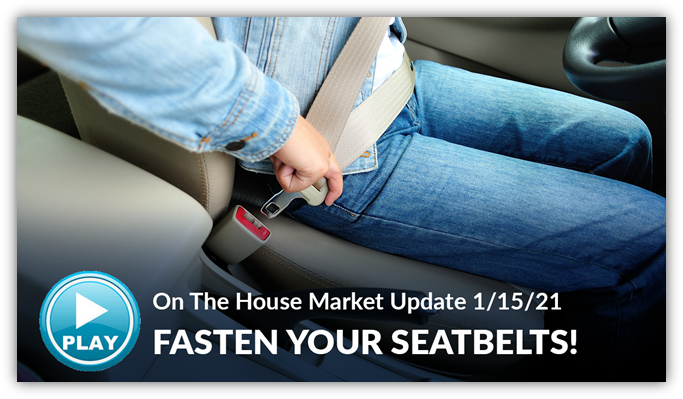 By: Kyle Bergquist
The Puget Sound Real Estate Market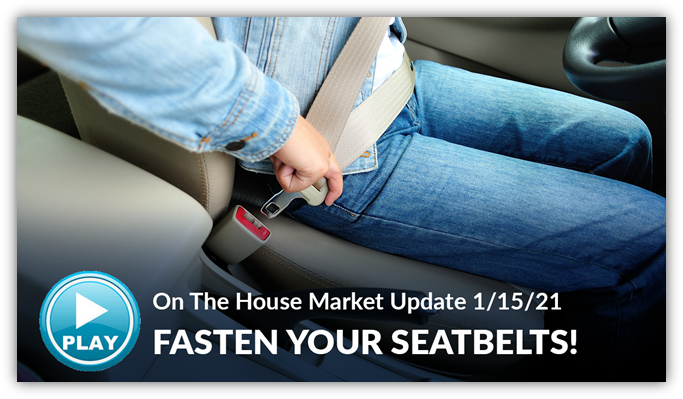 Puget Sound Real Estate: Put On That Seatbelt!
You thought 2020 was a hot real estate market… You ain't seen nothing yet! Here are my top 5 metrics that show 2021's Spring Buying Season might just blow 2020 out of the water:
Per Bankrate.com, your mortgage payment on a $500,000 loan is $221.91 cheaper per month this year compared to last. That equates to 9.51% MORE purchasing power for 2021 buyers.
The absorption rate for single family residences in Seattle is 7.62% higher now, than mid January 2020
Average days on market? Homes are selling 22.64% faster this year than they were at this time last year
Months of inventory in Seattle is lower by 13.57%. At the current buyer rate, if no new homes came on the market, we would be completely out of homes for sale in less than a month. .934 months, to be exact. At least last year we had a little over a month of inventory at this time.
And lastly, there was no flight to the burbs. Per the NWMLS, "Seattle added 2.2 tech workers for every one worker that left, which was only slightly below the 2.5 number for 2019. Further analysis shows the number of people moving from the Bay Area to Seattle surged 28% year over year from March to October." If anything, it seems like there was a flight to Seattle from ElseWhere-USA! BTW, per the Bureau of Labor Statistics, those tech workers earn an average annualized salary of $279,084 per year when accounting for bonuses and stock rewards.
Summary
Anything can happen. Arguably we entered 2018 with an even MORE COMPETITIVE housing market, but the party came to a screeching halt in late May 2018 when sellers set an all-time record for new listings in a 2 week period. The flood of inventory caused prices to stall, which then had luke warm buyers pull back in a wait and see mode, which then cause prices to start falling more, aaaaand the snowball kept rolling downward. In 2018, the reasoning for this was higher interest rates (4.66% with 40 basis points in fees and origination), Amazon's HQ2 search and uncertain future here in Seattle, and again, an unforeseen surge in inventory disrupting the market equilibrium. Now, Amazon unofficially made Bellevue it's HQ2, and interest rates are much lower now versus then, BUT it is very possible we have another surge in inventory. I don't know if this is going to happen, but one of the reasons the housing market did so well in 2020 was because sellers were reluctant to list due to COVID concerns. If those concerns quell this spring with a successful rollout of the vaccine and herd immunity gains, we may be in line for another flood of sellers this Spring. As always, only time will tell. But at the moment, all data points suggest we should put on our seatbelts for another wild ride in the Northwest Housing Market!
Alex Black Absorption Rates per NWMLS Real Time Data
Absorption Rate is calculated as: (Pending Sales) / (Active + Pending Sales)
SFR in Seattle
SFR Pending Sales in Seattle: 611
SFR Active Listings in Seattle: 618 homes
Absorption Rate for SFR in Seattle: 49.72%

And we're off! The absorption rate ticked higher, which pushed median house prices higher. With the New Year upon us, there's nothing but hope and optimism for NW Homebuyers. This can-do attitude has buyers buying up the last of the aged-listings, and escalating prices on new high quality listings hitting the market. With so little inventory on the shelves and a hungry buyer pool, look for both absorption rate AND median list prices to increase over the next few months.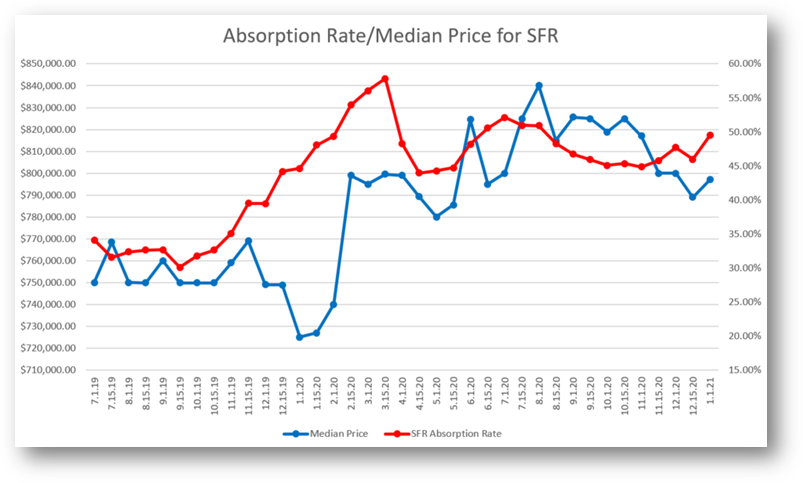 Condos in Seattle
Condo Pending Sales in Seattle: 190
Condo Active Listings in Seattle: 597
Absorption Rate for Condos in Seattle: 24.14%

After falling to a recent low of 17.66%, the absorption rate for condos in Seattle has increased 36.7% to 24.14%! This is fantastic news, and helped provide a floor for condo prices to bounce higher! So long as the absorption rate can hold onto its recent gains (and/or continue increasing), condo prices should move sideways to slightly increase. HAPPY 2021!!!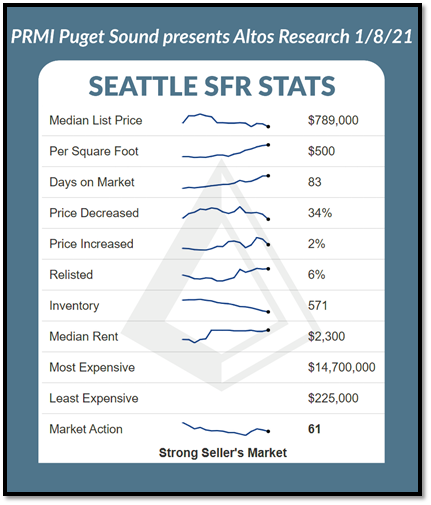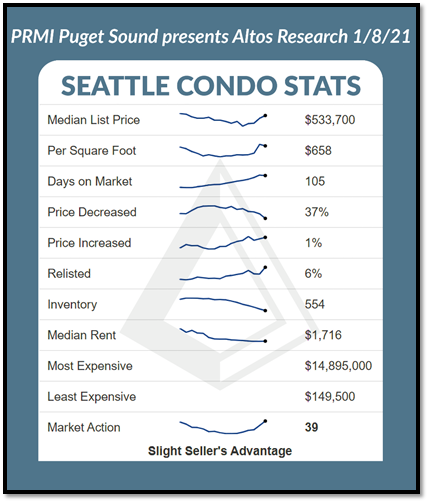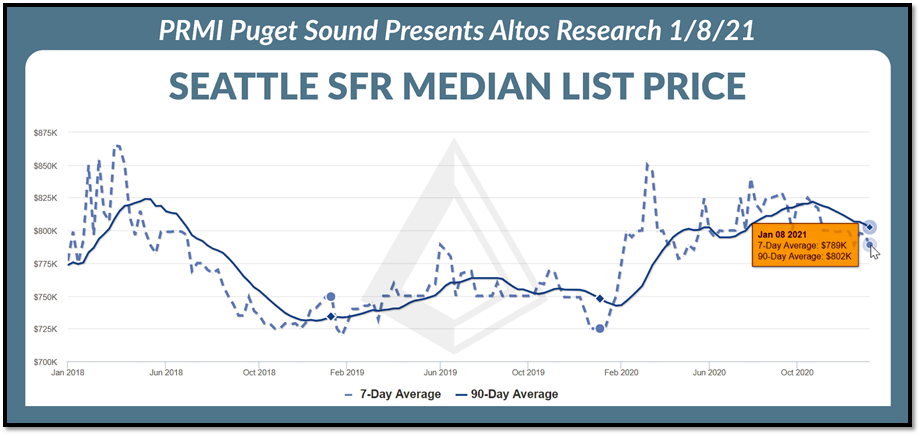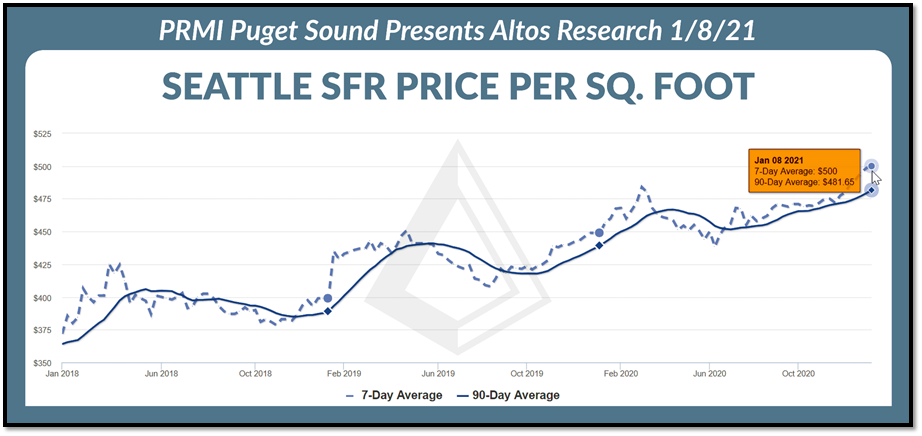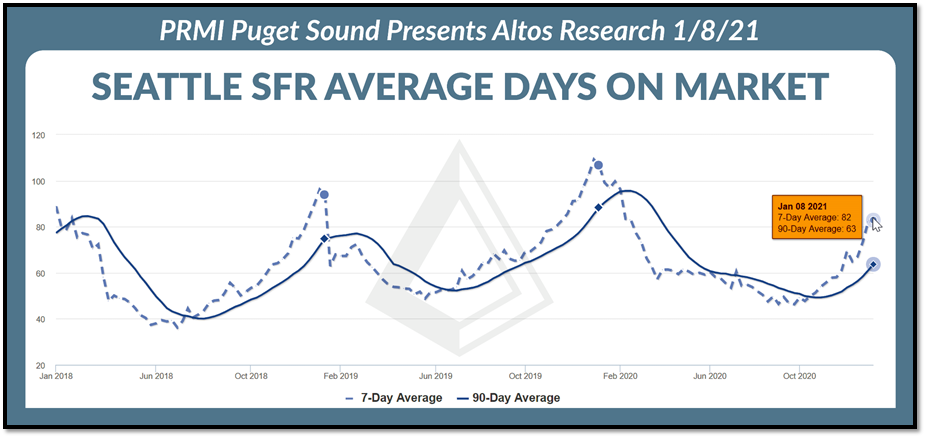 Interest Rates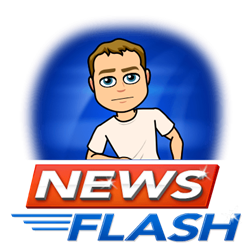 Per Bankrate.com's survey of large lenders, the 30 year mortgage interest rate rose slightly this past week to 3.01%, with .32 in discount and origination points.
According to Bankrate, rates have fallen .87% since their 52 week high of 3.88%
(That's a savings of $241.90 per month on a $500,000 loan!)
Kyle's Quick Take
Moving forward, interest rates will be HIGHLY sensitive to whatever the Fed is thinking with regards to their current bond buying program – Nicknamed QE4Ever. But the reality is it won't be 4Ever…it will end, and when it does, it's going to be a rough day/week for me and every Loan Officer out there. For context: When Ben Bernanke first MENTIONED the word "Taper" back in May 2013, mortgage interest rates skyrocketed in the ensuing trading days. He didn't even announce they were doing it, just that they needed to start thinking about it! (Google "Taper Tantrum Investopedia" to learn more about what will likely happen again in the not too distant future here). Anyway, rates are low now but they won't stay this way forever. Any good economic news (like Biden's stimulus package) that investors believe may put pressure the Fed to begin tapering sooner than later will cause interest rates to jump higher…And vice versa, any bad economic news will be viewed as a reason for the Fed to continue bond buying, which will keep rates right where they are.

Mortgage rates this week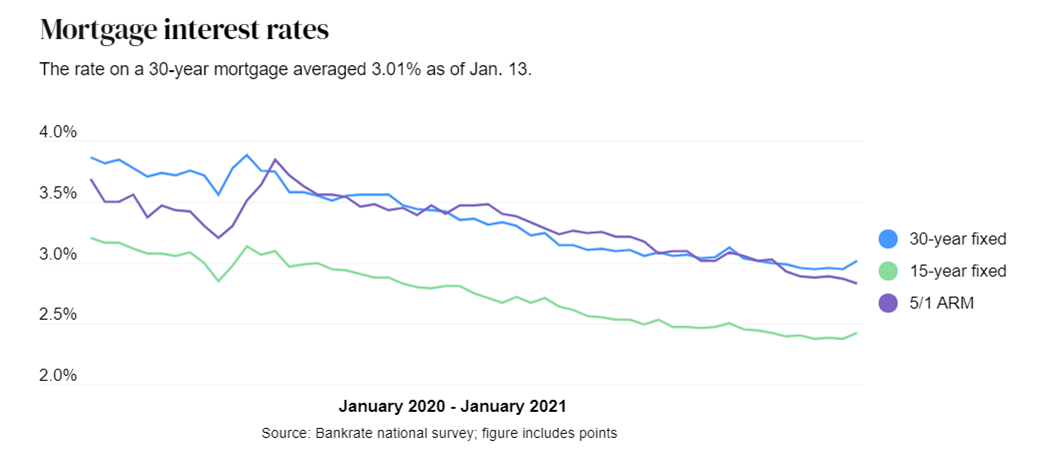 The benchmark 30-year fixed-rate mortgage rose this week to 3.01 percent from 2.95 percent, according to Bankrate's weekly survey of large lenders.
A year ago, it was 3.84 percent. Four weeks ago, the rate was 2.96 percent. The 30-year fixed-rate average for this week is 0.87 percentage points below the 52-week high of 3.88 percent, and is 0.06 percentage points above the 52-week low of 2.95 percent.
The 30-year fixed mortgages in this week's survey had an average total of 0.32 discount and origination points.
Over the past 52 weeks, the 30-year fixed has averaged 3.33 percent. This week's rate is 0.32 percentage points lower than the 52-week average.
The 15-year fixed-rate mortgage rose to 2.42 percent from 2.37 percent.
The 5/1 adjustable-rate mortgage fell to 2.83 percent from 2.87 percent.
The 30-year fixed-rate jumbo mortgage rose to 3.46 percent from 3.41 percent.
At the current 30-year fixed rate, you'll pay $422.14 each month for every $100,000 you borrow, up from $418.91 last week.
At the current 15-year fixed rate, you'll pay $663.03 each month for every $100,000 you borrow, up from $660.69 last week.
At the current 5/1 ARM rate, you'll pay $412.49 each month for every $100,000 you borrow, down from $414.63 last week.
Results of Bankrate.com's weekly national survey of large lenders conducted January 13, 2021 and the effect on monthly payments for a $165,000 loan:

Where mortgage rates are headed
Mortgage experts were mixed on rate trend predictions in Bankrate's survey this week (Jan. 14-20). Some 46 percent predicted a rate increase, 36 percent said rates would fall, and 18 percent said they would remain the same.
A refinance might be getting more urgent for millions of homeowners
Rates are up from a record low but they may be going up soon. The rate on 10-year bonds issued by the U.S. government has topped 1 percent for the first time since March for the last week. The 10-year Treasury is closely tied to 30-year mortgage rates.
Even if you don't own 10-year Treasury notes, the rate on the benchmark bonds still can affect how much you pay for your mortgage. The 10-year Treasury acts as a reliable indicator of economic sentiment and as a key benchmark for mortgage rates. In 2019, the gap between the 10-year Treasury and the 30-year mortgage averaged 1.79 points, according to a Bankrate analysis of data compiled by the Federal Reserve Bank of St. Louis.
A year ago, the rate on the 10-year Treasury was north of 1.9 percent. Then the coronavirus pandemic hit, and rates on 10-year bonds plummeted. The 10-year rate fell as low as 0.52 percent in August. Check out the chart below to see how the 10 year Treasury and Mortgage Interest rates behave relative to each other.
The bottom line: It may be time to do that refinance sooner rather than later.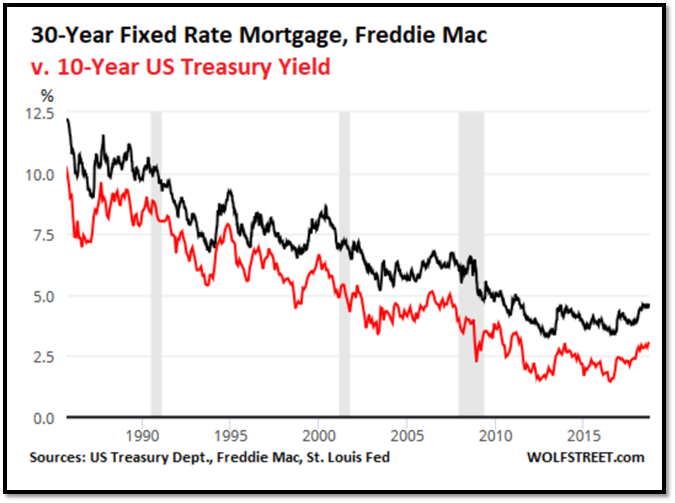 The Bankrate.com national survey of large lenders is conducted weekly. To conduct the National Average survey, Bankrate obtains rate information from the 10 largest banks and thrifts in 10 large U.S. markets. In the Bankrate.com national survey, our Market Analysis team gathers rates and/or yields on banking deposits, loans and mortgages. We've conducted this survey in the same manner for more than 30 years, and because it's consistently done the way it is, it gives an accurate national apples-to-apples comparison. Our rates may differ from other national surveys, in particular Freddie Mac's weekly published rates. Each week Freddie Mac surveys lenders on the rates and points based on first-lien prime conventional conforming home purchase mortgages with a loan-to-value of 80 percent. "Lenders surveyed each week are a mix of lender types – thrifts, credit unions, commercial banks and mortgage lending companies – is roughly proportional to the level of mortgage business that each type commands nationwide," according to Freddie Mac.