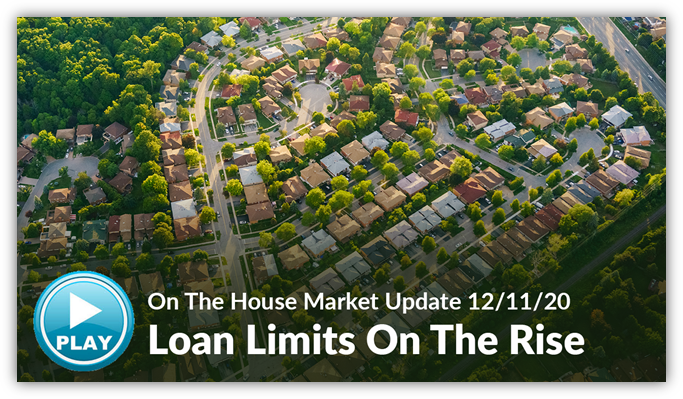 By: Kyle Bergquist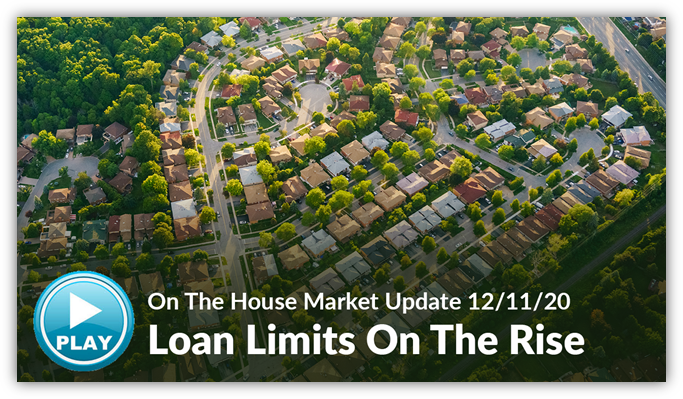 The Puget Sound Real Estate Market
Puget Sound Real Estate: Fannie/Freddie Loan Limits Rise
THAT'S WHAT I'M TALKING ABOUT BABY!!! Fannie and Freddie announced that they're increasing the loan limit for King, Pierce, and Snohomish counties from $741,750 to $776,250 (+4.65%). All other counties in Washington are seeing their loan limits rise from $510,400 to $548,250 (+7.42%). Why is this such a big deal? Because loans above those marks are considered jumbo loans, and if you've ever tried to qualify for a jumbo loan you know that those are considerably harder to get approved for than a conforming Fannie Mae or Freddie Mac loan. Thus, there's a soft ceiling on Puget Sound home prices, since the buyer pool is greatly reduced when purchase prices dictate buyer financing to be in the form of a Jumbo loan versus an easier-to-qualify-for Conforming loan.
Among other underwriting guidelines, most Jumbo loans require 20% down for a decent interest rate; ESPECIALLY now as the economy continues to deal with the economic fallout of COVID. According to the National Association of Realtors, a 2019 report cites the average down payment on a home or condo among all buyers is 12%; and 6% down for first time homebuyers. Because those average down payments are lower than the 20% required for most Jumbo loans, those buyers will lean towards getting preapproved for a Conforming loan. Therefore, the bulk of buyers just realized increased spending power of 4.65% and 7.42%; which will clear the way for Puget Sound home prices to appreciate accordingly.
Summary
For a buyer with 10% down looking to max out their preapproval, their purchase price just went from $824,100 to $862,500 overnight, thanks to this move from Fannie Mae and Freddie Mac. Like a rising tide lifts all boats, this tide will lift all list prices by way of increasing the potential buyer pool to a higher purchase price in 2021, than we had in 2020.
Alex Black Absorption Rates per NWMLS Real Time Data
Absorption Rate is calculated as: (Pending Sales) / (Active + Pending Sales)
SFR in Seattle
SFR Pending Sales in Seattle: 735
SFR Active Listings in Seattle: 869 homes
Absorption Rate for SFR in Seattle: 45.82%

What to Watch for During Winter Clean Up Season: Despite a time a year where median list prices generally fall, put more weight into the absorption rate when gauging the overall health of our housing market. If the absorption rate holds steady to increases (like it is), then the stage will be set for a very strong Spring housing market, with median prices likely covering their winter losses (and some).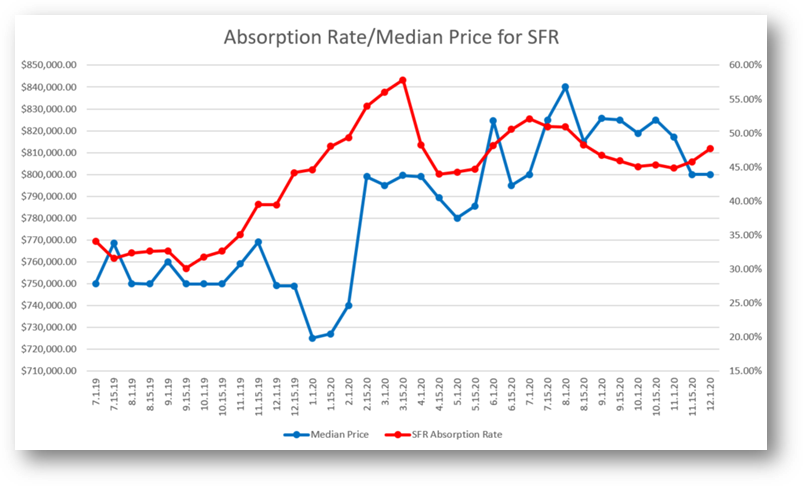 Condos in Seattle
Condo Pending Sales in Seattle: 188
Condo Active Listings in Seattle: 771
Absorption Rate for Condos in Seattle: 19.60%

As Summer turns to Fall, and Fall to Winter, it appears as though condo sellers' and their prices are starting to get back in line with where the absorption rate dictates prices should hang out…about 10% lower from their recent median high list price of $550,000. There were some new buildings that opened up this past summer whose premium list prices' increased the overall median list price for condos out of line with the absorption rate, but with winter here and people not wanting to shelter-from-condo, it looks as though things are trending back towards price/absorption-rate equilibrium in the condo market with median list prices falling.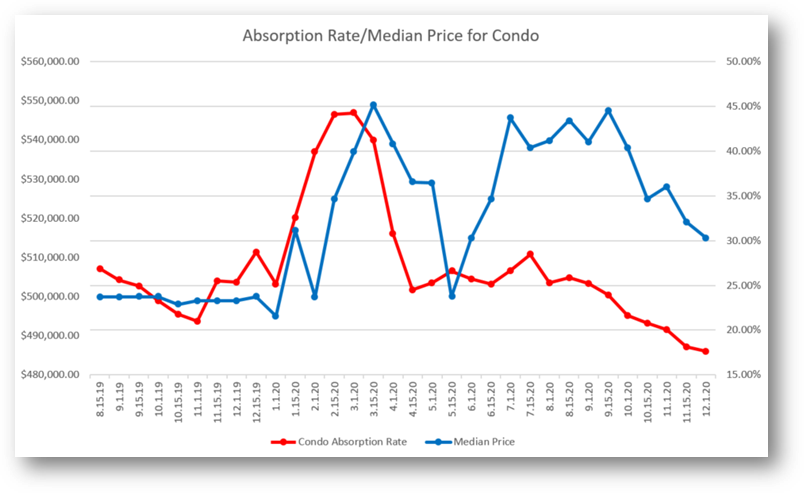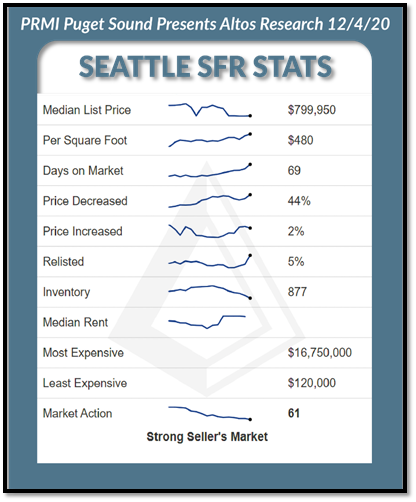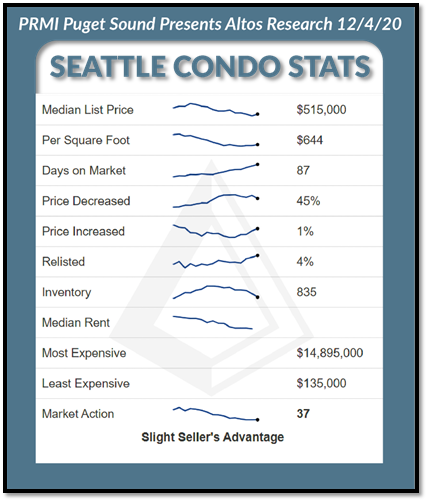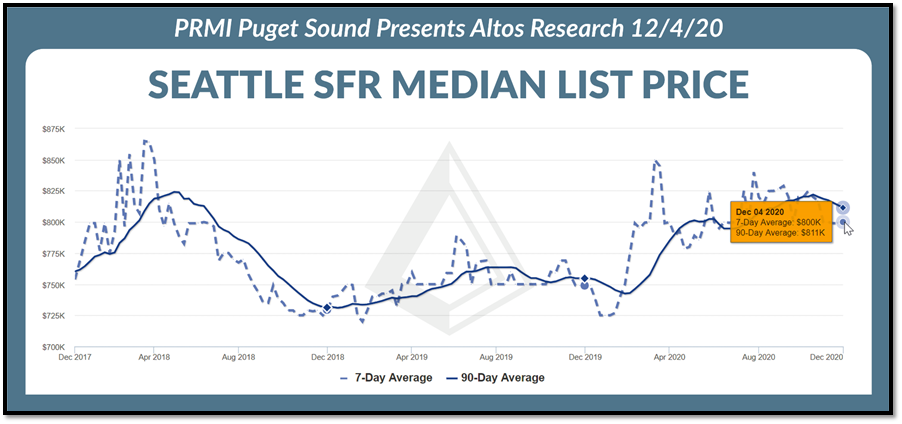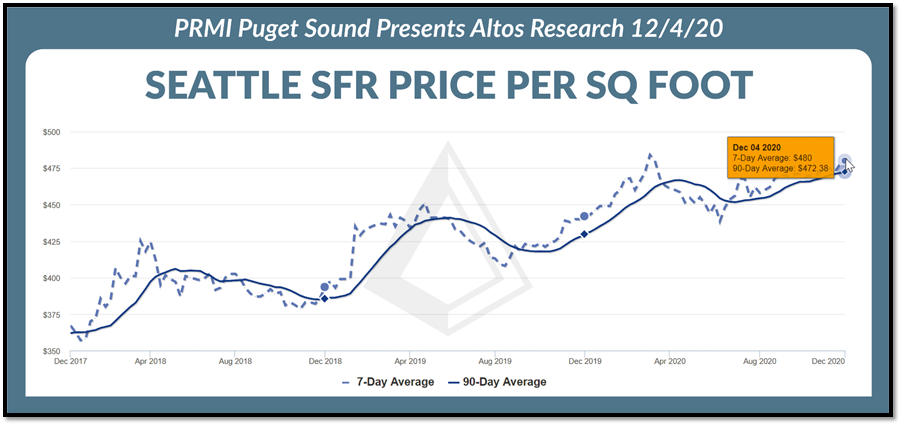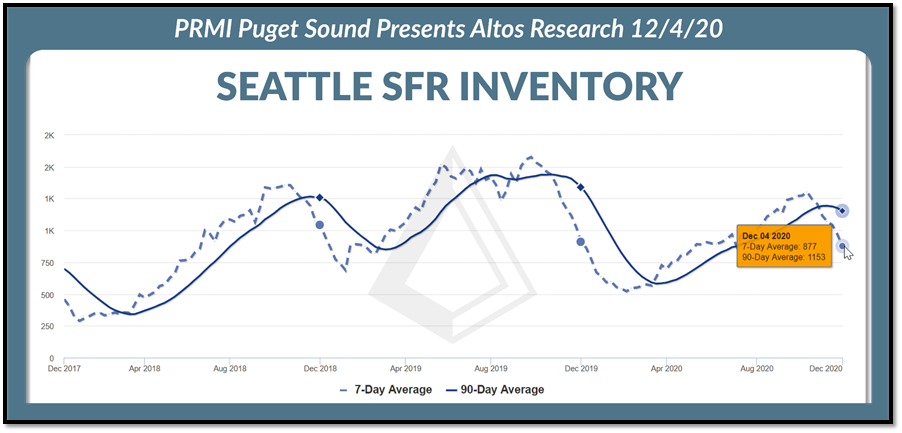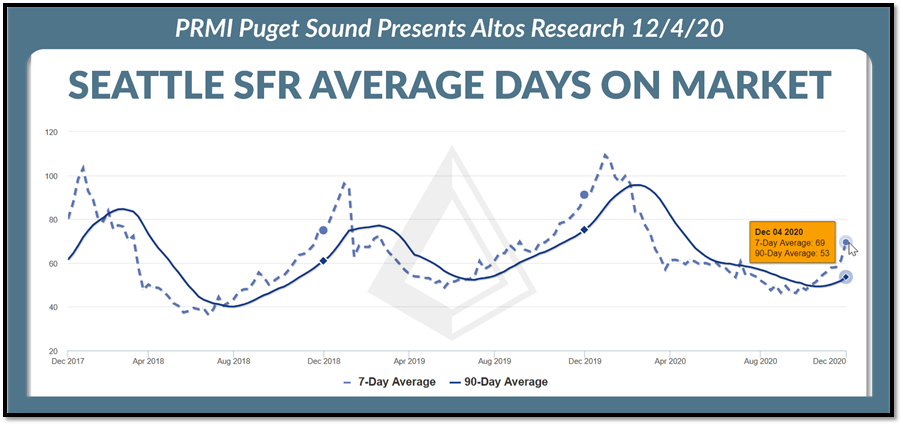 Interest Rates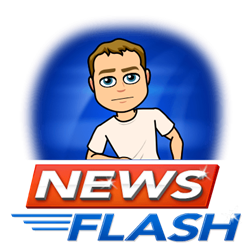 Per Bankrate.com's survey of large lenders, the 30 year mortgage interest rate fell slightly this past week to 2.99%, with .32 in discount and origination points.
According to Bankrate, rates have fallen .94% since their 52 week high of 3.93%
(That's a savings of $261.62 per month on a $500,000 loan!)
Kyle's Quick Take
As the race for a vaccine comes down the homestretch, interest rates will start to shift their attention to the overall economy and recovery. In the past few months vaccine news would shock the interest rate markets, but now with the dust settling on the vaccine front, interest rates will start to trade on economic news; with good economic news being bad for interest rates, and bad economic news being good for interest rates. Good economic news will be translated by traders as reasons for the Fed to slow down their purchases of Treasury Bills and Mortgage Backed Securities. Not wanting to hold an asset that has declining demand, investors will sell out of their positions prematurely, thus causing the price of the mortgage bond to fall, and therefore mortgage interest rates to rise.

Mortgage rates this week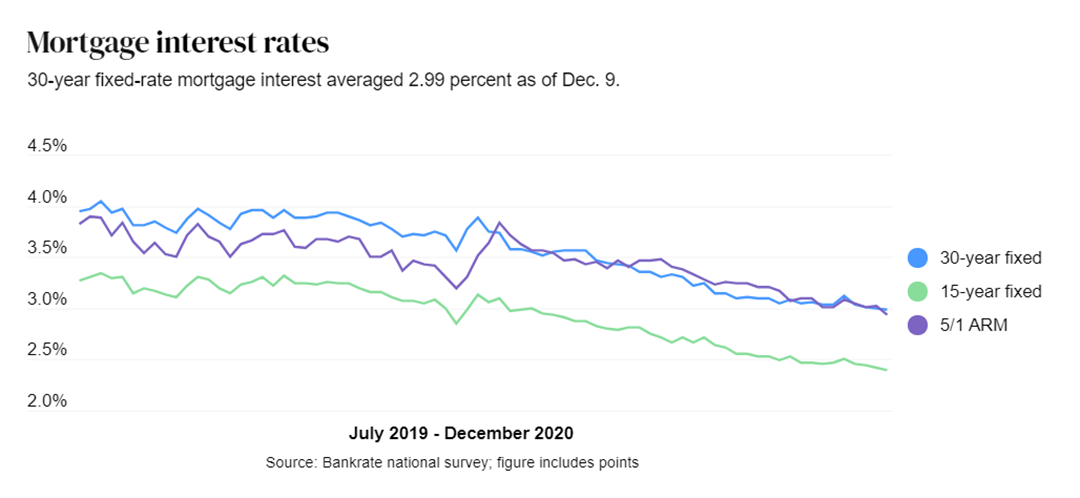 Mortgage rates hit yet another new record low this week, falling below 3 percent. The average 30-year fixed-rate mortgage dipped to 2.99 percent from 3 percent, according to Bankrate's weekly survey of large lenders.
A year ago, the 30-year was 3.93 percent. Four weeks ago, the rate was 3.12 percent. The 30-year fixed-rate average for this week is 0.94 percentage points below the 52-week high of 3.93 percent, and is the same as the 52-week low of 2.99 percent.
The 30-year fixed mortgages in this week's survey had an average total of 0.32 discount and origination points.
Over the past 52 weeks, the 30-year fixed has averaged 3.42 percent. This week's rate is 0.43 percentage points lower than the 52-week average.
The 15-year fixed-rate mortgage fell to 2.39 percent from 2.42 percent.
The 5/1 adjustable-rate mortgage fell to 2.93 percent from 3.02 percent.
The 30-year fixed-rate jumbo mortgage fell to 3.40 percent from 3.44 percent.
At the current 30-year fixed rate, you'll pay $421.06 each month for every $100,000 you borrow, down from $421.60 last week.
At the current 15-year fixed rate, you'll pay $661.62 each month for every $100,000 you borrow, down from $663.03 last week.
At the current 5/1 ARM rate, you'll pay $417.84 each month for every $100,000 you borrow, down from $422.68 last week.
Results of Bankrate.com's weekly national survey of large lenders conducted December 9, 2020 and the effect on monthly payments for a $165,000 loan:

Where mortgage rates are headed
In the week ahead (Dec. 9- Dec. 16), mortgage experts were mixed on rate trend predictions in Bankrate's survey. The largest share — 46 percent expect mortgage rates to remain flat in the week ahead. Meanwhile 27 percent said rates will rise and a different 27 percent of the respondents said rates will fall.
"Another week of steady as she goes for mortgage rates. Despite an uptick in Treasury yields there has been little to no impact felt by the markets, so it continues to appear as if low rates are here for an extended period of time," said Gordon Miller, owner, Miller Lending Group, LLC, Cary, North Carolina.
Now's the time to get a purchase mortgage or refinance
Rates are at a record low and are expected to stay this way and possibly even go a little lower next year.
That means more and more homeowners can refinance to cut their monthly mortgage payments. However, refinancing comes with costs that you must make up if you are to profit from a refi.
In this struggling economy, the housing market has been a surprisingly strong. Home prices have risen sharply in most parts of the country, and bidding wars have broken out in many places.
Moira Taylor, a real estate broker in Atlanta and head of Taylor Made Realty, says every home on the market draws half a dozen bids, and some get more. "Sometimes we're even putting bids in blind, before we even see the properties," Taylor says. "It's just that competitive."
The bottom line is anyone with good to excellent credit who wants a mortgage should be able to snag a low rate for some time to come. Even those with tarnished credit can benefit, especially with programs such as FHA and VA loans.
The Bankrate.com national survey of large lenders is conducted weekly. To conduct the National Average survey, Bankrate obtains rate information from the 10 largest banks and thrifts in 10 large U.S. markets. In the Bankrate.com national survey, our Market Analysis team gathers rates and/or yields on banking deposits, loans and mortgages. We've conducted this survey in the same manner for more than 30 years, and because it's consistently done the way it is, it gives an accurate national apples-to-apples comparison. Our rates may differ from other national surveys, in particular Freddie Mac's weekly published rates. Each week Freddie Mac surveys lenders on the rates and points based on first-lien prime conventional conforming home purchase mortgages with a loan-to-value of 80 percent. "Lenders surveyed each week are a mix of lender types – thrifts, credit unions, commercial banks and mortgage lending companies – is roughly proportional to the level of mortgage business that each type commands nationwide," according to Freddie Mac.