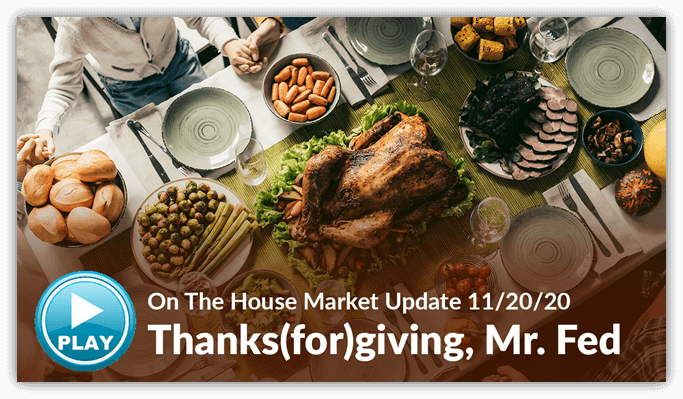 By: Kyle Bergquist
The Puget Sound Real Estate Market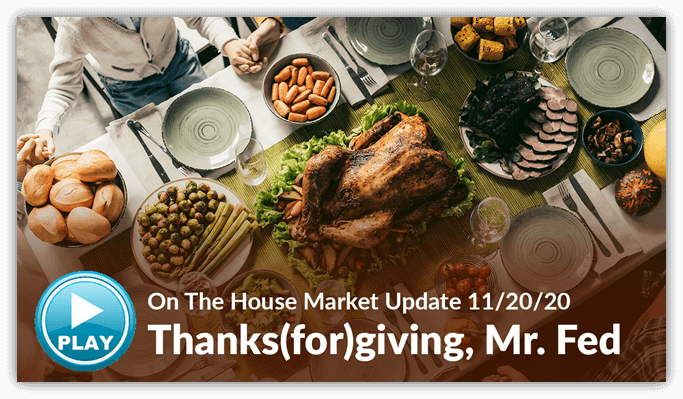 Puget Sound Real Estate: Thanks(for)giving, Mr. Fed
It's projected that United States Federal Reserve will end 2020 having pumped about $3.7 TRILLION dollars into treasury and mortgage backed security purchases, this year alone. According to Bankrate.com, those Fed purchases have helped lower the national 30 year mortgage interest rate average by about .75%. Now, point seven five percent doesn't sound like a lot, but that translates into about $210 per month savings on a $500,000 mortgage.
Let's dial that in for King County: There are about 554,042 owner occupied households in King County according to the US Census. Then, according to the 2019 American Community Survey, we can see that 73% of those homes have a mortgage. Therefore, we have 404,450 financed homes in King County. THEN, going back to the Census we can see that of those 404,450 financed homes, the median principal and interest payment is $1,595 per home. If each one of those households is able to save themselves 10% on their mortgage payment, or $160 per month by refinancing to today's low rates, the net benefit of Fed Purchases for King County in 2021 is about $64,712,000…per year. Assuming people will keep their all-time record low interest rate for an average 15 years, the Fed's purchases this year will effectively and cumulatively save King County homeowners $970,680,000. That's a lot of manufactured wealth, and that's likely to find its way back into the Northwest economy in some way, shape, or form over the next decade and a half.
Project these numbers across every county nationwide, and I'd be willing to bet the Fed is coming out on top here – AKA, A net benefit to Americans over the next 15 years worth MORE than the $3.7 Trillion they're projected to spend this year buying treasury bonds and mortgage backed securities. And this doesn't even account for the increase in wealth of current homeowners derived from house price appreciation due to increased purchasing power for homebuyers bidding list prices higher.
Summary
The 2020 Fed buying spree is pumping hundreds of millions of dollars back into American households' pockets. It's also opening the door for prospective new homeowners to jump into the housing market with increased purchasing power, which drives prices higher, thus adding wealth to current homeowners' portfolios. Add this to the FAA recertification of the Boeing 737 Max, Amazon's new pharmacy, Microsoft's continued growth in the Cloud space, Google's 10 acre campus expansion in Kirkland, and the recent vaccine data; and there's a lot of reason to be pretty optimistic about the Northwest Real Estate market as we close out 2020 and head into 2021. Median list prices may be waning as Winter Cleanup Season takes hold and a higher percentage of sellers accept under-list-price offers, but the economic backbone to the Puget Sound housing market is there, and it's being fortified by continued Fed involvement for low mortgage interest rates. So long as this low interest rate trend continues, and our local economy cultivates more and more homebuyer-paying jobs, the Northwest Housing Market is in prime position for a stellar 2021.
Alex Black Absorption Rates per NWMLS Real Time Data
Absorption Rate is calculated as: (Pending Sales) / (Active + Pending Sales)
SFR in Seattle
SFR Pending Sales in Seattle: 883
SFR Active Listings in Seattle: 1,001 homes
Absorption Rate for SFR in Seattle: 46.87%

What to Watch for During Winter Clean Up Season: Despite a time a year where median list prices generally fall, put more weight into the absorption rate when gauging the overall health of our housing market. If the absorption rate holds steady to increases (like it is), then the stage will be set for a very strong Spring housing market, with median prices likely covering their winter losses (and some).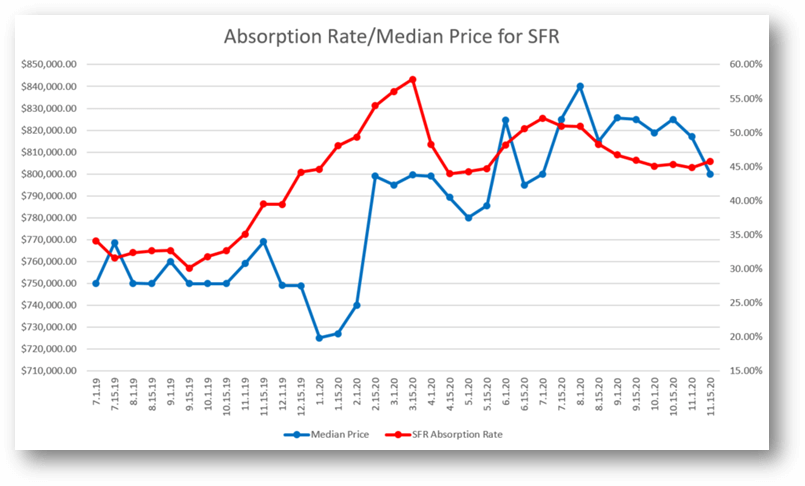 Condos in Seattle
Condo Pending Sales in Seattle: 203
Condo Active Listings in Seattle: 927
Absorption Rate for Condos in Seattle: 17.96%

As Summer turns to Fall, and Fall to Winter, it appears as though condo sellers' and their prices are starting to get back in line with where the absorption rate dictates prices should hang out…about 10% lower from their recent median high list price of $550,000. There were some new buildings that opened up this past summer whose premium list prices' increased the overall median list price for condos out of line with the absorption rate, but with winter coming and people not wanting to shelter-from-condo, it looks as though things are trending back towards price/absorption rate equilibrium in the condo market with median list prices falling.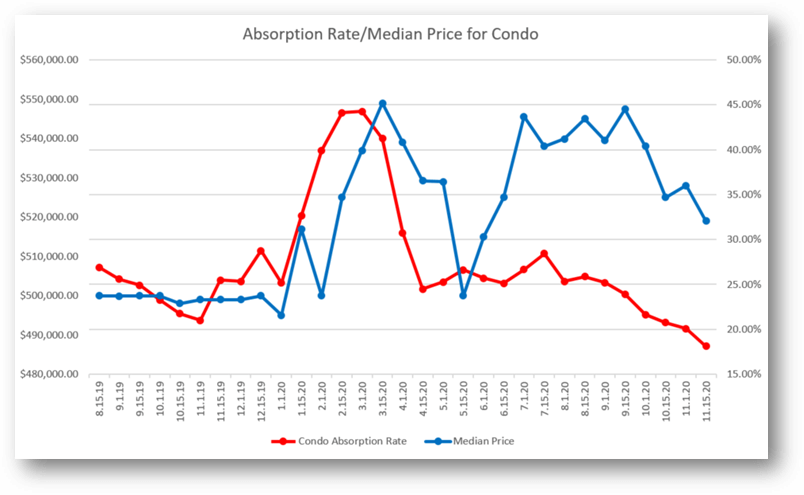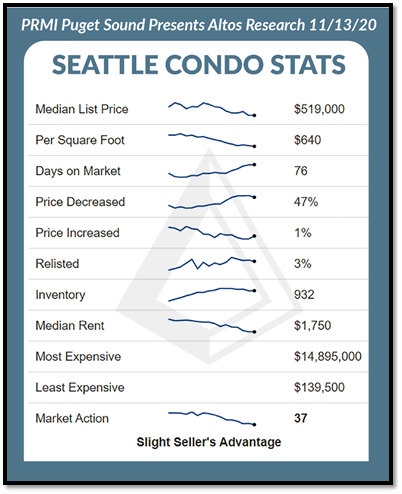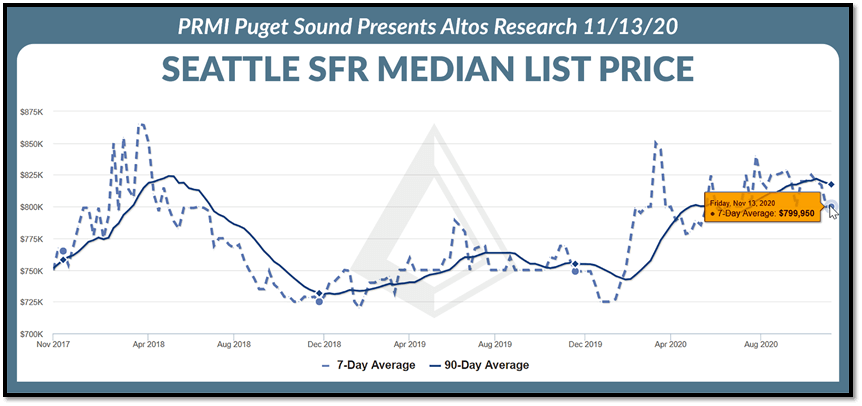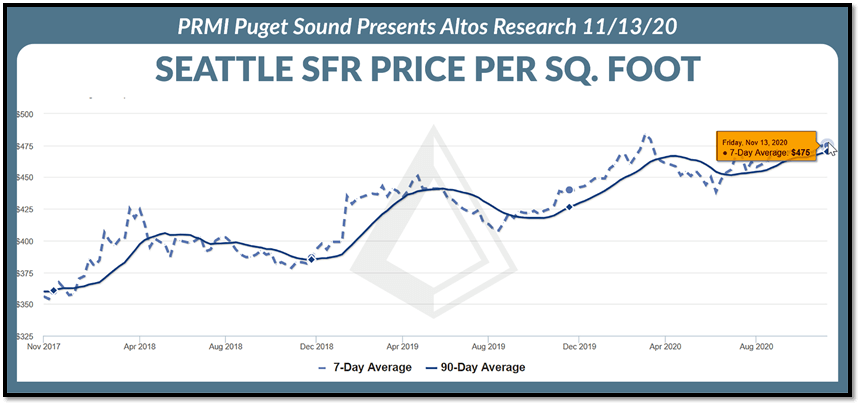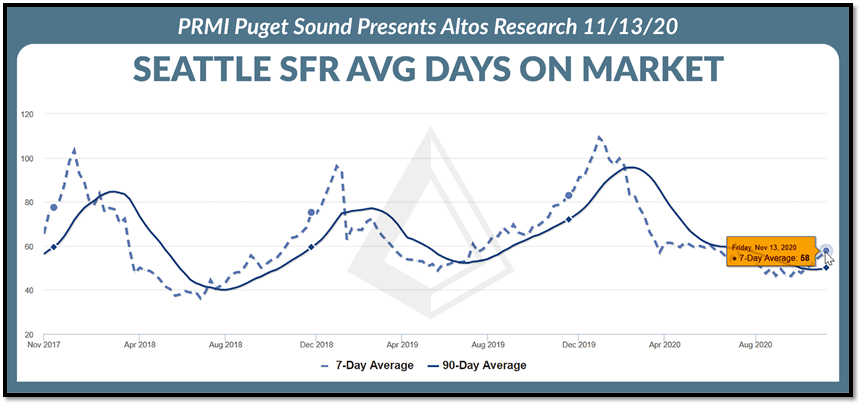 Interest Rates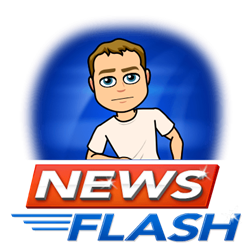 Per Bankrate.com's survey of large lenders, the 30 year mortgage interest rate fell slightly this past week to 3.03%, with .32 in discount and origination points.
According to Bankrate, rates have fallen .9% since their 52 week high of 3.93%
(That's a savings of $250.82 per month on a $500,000 loan!)
Kyle's Quick Take
If you've been tracking this section of the WMU, you already know that any vaccine news would be bad for rates… And the news from Pfizer and Moderna earlier this month was just that: Bad for rates. The reason this was easy to predict was because any vaccine news would have a flood of money entering the stock markets, and usually when that happens it's at the expense of the lower risk/lower return mortgage bond, therefore increasing mortgage interest rates. However, as we can see in this weeks Bankrate survey, rates have come back down a bit as the re-reality of where we're at with COVID settles in.

Mortgage rates this week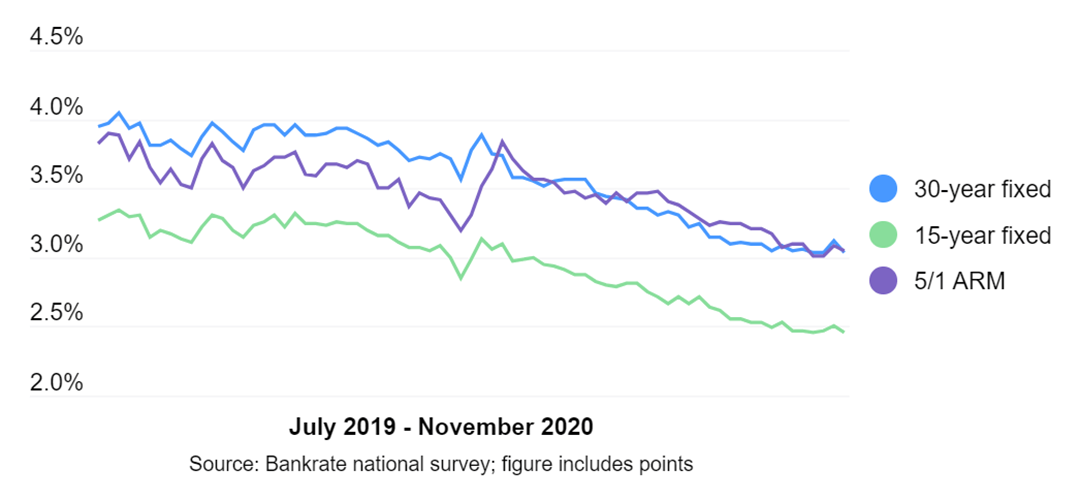 Mortgage rates returned to record lows this week, reflecting a still-uncertain economic outlook and a spike in coronavirus cases. The average 30-year fixed-rate mortgage dipped to 3.03 percent from 3.12 percent, according to Bankrate's weekly survey of large lenders.
A year ago, it was 3.89 percent. Four weeks ago, the rate was 3.06 percent. The 30-year fixed-rate average for this week is 0.90 percentage points below the 52-week high of 3.93 percent, and is the same as the 52-week low of 3.03 percent.
The 30-year fixed mortgages in this week's survey had an average total of 0.32 discount and origination points.
Over the past 52 weeks, the 30-year fixed has averaged 3.47 percent. This week's rate is 0.44 percentage points lower than the 52-week average.
The 15-year fixed-rate mortgage fell to 2.45 percent from 2.50 percent.
The 5/1 adjustable-rate mortgage fell to 3.05 percent from 3.08 percent.
The 30-year fixed-rate jumbo mortgage fell to 3.46 percent from 3.48 percent.
At the current 30-year fixed rate, you'll pay $423.22 each month for every $100,000 you borrow, down from $428.10 last week.
At the current 15-year fixed rate, you'll pay $664.44 each month for every $100,000 you borrow, down from $666.79 last week.
At the current 5/1 ARM rate, you'll pay $424.31 each month for every $100,000 you borrow, down from $425.93 last week.
Results of Bankrate.com's weekly national survey of large lenders conducted November 18, 2020 and the effect on monthly payments for a $165,000 loan:

Where mortgage rates are headed
In the week ahead (Nov. 19-25), 46 percent of the experts on Bankrate's panel predict rates will stay the same, while 31 percent expect rates will rise and just 23 percent project that rates will fall.
"The surging virus cases and lack of any immediate stimulus for consumers and small businesses are becoming a bigger drag on the recovery, pushing bond yields and mortgage rates back down," says Greg McBride, CFA, Bankrate chief financial analyst.
Now's the time to get a purchase mortgage or refinance
Rates are just a handful of basis points from a record low and are expected to stay this way for a while. You can see the forecast from various experts for the year ahead here.
That means more and more homeowners can refinance to cut their monthly mortgage payments. However, refinancing comes with costs that you must make up if you are to profit from a refi.
In this struggling economy, the housing market has been a surprisingly strong. Home prices have risen sharply in most parts of the country, and bidding wars have broken out in many places.
Moira Taylor, a real estate broker in Atlanta and head of Taylor Made Realty, says every home on the market draws half a dozen bids, and some get more. "Sometimes we're even putting bids in blind, before we even see the properties," Taylor says. "It's just that competitive."
As for rates, they're widely expected to make a slow rise in the coming months. But anyone with good to excellent credit who wants a mortgage should be able to snag a low rate for some time to come. How long is anybody's guess.
The Bankrate.com national survey of large lenders is conducted weekly. To conduct the National Average survey, Bankrate obtains rate information from the 10 largest banks and thrifts in 10 large U.S. markets. In the Bankrate.com national survey, our Market Analysis team gathers rates and/or yields on banking deposits, loans and mortgages. We've conducted this survey in the same manner for more than 30 years, and because it's consistently done the way it is, it gives an accurate national apples-to-apples comparison. Our rates may differ from other national surveys, in particular Freddie Mac's weekly published rates. Each week Freddie Mac surveys lenders on the rates and points based on first-lien prime conventional conforming home purchase mortgages with a loan-to-value of 80 percent. "Lenders surveyed each week are a mix of lender types – thrifts, credit unions, commercial banks and mortgage lending companies – is roughly proportional to the level of mortgage business that each type commands nationwide," according to Freddie Mac.