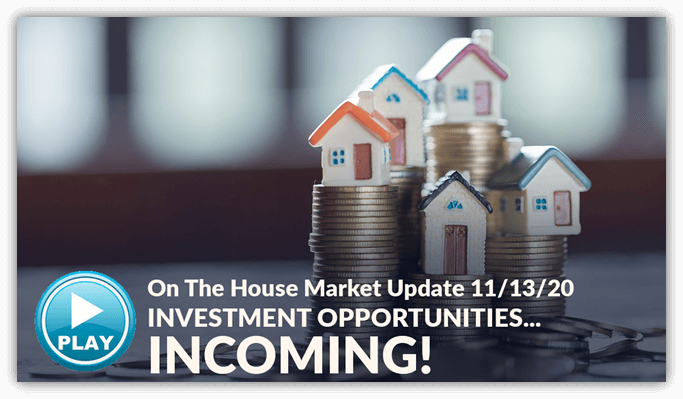 By: Kyle Bergquist
The Puget Sound Real Estate Market
Before we get started here: BIG THANK YOU to our Veterans for your service. We are here because of the sacrifices you made, and current servicemen continue to make. I hope you had a fantastic week this week!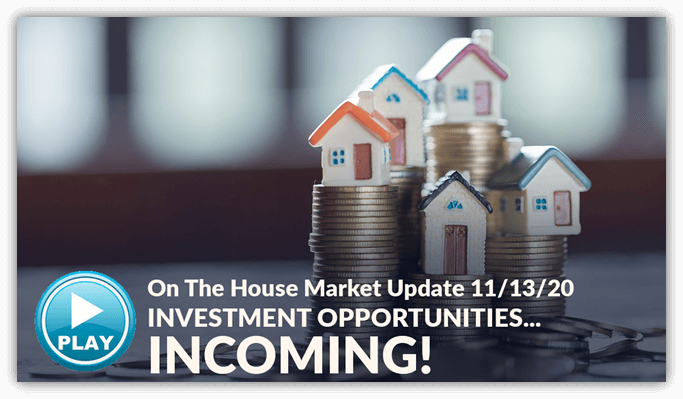 Puget Sound Real Estate:
If you were to poll real estate agents across America, I'd be willing to bet one of the top three questions received is "WHEN is the best time to buy (or sell)?" Freakonomics' allegory about an agent seemingly speaking out both sides of their mouth made the answer to this question famous: It's ALWAYS the best time to buy/sell! And that's not necessarily wrong…
If you're looking to buy an incredible home for your family to live in for years to come, you'll have the most inventory to choose from in the Spring and Summer; the flipside is that you'll also have a lot more competition in the Spring and Summer, and the price you pay might be a bit higher than it would have been for the same home the Fall/Winter prior. On that note, in the Fall and Winter there will be far fewer new listings to look at, but prices will likely be a bit less, and outside of new move-in ready listings you probably won't have a ton of competition.
For sellers – Prices are generally rising in the Spring so you may be able to maximize your return…but you're also competing with a lot more other sellers for buyers' attention in the Spring; versus in the Fall when you might be the only seller on the block, with the flipside that prices overall are generally falling a bit.
However, you want to slice it, it's ALWAYS the best time to buy or sell an owner occupied home because the factors at play balance themselves out - Therefore the market is ALWAYS in equilibrium and no one time is better than another!
With all that said, I would argue that if you were an investor looking for a rental property, NOW might be the time for you. We've all watched enough HGTV (especially this year) to know that one of the biggest factors for successful real estate investing is what you pay for the house... And there's no better time of year than NOW to pay less. Listings that haven't been purchased yet are looking at months before buyers flock back to the market, so many of them take price breaks in the hopes they aren't subject to that timeline. So not only might you be able to score a great deal in the Fall and Winter, but throw in today's record low interest rates and your projected cashflow worksheets could look very rosy.
Summary
Overall home prices have soared this past year because inventory is low, and purchasing power is high due to our record low mortgage interest rates. Year over year numbers released by the Northwest MLS saw most Washington counties realize double digit home price appreciation when comparing this October to last October.
However, though the year over year numbers may be nice, look for the media to start throwing out month over month numbers that look a lot scarier than the year over year ones. Moving forward expect to see home prices start to slide as we head into winter cleanup season – A time where new listings (that fetch multiple offers driving prices higher) are few and far between, and aged listings start to take price breaks to sell before the year is out. Already the Median List Price for a home in Seattle is down about 3% from October 16th according to Altos Research. But FEAR NOT, the absorption rate (which measures buyer activity relative to seller activity) is actually increasing. This dynamic points towards a strong local housing market despite slightly decreasing median list prices. Again, if you're an investor, now's a great time to try and negotiate a deal; because just like what happened last winter, if the absorption rate continues to climb throughout winter amidst falling inventory, prices could skyrocket once again next Spring as new inventory returns to the shelves and pent up buyer demand reaches fever-pitch status.
Alex Black Absorption Rates per NWMLS Real Time Data
Absorption Rate is calculated as: (Pending Sales) / (Active + Pending Sales)
SFR in Seattle
SFR Pending Sales in Seattle: 899
SFR Active Listings in Seattle: 1,058 homes
Absorption Rate for SFR in Seattle: 45.94%

What to Watch for During Winter Clean Up Season: Despite a time a year where median list prices generally fall, put more weight into the absorption rate when gauging the overall health of our housing market. If the absorption rate holds steady to increases, then the stage will be set for a very strong Spring housing market, with median prices likely covering their winter losses (and some).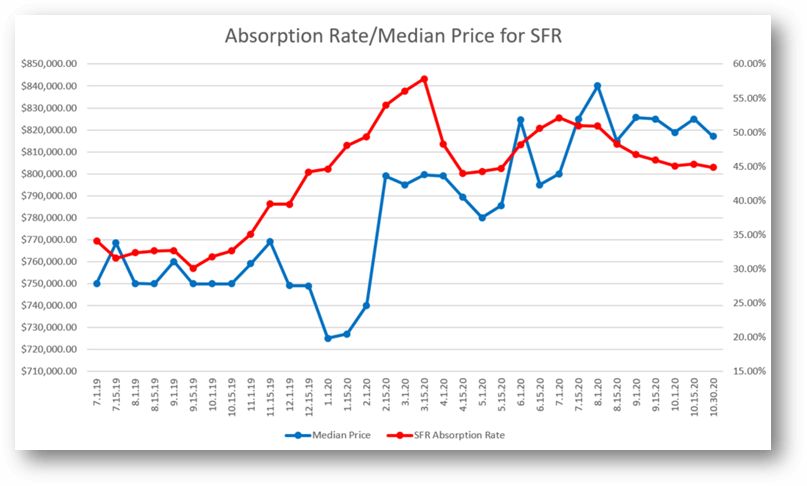 Condos in Seattle
Condo Pending Sales in Seattle: 217
Condo Active Listings in Seattle: 948
Absorption Rate for Condos in Seattle: 18.63%

As Summer turns to Fall, and Winter looms on the horizon, it appears as though condo sellers' and their prices are starting to get back in line with where the absorption rate dictates prices should hang out…about 10% lower from their recent median high list price of $550,000. There were some new buildings that opened up this past summer whose premium list prices' increased the overall median list price for condos out of line with the absorption rate, but with winter coming it looks as though things are trending back towards price/absorption rate equilibrium in the condo market.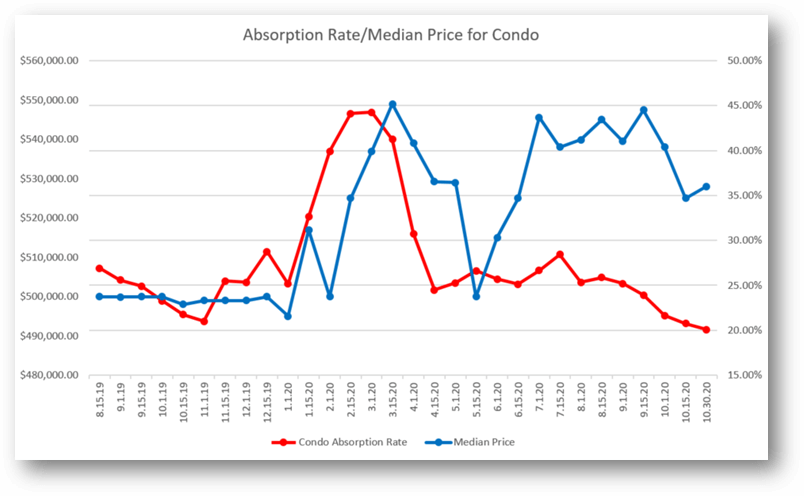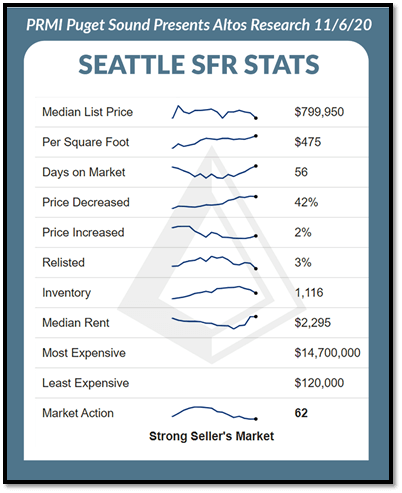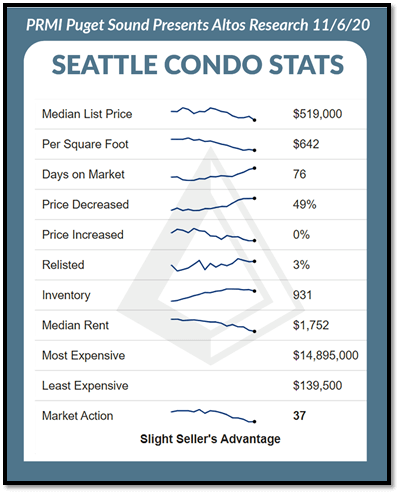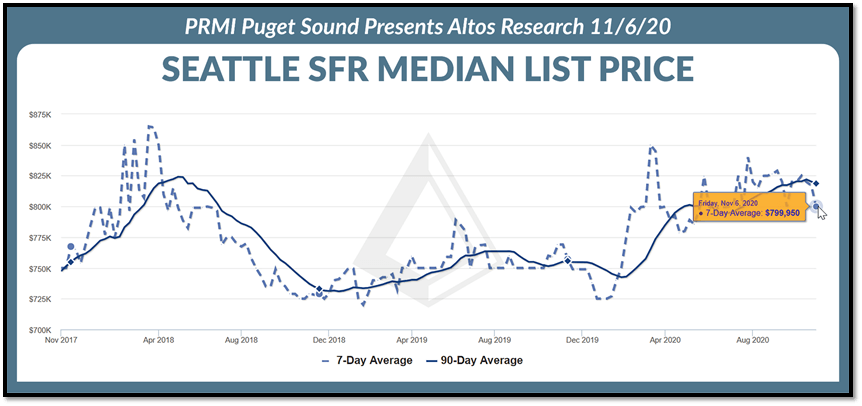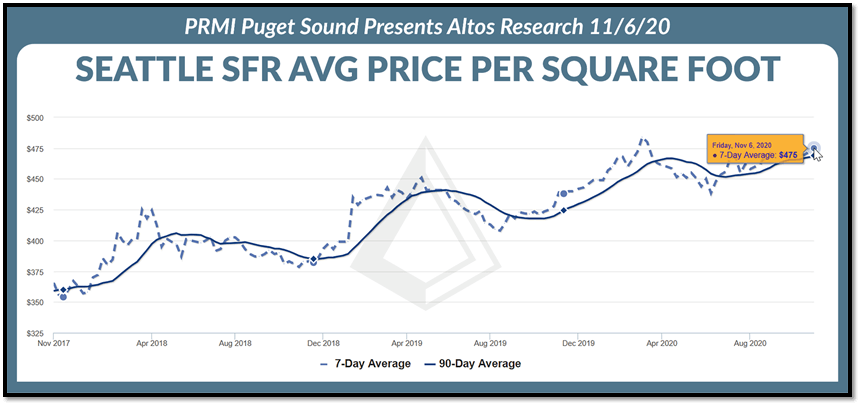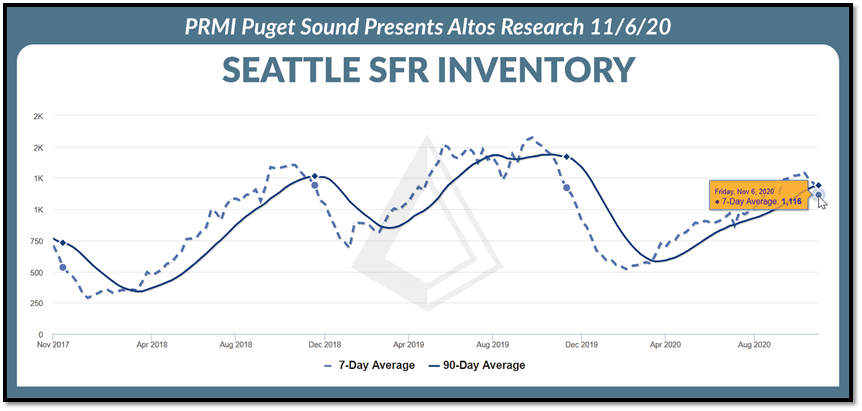 Interest Rates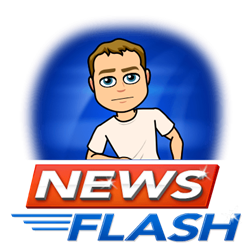 Per Bankrate.com's survey of large lenders, the 30 year mortgage interest rate rose slightly this past week to 3.12%, with .36 in discount and origination points.
According to Bankrate, rates have fallen .84% since their 52 week high of 3.96%
(That's a savings of $235.04 per month on a $500,000 loan!)
Kyle's Quick Take
Reasons for rates to rise: The pending Fed nomination of Judy Shelton could be bad for rates. She has been on record for saying things like "Let's devalue the currency so our exports are cheaper, therefore stimulating Corporate America and our stock markets." ß This would be horrendous for rates. She has since promised not to do that, but the fact remains that that is where her head's at.
If you've been tracking this section of the WMU, you already know that any vaccine news would be bad for rates… And last week's news from Pfizer was just that: Bad for rates. The reason this was easy to predict was because any vaccine news would have a flood of money entering the stock markets, and usually when that happens it's at the expense of the lower risk/lower return mortgage bond, therefore increasing mortgage interest rates. In the days since the announcement rates have come back down a bit, but still a little left to go before we hit pre-vaccine mortgage rates.
Lastly, here's a reason for rates to fall: Pending Democratic control of the White House (still waiting to see officially how this shakes out, but it appears the writing is on the wall). Republicans keeping the Senate will go a long way to balancing things out and keeping rates where they are, but ultimately Dems are good for mortgage interest rates, and Republicans are bad for rates (All has to do with their respective stances on Corporate America and where investors feel comfortable parking their money – Low risk/low return mortgage bond market; or high risk/high return stock market. Case n point: When Trump won in 2016 mortgage rates jumped about .5% in the 2 days following that Election night).

Mortgage rates this week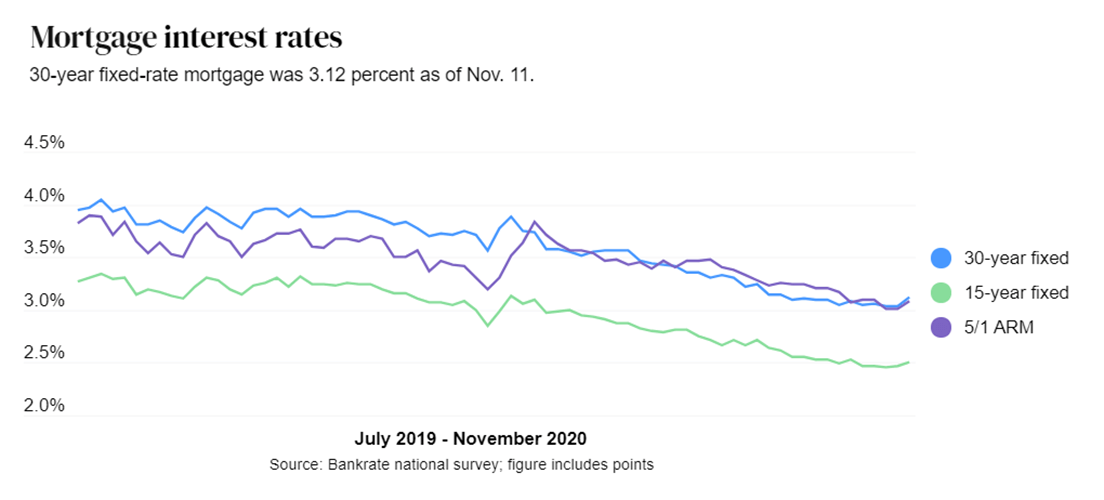 Mortgage rates rose this week from record lows. The average 30-year fixed-rate loan jumped to 3.12 percent from 3.04 percent, according to Bankrate's weekly survey of large lenders.
A year ago, it was 3.96 percent. Four weeks ago, the rate was 3.05 percent. The 30-year fixed-rate average for this week is 0.81 percentage points below the 52-week high of 3.93 percent, and is 0.09 percentage points above the 52-week low of 3.03 percent.
The 30-year fixed mortgages in this week's survey had an average total of 0.36 discount and origination points.
Over the past 52 weeks, the 30-year fixed has averaged 3.49 percent. This week's rate is 0.37 percentage points lower than the 52-week average.
The 15-year fixed-rate mortgage rose to 2.50 percent from 2.47 percent.
The 5/1 adjustable-rate mortgage rose to 3.08 percent from 3.01 percent.
The 30-year fixed-rate jumbo mortgage was flat at 3.48 percent.
At the current 30-year fixed rate, you'll pay $428.10 each month for every $100,000 you borrow, up from $423.76 last week.
At the current 15-year fixed rate, you'll pay $666.79 each month for every $100,000 you borrow, up from $665.38 last week.
At the current 5/1 ARM rate, you'll pay $425.93 each month for every $100,000 you borrow, up from $422.14 last week.
Results of Bankrate.com's weekly national survey of large lenders conducted November 11, 2020 and the effect on monthly payments for a $165,000 loan:

Where mortgage rates are headed
In the week ahead (Nov. 11-Nov. 17), 92 percent of the experts on Bankrate's panel predict rates will rise, while 8 percent expect rates will fall.
"The excellent news about the COVID-19 [vaccine] gives optimism toward economic normalcy. Rates are headed higher this week," says Jeff Lazerson of Mortgage Grader.
"No need to freak out, thinking you've missed the refinancing window. You haven't," says Greg McBride, CFA, chief financial analyst, Bankrate.com.
Now's the time to get a purchase mortgage or refinance
Rates are just a handful of basis points from a record low and are expected to stay this way for a while. You can see the forecast from various experts for the year ahead here.
That means more and more homeowners can refinance to cut their monthly mortgage payments. However, refinancing comes with costs that you must make up if you are to profit from a refi. Bankrate has a calculator to help you decide whether refinancing is a good idea.
In this struggling economy, the housing market has been a surprisingly strong. Home prices have risen sharply in most parts of the country, and bidding wars have broken out in many places.
Moira Taylor, a real estate broker in Atlanta and head of Taylor Made Realty, says every home on the market draws half a dozen bids, and some get more. "Sometimes we're even putting bids in blind, before we even see the properties," Taylor says. "It's just that competitive."
As for rates, they're widely expected to make a slow rise in the coming months. But anyone with good to excellent credit who wants a mortgage should be able to snag a low rate for some time to come. How long is anybody's guess.
The Bankrate.com national survey of large lenders is conducted weekly. To conduct the National Average survey, Bankrate obtains rate information from the 10 largest banks and thrifts in 10 large U.S. markets. In the Bankrate.com national survey, our Market Analysis team gathers rates and/or yields on banking deposits, loans and mortgages. We've conducted this survey in the same manner for more than 30 years, and because it's consistently done the way it is, it gives an accurate national apples-to-apples comparison. Our rates may differ from other national surveys, in particular Freddie Mac's weekly published rates. Each week Freddie Mac surveys lenders on the rates and points based on first-lien prime conventional conforming home purchase mortgages with a loan-to-value of 80 percent. "Lenders surveyed each week are a mix of lender types – thrifts, credit unions, commercial banks and mortgage lending companies – is roughly proportional to the level of mortgage business that each type commands nationwide," according to Freddie Mac.