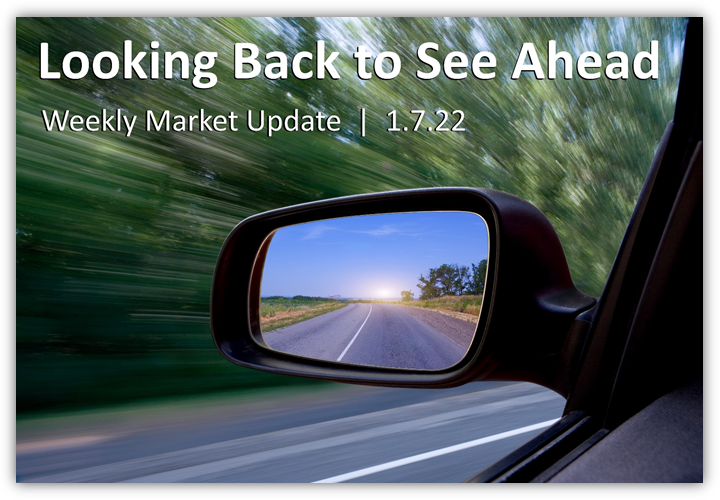 By: Kyle Bergquist
Puget Sound Real Estate: Looking Back to See Ahead
Does it feel like 2021 and 2020 were just one big combined year? Like, a 730 day year? If you're like me, when someone asks about something in the Spring I have to take a minute and be like "Wait, which Spring did that happen in…"
Well the good news is that it's 2022, which means that not only do we get all new pictures to look at on our wall calendars, but a renewed sense of hope, optimism, and excitement for the New Year! So what will the New Year bring? There are two major things I'm keeping my eye on: Inventory and Interest Rates.
Inventory
There is no shortage of content being generated on this front. On January 1, 2022:
The City of Seattle had 178 homes for sale
Bellevue/Redmond/Kirkland had 15 homes for sale
Everett/Marysville/Lake Stevens had 40 homes for sale
Tacoma/Lakewood/Federal Way had 126 homes for sale.
For perspective:
Inventory in the City of Seattle is down 76.88% since August 1st, 2021 when 770 homes were active on the NWMLS; and down 71.92% from last year's January 1 number of 634.
Assuming a 30 day close, Bellevue/Redmond/Kirkland have 3 days, 4 hours, and 5 minutes of inventory.
There are a combined 166 homes for sale in Everett, Marysville, Lake Stevens, Tacoma, Lakewood, and Federal Way. The combined population of these cities is 580,392 according to the US Census. That means there is 1 home for sale for every 3,496 residents.
Interest Rates
Check out the screen shot of the Mortgage Bond below. We have not seen mortgage interest rates this high since March 2020, and unfortunately there's no end in sight for where they'll top out in the short run. Rates are on the rise again this week namely due better than expected job and wage data, continued high inflation, and surprisingly hawkish Fed Minutes.
In a nutshell: On Wednesday the ADP Employment report showed there were 807,000 jobs created in December (almost double the market expectations). Then this morning (Friday the 7th), the Bureau of Labor Statistics report came out showing a better than expected decline in the unemployment rate, all the way down to 3.9%; AND some really hot wage growth. Over the past 6 months wages have been increasing at an annualized rate of 6%. Furthermore, of the 19.6m jobs we lost in March and April 2020, we've so far recovered about 15.6m of those…And of that 4m job delta, about 3m of those not recovered jobs can be attributed to the Great Resignation. Now the problem with 3 million jobs being lost to the Great Resignation is that employers still need to fill those jobs, and so they're paying more…a lot more than they were before (thus the 6% wage growth). And when wages rise, so does inflation (the ultimate Kryptonite of fixed yield assets like mortgage bonds). Add on top of that Wednesday's Fed minutes surprising the secondary mortgage markets with not only reminding us all of how aggressively they plan to discontinue their mortgage bond buying efforts (which artificially decreases mortgage interest rates), but they decided to broach the delicate subject of what they plan to do with their $8.3 TRILLION balance sheet (comprised of mortgage backed securities and Treasuries). Aka, they dropped hints at how they plan to unload all their mortgage backed securities…which increases supply on the secondary mortgage markets, and therefore puts upward pressure on mortgage interest rates.
Summary
Looking Back to See Ahead: At the time, January 2018 was one of, if not the most competitive housing markets the northwest had ever seen based on available inventory and active buyers. But then something happened in May of 2018 – All of a sudden sellers started outpacing buyers, and housing prices here in the PNW started snowballing downhill. One of the major reasons this happened was because interest rates were on the rise, topping out just over 5% by the end of 2018. Rising mortgage interest rates decrease buyer purchasing power, thus thinning out the buyer pool. Ultimately the buyer pool thinned out too much and sellers started outpacing buyers, which then caused housing prices to falter, which then led to more and more buyers backing out of the housing market altogether since they were weary of purchasing a home in a declining market.
We have less inventory now than we had in January 2018 which bodes well for increasing housing prices in 2022, but be very mindful of mortgage interest rates. If they rise too far too fast, then we may hit a tipping point much like we did in May 2018. That said, despite the recent rise in mortgage interest rates, if we remove the years 2020 and 2021, mortgage interest rates today would be at their previous all-time record lows set in 2012.
This is certainly not a panic warning as we have a lot of room on both the inventory and interest rate side of the equation before we hit 2018 levels, but due to the lessons we learned in 2018 these two metrics are definitely worth keeping a close eye on.
Interest Rates
Per Bankrate's survey of large lenders, the 30 year mortgage interest rate rose this past week to 3.4%, with .33 in discount and origination points.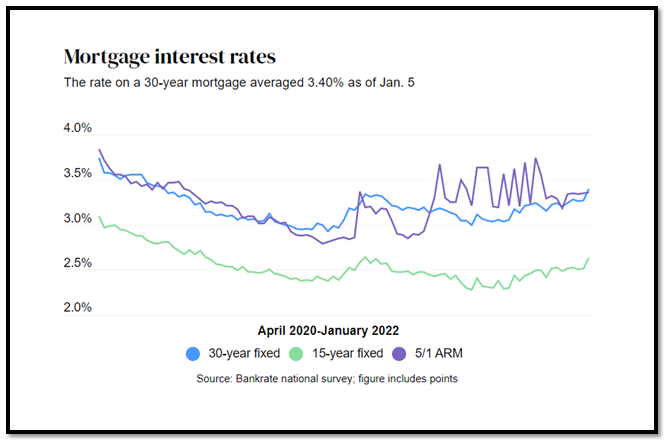 Kyle's Quick Take – Mortgage Market Week in Review
Rates are rocketing higher on the heels of better than expected employment reports, wage growth and inflation, and surprisingly hawkish Fed Minutes released on Wednesday. Things are likely to continue worsening before they get better.
WHAT YOU NEED TO KNOW FOR WHERE RATES WILL GO:
Good Economic News or Inflation

= Bad for Mortgage Interest Rates.

Bad Economic News or Deflation

= Good for Mortgage Interest Rates.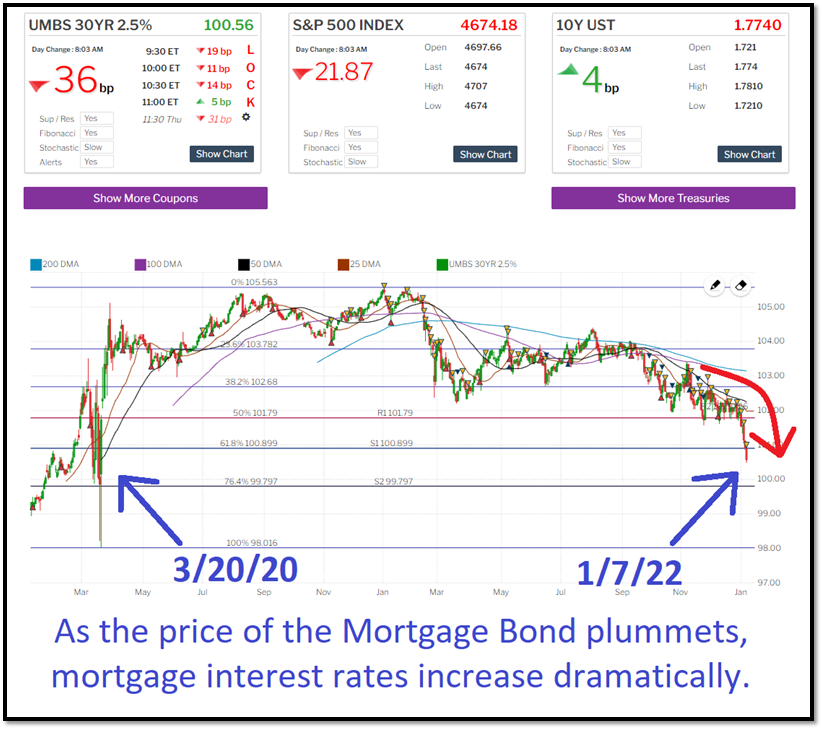 Puget Sound Real Estate: Charts and Data
A picture is worth a thousand words…
Absorption Rates per NWMLS Real Time Data
Absorption Rate is calculated as: (Pending Sales) / (Active + Pending Sales)
Residential in Seattle: 66.86%
Condos in Seattle: 48.35%
Residential in Bellevue/Redmond/Kirkland: 79.26%
Condos in Bellevue/Redmond/Kirkland: 81.63%
Residential in Everett/Marysville/Lake Stevens: 83.84%
Condos in Everett/Marysville/Lake Stevens: 88.89%
Residential in Tacoma/Lakewood/Federal Way: 66.24%
Condos in Tacoma/Lakewood/Federal Way: 62.75%