By: Kyle Bergquist
Puget Sound Real Estate: Another $122,500 in 2022?
By now, even if you aren't a bigtime Econ or business nerd, you've heard that we're experiencing some crazy inflation. Last Friday's Consumer Price Index (the most favored inflation report by the Fed) came in at 6.8%, with the Core Reading (excluding volatile food and energy costs), coming in at 4.9% year over year. This is the highest inflation rate experienced by Americans since 1982 – nearly 40 years ago!!!
As the cost of goods, services, food, and energy rise, workers demand higher wages. So out of curiosity I researched how are the Seattle area wages looking these days? Turns out with Tech continuing to grow its presence in Seattle - Last week Riot Games bought a building on Mercer Island to house up to 400 employees; and Meta (formerly Facebook), just leased another building in Bellevue bringing their total office space to 3.2 million in the region (enough to house up to 18,000 employees; among ALLLLL the other giant Tech headlines in recent years) – Anyway, with Tech continuing to grow its presence, our wages are looking pretty good! Or should I say, our total compensation is looking pretty good. Super interesting chart below from the Bureau of Labor Statistics – Seattle is second in the nation for total compensation growth at 5.2% (LA was at 5.5%), but salary and wages are only 2.5% of that, meaning the remaining additional comp is largely coming from sign on bonuses and/or stock option packages…which have TECH written all over it.
Ok, so what does that mean? Long story short, if compensation increases so does purchasing power…by exponentially more! Hear me out here:
If the median 2020 per capita income in King County was $96,647, and we just added 5.2% to that, then when data comes out for 2021 we should be somewhere around $101,672 per capita income.
The average interest rate in 2021 so far as reported by Freddie Mac is 2.95% paying .7 in points
And the median price of a home in November for King County is $820,000 per the NWMLS

Now, assuming another year of compensation growth at 5.2%, we're left with a 2022 median per capita income of $106,958. Also assuming most single family residence owners are two income households, we're looking at a 2022 household income of $213,916…or $10,572 additional income that could be used for housing in 2022 versus 2021! To be practical, not every household is going to allocate their entire $880 marginal increase in income per month to housing in 2022, but even if they allocate half of that marginal increase in income to housing, AND accounting for a rise in mortgage interest rates to, let's say 3.5% in 2022 (from a Freddie Mac average rate of 2.95% in 2021), that extra $440 per month equates to $98,000 in increased purchasing power in 2022 compared to 2021 on a 30 year mortgage!
Summary
Seattle is in a good spot. Inflation will result in higher mortgage interest rates, but because it also results in higher compensation for workers here in Puget Sound (to the tune of +5.2% growth per year apparently), our wage growth may insulate our housing market against higher mortgage interest rates, thus keeping the ceiling high on where Puget Sound housing prices could trend in 2022. Assuming homebuyers allocate half of their increased wages to a housing payment, despite rising mortgage interest rates, that 5.2% compensation growth could translate into a 14.94% higher mortgage, resulting in an increased median house price of $942,500 versus today's $820,000. Said another way, that additional $10,572 in King County compensation could clear the way for housing prices to increase $122,500 in 2022 when compared to November 2021…despite over a half percent increase in mortgage interest rates on a 30 year mortgage. CRAZY!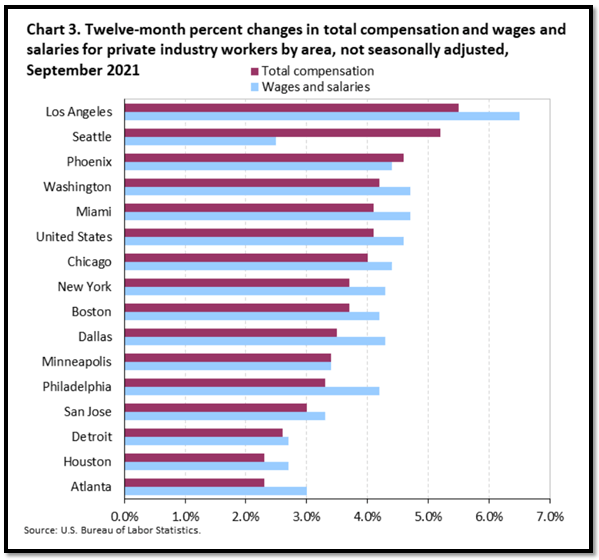 Interest Rates
Per

Bankrate's

survey of large lenders, the 30 year mortgage interest rate

rose this past week to 3.28%, with .32 in discount and origination points.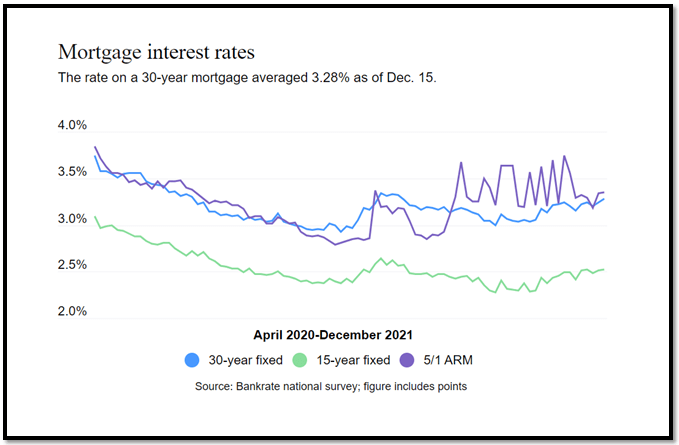 Kyle's Quick Take – Mortgage Market Week in Review
Focus is squarely back on inflation and the Fed. Counter-intuitively, when the Fed increases the Federal Funds Rate, mortgage interest rates sometimes fall. Here's why: The Federal Funds Rate is the rate that banks borrow money in the short run. So let's say Boeing has a $1 billion dollar loan and their interest rate was pegged against a 0% interest rate. Well, their profits last year only had to account for that very low borrowing rate. Moving forward, if the Fed increases the Federal Funds rate, then that cost of money Boeing's borrowing will also increase…which is no bueno for Boeing's profits. So profit expectations shift, money flows out of the stock market and into the safety of the mortgage bond market, and mortgage interest rates have some ammo to fend itself from the Fed also announcing they're going to reduce their demand for mortgage backed securities.
In the short run, mortgage interest rates had a decent week. But in the long run, so long as the expectation of higher inflation is nipping at our heels, mortgage interest rates should trend higher.
WHAT YOU NEED TO KNOW FOR WHERE RATES WILL GO:
Good Economic News or Inflation

= Bad for Mortgage Interest Rates.

Bad Economic News or Deflation

= Good for Mortgage Interest Rates.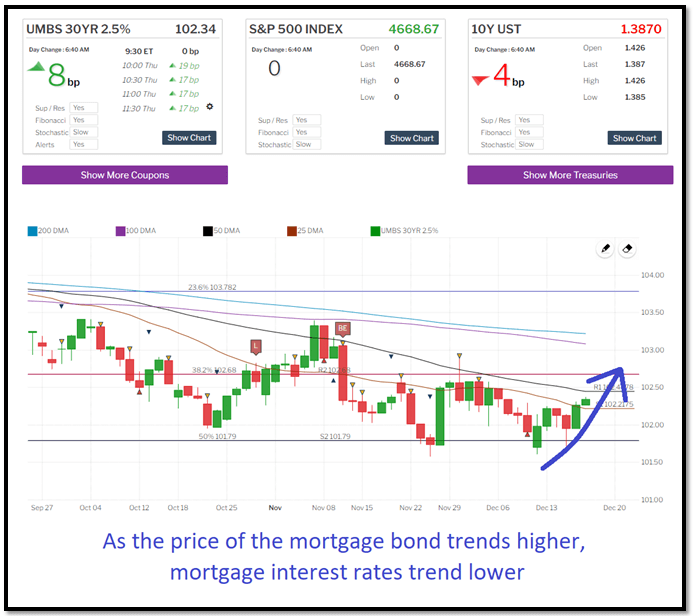 Puget Sound Real Estate: Charts and Data
A picture is worth a thousand words…
Absorption Rates per NWMLS Real Time Data
Absorption Rate is calculated as: (Pending Sales) / (Active + Pending Sales)
Residential in Seattle: 69.71%
Condos in Seattle: 40.65%
Residential in Bellevue/Redmond/Kirkland: 85.65%
Condos in Bellevue/Redmond/Kirkland: 85.82%
Residential in Everett/Marysville/Lake Stevens: 83.20%
Condos in Everett/Marysville/Lake Stevens: 83.18%
Residential in Tacoma/Lakewood/Federal Way: 67.82%
Condos in Tacoma/Lakewood/Federal Way: 62.39%