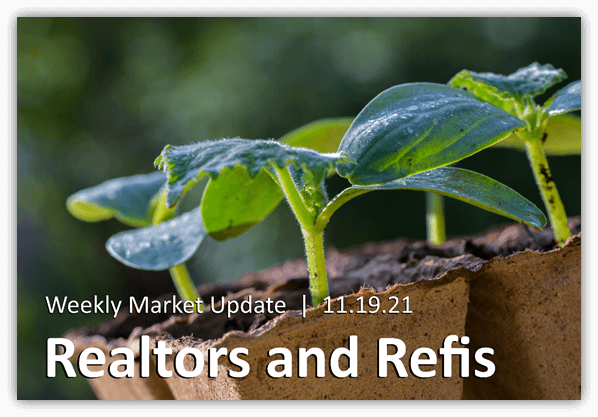 By: Kyle Bergquist
Puget Sound Real Estate: Realtors and Refis
Want to know the easiest thing to sell? A really good idea that doesn't benefit you at all.
As we head into the scarcity of winter here in the PNW Housing Market, it's an incredible time to rest, relax, refine, and gear up for the 2022 Homebuying Season. But to ensure a successful harvest 6 months down the road, we gotta plant our seeds now. After almost a decade of mortgage lending and many many conversations regarding the scarcity of winter, I know it can be hard to muster the motivation to contact your past clients and check in. I mean, maybe you contact them to invite them to a holiday party, but outside of hoping they immediately connect the dots and reply with "Hey, thanks for the invite. We're actually thinking of selling next Spring, can you help?", it's not a very business-targeted check in call. Now, don't get me wrong, it's extremely valuable to stay in touch with your past clients on any level, but it likely won't immediately open any doors for new business. However, a strategy that has resulted in some immediate gratification could be an Annual Report Card. That way the call is something along the lines of "Hey I wanted to reach out with an invite to our Client Appreciation Holiday Party coming up on Dec 10th, but new this year we've also created a customized annual report card for your home purchase. The market had a banner year in 2021, and it looks like you've earned a lot of equity…Congratulations, that's amazing!!!"
What these annual report cards will ultimately do is open the door to a refinance conversation. With equity comes interest rate savings from lower loan to value ratios; opportunities to take out of equity for a home renovation or vacation home purchase; the opportunity to consolidate high interest rate credit card, car loan, or school debt; or the opportunity to get out of mortgage insurance. THESE ARE GOOD CONVERSATIONS. Realtors don't get paid on refi's, so it's extremely altruistic of you to even entertain the conversation. Altruism buys A LOT of goodwill and trust. And THAT is what will earn you business next Spring. BUT WAIT THERE'S MORE!
The number one reason people DON'T refinance is because the savings don't justify the expense; but the number TWO reason is because people aren't planning to stay in their home long enough to realize the savings of a refi. DING DING DING!!! This is your immediate gratification bell ringing.
Summary
A recent survey conducted by Zillow Analytics found that 78% of homeowners didn't refinance last year.
That's right. Out of the 1,300 people surveyed 78% of them didn't refinance last year when rates were at all-time record lows. When asked "Why?", 29% said they didn't understand the process, and 38% said they avoided refinancing because they were thinking of moving (and/or paying off their mortgage completely, which anecdotally would be a small percentage of that 38%). So not only will 29% of your conversations re-assert you as the quintessential real estate pro, but another 38% of your conversations could turn into next Spring's business!
The seeds you plant now will be your harvest next Spring. If you're interested in teaming up with one of my incredible loan officers for generating some co-branded Annual Report Cards for your past clients, we've found that those report cards are an incredible conversation starter…and those conversations are the seeds.
Interest Rates
Per Bankrate's survey of large lenders, the 30 year mortgage interest rate fell this past week to 3.22%, with .36 in discount and origination points.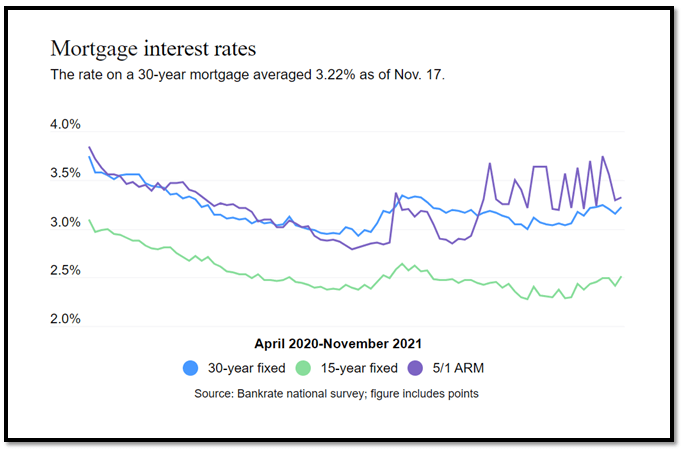 Kyle's Quick Take – Mortgage Market Week in Review
A majority of the rise in interest rates over the past few months can be attributed to inflation reports showing that inflation is STILL here, and in some cases increasing. However with energy prices being one of the main contributors of inflation (have you seen how much gas costs these days???), President Biden's inquiry into Big Oil collusion and price-fixing brings hope that at least one component of our current inflation will subside. This renewed hope of lower energy prices in the not too far future has helped stabilize the mortgage bond, and helped keep things in relative check after last Wednesday's huge selloff.
Another reason the price of the mortgage bond has stabilized is increasing COVID cases nationwide, and potential COVID lockdowns in some European countries. Lockdowns and COVID cases aren't good for the economy, and what's bad for the economy is good for mortgage interest rates.
WHAT YOU NEED TO KNOW FOR WHERE RATES WILL GO:
Good Economic News or Inflation

= Bad for Mortgage Interest Rates.

Bad Economic News or Deflation

= Good for Mortgage Interest Rates.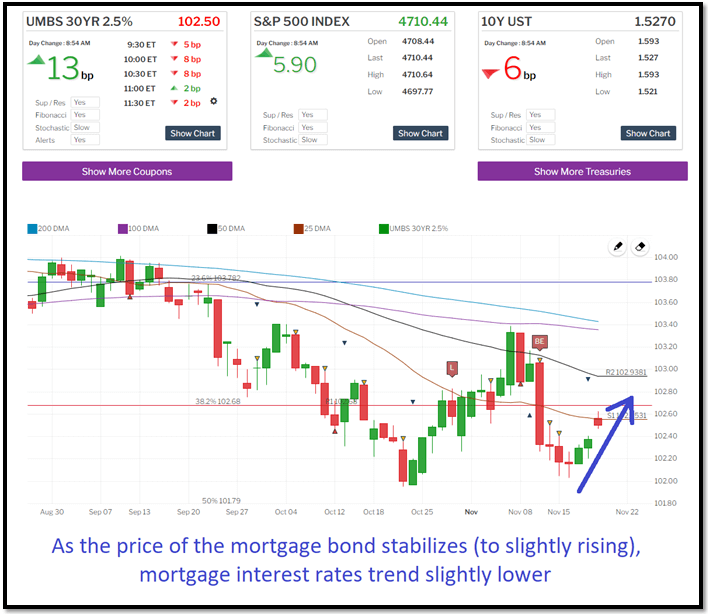 Puget Sound Real Estate: Charts and Data
A picture is worth a thousand words…
Absorption Rates per NWMLS Real Time Data
Absorption Rate is calculated as: (Pending Sales) / (Active + Pending Sales)
Residential in Seattle: 63.81%
Condos in Seattle: 40.53%
Residential in Bellevue/Redmond/Kirkland: 79.62%
Condos in Bellevue/Redmond/Kirkland: 80.09%
Residential in Everett/Marysville/Lake Stevens: 78.28%
Condos in Everett/Marysville/Lake Stevens: 73.02%
Residential in Tacoma/Lakewood/Federal Way: 62.90%
Condos in Tacoma/Lakewood/Federal Way: 63.89%