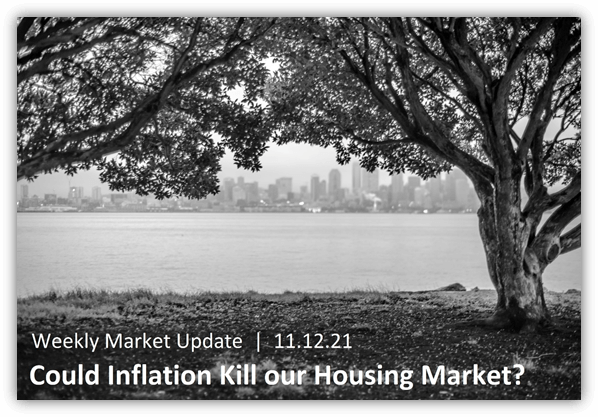 By: Kyle Bergquist
Puget Sound Real Estate: Could Inflation Kill our Housing Market?
ICYMI – Inflation as measured by the Consumer Price Index was as high this month as it's been in 30 years – 6.2%. That means, for example, that your $1,000 Costco bill last October was now $1,062 this October FOR THE EXACT SAME ITEMS. Bummer. But what does high inflation mean for our housing market, and how could this month's reading trickle down to impact us here in the Great Northwest?
The first thing to know about inflation is that it is absolutely devasting for mortgage interest rates. The reason for this is because investors in mortgage bonds are looking to park Dollars somewhere safe that can earn a return higher than whatever the inflation rate is. For months investors have been buying 2.5% mortgage coupons despite inflation readings being in the 4s because they believed that the readings were transitory…meaning that inflation rates would fall as soon as economies opened up and supply chain bottlenecks eased. Unfortunately, not only is inflation still here, it's getting worse!!!
The Consumer Price Index (which is the cornerstone inflation reading used by the Fed) came out on Wednesday at 6.2%. This caused a steep selloff in 2.5% mortgage bonds, which caused the price of the mortgage bond fall, and mortgage interest rates to consumers to rise. Said another way, homebuyers need to pay a higher interest rate on their mortgages now to attract investors to buy their mortgage on the secondary markets. To make matters worse, the Fed is actively reducing their purchases of mortgage bonds by $15B per month, so artificial demand for mortgage bonds is waning at a time when we need all the demand we can get to keep rates low! Already mortgage interest rates have risen about 3/8ths of a percent this year according to Freddie Mac. Take into account the devastation from Wednesday's inflation reading, and it's probably closer to a .5% increase in mortgage interest rates in 2021.
So how could Wednesday's inflation reading kill our housing market? By leading to increased interest rates, which deteriorate buyer purchasing power, which then reduce demand for Northwest houses, and ultimately put downward pressure on housing prices. Here's the scariest part of this trickle down effect: The media. As soon as housing prices start to fall and month over month prices are in decline during a time when they should be in incline (ie. The Spring), then the headlines start coming out talking about how our housing market is falling. As soon as those kinda headlines start coming out, more buyers put their house hunts on hold, and unfortunately the headlines become a self-fulfilling prophecy.
Summary
We've seen this story before, and it wasn't even that long ago. There might be different actors at play here, but this feels a lot like 2018 on Repeat. Real Estate Agents will never forget Mother's Day 2018…or at least they won't forget it for a while. For whatever reason the market was SLAMMED with inventory over Mother's Day weekend 2018. In fact, May of 2018 set the all time record (at the time) for most new listings hitting the market in a given month at 14,524 new listings, including 5,251 new listings in King County alone. For reference, there were only 4,372 new listings this past May (-16.74%), and 3,168 in October (-39.67%)…and that's in arguably the hottest housing market the Puget Sound has ever had!
But wait, our market has like TWO WEEKS of inventory right now, so even if sellers outpace buyers there's still a long way to go before our market starts to shift, right? Yes and no. The problem with headlines is that they're benchmarked off recent data. In March of 2018 Puget Sound Housing hit it's all time record high median price (at the time). So when prices fell from $725,000 in May 2018 to $715,000 in June 2018, the headline read that the market was deteriorating…nevermind the fact that in January 2018 the median price was $625,000.
So will inflation kill our housing market? It could if it persists through next Spring, since that could take the steam out of the spring homebuying season with higher mortgage interest rates being charged to new homebuyers. Here's the case for optimism though: Counter-acting higher rates is the Puget Sound job market, which according to CBRE "Over the last two years, Seattle had the second highest tech-job growth rate in North America – up 22%". Second only to Toronto at 26% tech-job growth. The growth of the tech industry in Seattle is why median Seattle incomes are 70.27% higher in 2020 than in 2010; and 10.39% higher in 2020 than in 2019. Higher mortgage interest rates could dampen the 2022 Puget Sound Spring homebuying market, but with median income in the region soaring, our market is as insulated against higher mortgage interest rates as any market out there, and should fare better than the rest of the US housing market.
Interest Rates
Per Bankrate's survey of large lenders, the 30 year mortgage interest rate
fell this past week to 3.15%, with .33 in discount and origination points.

Kyle's Quick Take – Mortgage Market Week in Review
Don't let Bankrate's survey fool ya, rates WERE falling until Wednesday's inflation reading. Wednesday's inflation reading caused the price of the mortgage bond to plummet, which effectively un-did all the gains reflected in the Bankrate survey above.
WHAT YOU NEED TO KNOW FOR WHERE RATES WILL GO:
Good Economic News or Inflation

= Bad for Mortgage Interest Rates.

Bad Economic News or Deflation

= Good for Mortgage Interest Rates.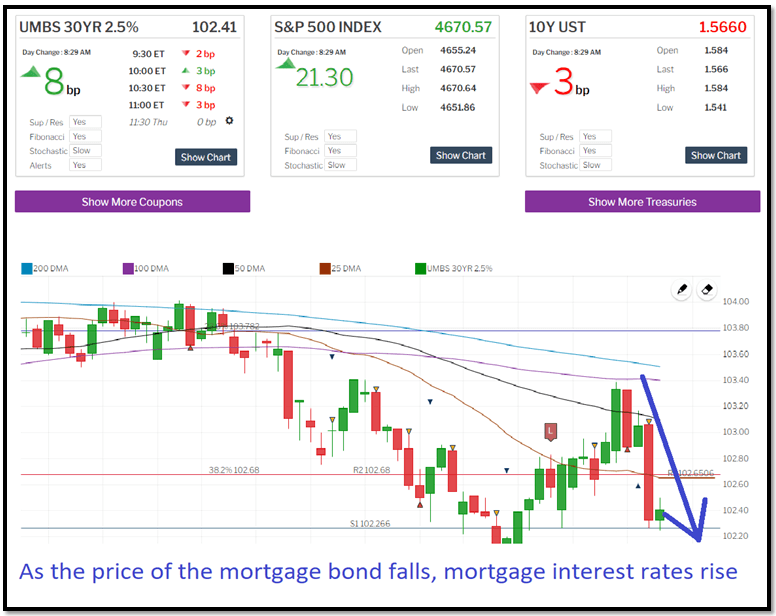 Puget Sound Real Estate: Charts and Data
A picture is worth a thousand words…
Absorption Rates per NWMLS Real Time Data
Absorption Rate is calculated as: (Pending Sales) / (Active + Pending Sales)
Residential in Seattle: 60.73%
Condos in Seattle: 40.83%
Residential in Bellevue/Redmond/Kirkland: 77.92%
Condos in Bellevue/Redmond/Kirkland: 80.69%
Residential in Everett/Marysville/Lake Stevens: 79.57%
Condos in Everett/Marysville/Lake Stevens: 80.70%
Residential in Tacoma/Lakewood/Federal Way: 61.93%
Condos in Tacoma/Lakewood/Federal Way: 61.64%