by: Kyle Bergquist
Puget Sound Real Estate: Is Now the Best Time to Buy?
Real Estate Insiders love to opine over when the best time to buy might be. And though there's data to support the claims made in this PSBJ article that the best time to buy is RIGHT NOW, let's dig a little deeper.
The Puget Sound Business Journal article mentioned above is rooted in statistics provided by Attom Data Solutions, and the idea that the "Best Time to Buy" is when premiums paid over asking are at their smallest. So to determine if Late Fall really is the best time to buy, let's explore the other variables at play for why premiums paid over ask are at their lowest in Q4. A couple big ones come to mind:
Very little new inventory hits the shelves this time of year. One of the biggest reasons prices get bid higher on a listing is because it's a new listing with a great price given the condition of the home and location. If we take away new listings, then we're left with a ratio of real estate transactions that are weighted in

aged

listings – listings that have been on the market for a while due to price…because let's be honest, at the right price any listing will sell regardless of condition or location.
The other big variable for why premiums paid over ask are minimal this time of year is because of increased seller motivation to finally sell. If we can agree that a majority of the transactions happening right now are on aged listings, then we have to briefly touch on the psyche of the seller with the aged listing…and when I say briefly, I mean REALLY BRIEF because I don't think this should come as a shock to anyone. Many sellers who have been on the market for weeks or months on end are getting to a time where they're good to move on in life. They're tired of the open-endedness of trying to sell their home, the holidays are coming, and the psychological component of an upcoming new year and starting over really start to play a part. Ultimately, sellers of homes that have been listed for awhile are more apt to take a lower offer than what they would have originally wanted because at some point they just want to move on in life.
Though there's not a lot of data on the psychology of sellers (Or maybe there is? If you know a good data-source or data-point for real time real estate psychology let me know), there is a lot of data on point number one above about fewer new listings stoking the buyers' fire. For example, the number of Active SFR Listings on September 15th in the City of Seattle was 752. On November 1 it was 577 – a 23.27% decrease in active listings in 45 days. Bellevue/Redmond/Kirkland has seen a 39.52% decline in active listings; Everett/Marysville/and Lake Stevens is down 39.15%; and Tacoma/Lakewood/Federal Way is down 19.11%.
Summary
The Late Fall might be the best time to get a deal, but is it the best time to buy? That's debatable. The reality is the Spring has lots of enticing new homes to look at and make offers on, and Late Fall does not. Because of this, percentage paid over asking is higher in the Spring than it is in the late Fall. At the end of the day there are pros and cons to both times of year, and it probably depends on what you're looking for: If you're looking for the perfect home, Springtime is probably your best bet as there are a lot of homes to explore. However, for the less picky homebuyers who maybe don't mind a few projects, then late Fall is probably your time. Ultimately, determining if right now is the best time to buy is, as with most things in real estate, on a case by case basis.
Interest Rates
Per Bankrate's survey of large lenders, the 30 year mortgage interest rate fell this past week to 3.2%, with .32 in discount and origination points.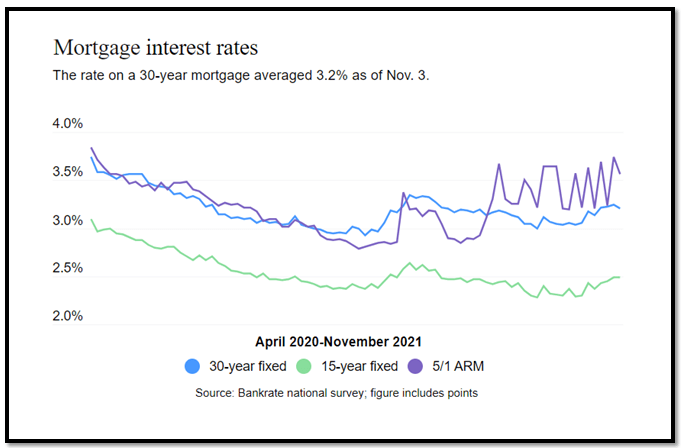 Kyle's Quick Take – Mortgage Market Week in Review
To no one's surprise, the Fed announced that they were going to begin tapering their purchases of Mortgage Backed Securities and Treasury Bills. To a lot of people's surprise, there was no Tantrum after the announcement! In fact, stock markets are trading at or near all-time highs, and mortgage interest rates are trading slightly LOWER despite lower demand due to the Fed reducing their monthly bond purchases from $120B per month to $105B! Check out the graph below of the Fannie Mae 2.5% mortgage coupon. As the price of the mortgage coupon rises (due to high demand), mortgage interest rates to homebuyers and refinancers fall. Not often do we get the best of both worlds with both markets rising, but I'll take it
PLEASE NOTE: In time, as demand for mortgage backed securities wane due to the Fed reducing their purchases, mortgage interest rates will likely rise. In the meantime, let's enjoy the low-rate-window!
WHAT YOU NEED TO KNOW FOR WHERE RATES WILL GO:
Good Economic News or Inflation

= Bad for Mortgage Interest Rates.

Bad Economic News or Deflation

= Good for Mortgage Interest Rates.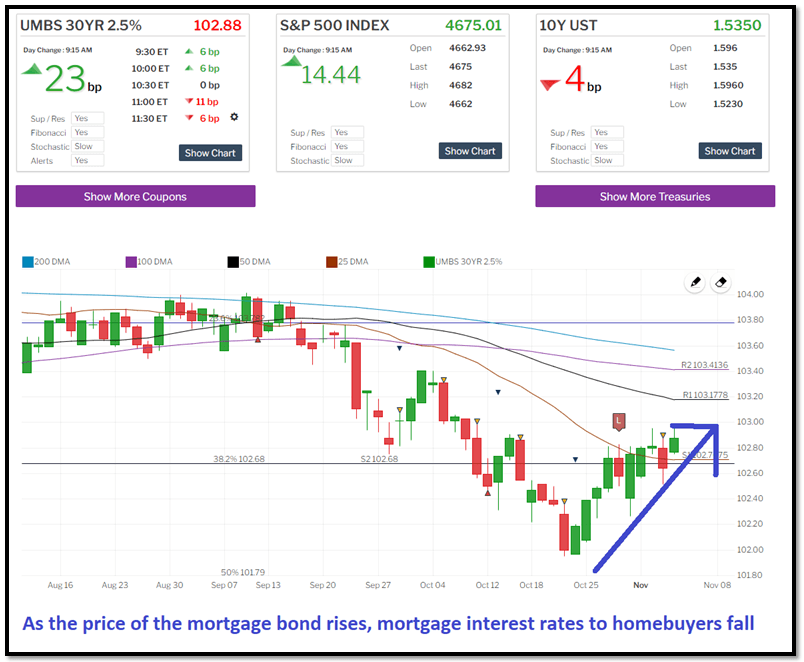 Puget Sound Real Estate: Charts and Data
A picture is worth a thousand words…
Absorption Rates per NWMLS Real Time Data
Absorption Rate is calculated as: (Pending Sales) / (Active + Pending Sales)
Residential in Seattle: 60.80%
Condos in Seattle: 37.32%
Residential in Bellevue/Redmond/Kirkland: 80.57%
Condos in Bellevue/Redmond/Kirkland: 75.10%
Residential in Everett/Marysville/Lake Stevens: 79.65%
Condos in Everett/Marysville/Lake Stevens: 85.47%
Residential in Tacoma/Lakewood/Federal Way: 63.33%
Condos in Tacoma/Lakewood/Federal Way: 64.58%