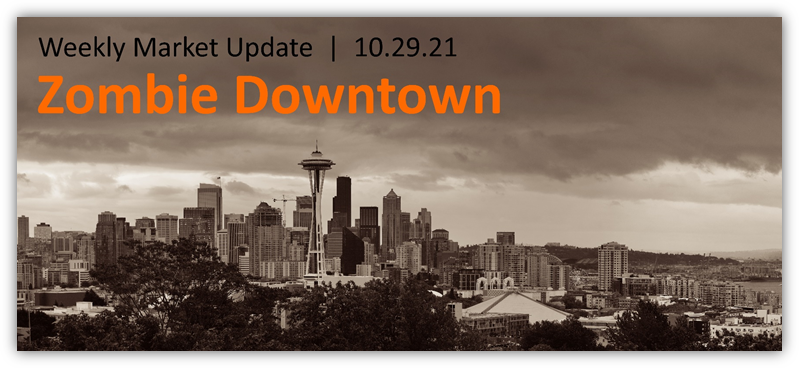 By: Kyle Bergquist
Puget Sound Real Estate: Zombie Downtown
It's Halloween weekend so you had to see this headline coming, right?! But in all seriousness, Seattle's downtown has become somewhat of a Zombie Downtown, and the data shows it. According to CommercialEdge, the office market in Seattle lags the rest of the country, and despite being one of the most Unaffordable cities for residents, we are one of the most AFFORDABLE cities for businesses needing office space! Seattle's average listing rate for office space is 7.33% LOWER than the national average! Not only that, but despite slowly exiting the Pandemic, Seattle-area office vacancy rates climbed to 15.5% - That's a 5.9% increase in vacancy compared to this time last year (NOTE: The national average is 1.2% higher vacancy year over year). Making matters seemingly worse is the 163 downtown Seattle restaurants, shops, and other street-level businesses that closed (which are not included in office space totals as they are considered retail space).
In my opinion there are a few reasons Seattle's downtown is lagging the rest of the country:
When the downtown core shutdown in 2020 due to COVID, visible homelessness became much more prevalent as more people needed assistance, and most service providers are located in the Pioneer Square district. This led to increases in crime and decreases in safety. Though not technically vacant, Weyerhaeuser has delayed their reopening due to crime and safety concerns, compared to many other businesses with similar concerns who simply left.
We're very techy. Though we're not San Francisco, we're definitely not Cincinnati. With an above average tech scene in Puget Sound, many companies embraced WFH indefinitely and didn't renew their leases.
Oversupply of new space – Since 2017 6.62m square feet of new office space has been constructed. To make matters worse, there's another 6.8m square feet in the works. Due to over-supply, it makes sense that prices for office space are falling especially if businesses are concerned about crime and safety, or have gone full WFH.
On one hand, it's not looking good for the Downtown Seattle office market, but on the other office buildings as a whole are being sold well-above the national average at $564 per square foot.
Summary
It's important to track leasing rates and vacancies because JOBS are the backbone of any housing market. A declining office market may indicate that nearby housing markets will suffer lower demand due to fewer people needing to live near that central business district. Therefore it could be somewhat concerning for homeowners living in Beacon Hill, Madison Park, Queen Anne, Wallingford, etc that Seattle's downtown is having a hard time getting started again. But are good times coming? High purchase prices for Seattle office buildings mean investors are bullish on the longterm potential of Downtown Seattle, and view this current downturn as only a blip. As a homeowner in Seattle, as well as someone concerned about and involved in the local homeless crises, visions like the one laid out by Marc Dones from the Regional Homelessness Authority for downtown Seattle excite me. There are plenty of details to be worked out for sure, but the idea of focusing on Downtown Seattle by starting with building additional services to take care of those suffering homelessness and mental illness will go a long way with getting Downtown Seattle's office market back on track. By breathing new life into our current Zombie(ish) Downtown, surrounding housing markets will strengthen as well. As far as over-supply goes… We probably just need to convert more office buildings into life science buildings like what's happening to The Cascadian in South Lake Union, as the life science real estate market is very HOT and supply of life science space is very low.
Interest Rates
Per Bankrate's survey of large lenders, the 30 year mortgage interest rate rose this past week to 3.24%, with .34 in discount and origination points.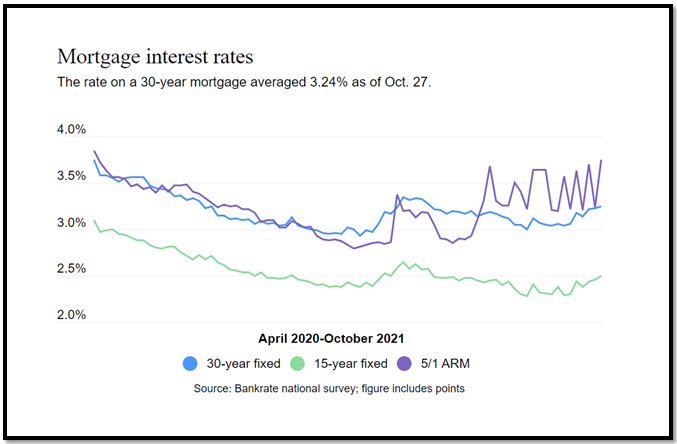 Kyle's Quick Take – Mortgage Market Week in Review
As the Delta variant's hold on society wanes, optimism returns to the markets…the stock markets that is. The S&P 500 Stock Market Index remains at or near all-time high's (WaHoo for 401ks!!!); but that comes at the cost of the mortgage markets, as money flows from the safety of the lower risk/lower return mortgage bond markets and into the higher risk/higher return stock markets. This flow of money has mortgage interest rates as high as they've been since the beginning of the Pandemic – Ie. The last time rates were this high was March 20th, 2020.
WHAT YOU NEED TO KNOW FOR WHERE RATES WILL GO:
Good Economic News or Inflation

= Bad for Mortgage Interest Rates.

Bad Economic News or Deflation

= Good for Mortgage Interest Rates.
Puget Sound Real Estate: Charts and Data
A picture is worth a thousand words…
Absorption Rates per NWMLS Real Time Data
Absorption Rate is calculated as: (Pending Sales) / (Active + Pending Sales)
Residential in Seattle: 59.11%
Condos in Seattle: 36.52%
Residential in Bellevue/Redmond/Kirkland: 80.10%
Condos in Bellevue/Redmond/Kirkland: 72.86%
Residential in Everett/Marysville/Lake Stevens: 77.88%
Condos in Everett/Marysville/Lake Stevens: 80.65%
Residential in Tacoma/Lakewood/Federal Way: 61.10%
Condos in Tacoma/Lakewood/Federal Way: 63.19%