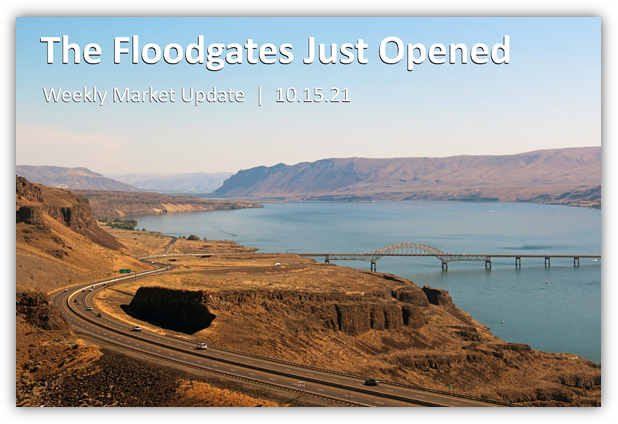 By: Kyle Bergquist
Puget Sound Real Estate: The Floodgates Just Opened
For the first time since the Pandemic took hold in March 2020, there is clear direction on what the future might hold for Puget Sound's tech employees - who are the biggest segment of new homebuyers in Puget Sound. Housing prices have been shooting through the roof in the nearby destination counties of Chelan and Kittitas, and after this big announcement from Amazon I'm thinking there's quite a bit more room rise till we hit a ceiling. For context, since March 2020 the NWMLS reports that the median home and condo price in Kittitas County has risen 33.23%, and 35.52% in Chelan County. For comparison, the median home and condo price in King County has only risen 15.5% in that same time period (+27.67% in Snohomish, and +23.76% in Pierce). With fatter 401Ks and increased savings rates due to the Pandemic, much of this East-of-the-Cascades price appreciation has been from Puget Sounders purchasing second homes from which to work from while riding out the Pandemic. But now with Amazon setting the pace with WFH indefinitely so long as you can get to the office with one day's notice, the door is wide open for housing markets in sunnier and roomier counties like Chelan and Kittitas to surge again, but this time with the ratio skewing towards more owner/occupant purchases.
Sure, Amazon is the only company to make this announcement so far, but the thing with the tech industry is that employee recruitment is HIGHLY COMPETITIVE, so if one company is offering it…rather, if the BIGGEST tech company is offering it, it's highly likely others will follow suit in the weeks to come. As of 10/8/21, Amazon employs 80,000 in Washington, Microsoft 57,666, TMobile 8,000, Facebook 7,000, Google 6,300, and Expedia is at 3,968; for a total current headcount of 162,934 mostly tech employees among these companies alone. But with plans for Microsoft to build 17 new buildings and hire 8,000 more; Amazon to hire 25,000 more, Facebook building an 11 story building in Bellevue which it needs to fill, and Apple opening TWO 12 story buildings it needs to fill, I would suspect the current headcount for these big Puget Sound tech employers might be surpassing 200,000 sooner than later here. And let's not forget the up and coming Space industry, which Seattle is at the forefront of because of Bezos' Blue Origin and of course, Boeing. Currently there are about 40 space related businesses in Puget Sound, employing over 6,000 people…but growing fast.
By this point I think we can all agree that there are a lot of people this new "Work from home so long as you can get to the office with one day's notice" thing applies to. With 109 homes currently listed for sale in Kittitas, and 168 homes for sale in Chelan (as of this writing anyway), opening the door of possibility to ~200,000 tech employees in the Puget Sound to move 80 miles to the east could have profound, and historic implications for the Chelan and Kittitas County housing markets.
Summary
As of September 2021 the median price of a home/condo in King County was $745,000. Chelan's median price was $510,250 and Kittitas' was $479,500 – Respectively, 31.51% and 35.64% lower than King County. However, if we go one step further and compare the prices of Life Space, well, there's no comparison. The cost of Life Space in Seattle is about $231.01 per square foot; versus the cost of Life Space in Cle Elum which is about $13.55 per square foot, or the cost of Life Space in Chelan at about $11.05 per square foot. With housing prices viewed in this context, and the door opening soon to hundreds of thousands of Puget Sound tech employees, Amazon effectively just opened the floodgates and I would suspect that the 2022 housing markets in Chelan and Kittitas Counties are well-positioned to smash some records.

Interest Rates
Per Bankrate's survey of large lenders, the 30 year mortgage interest rate rose this past week to 3.21%, with .3 in discount and origination points.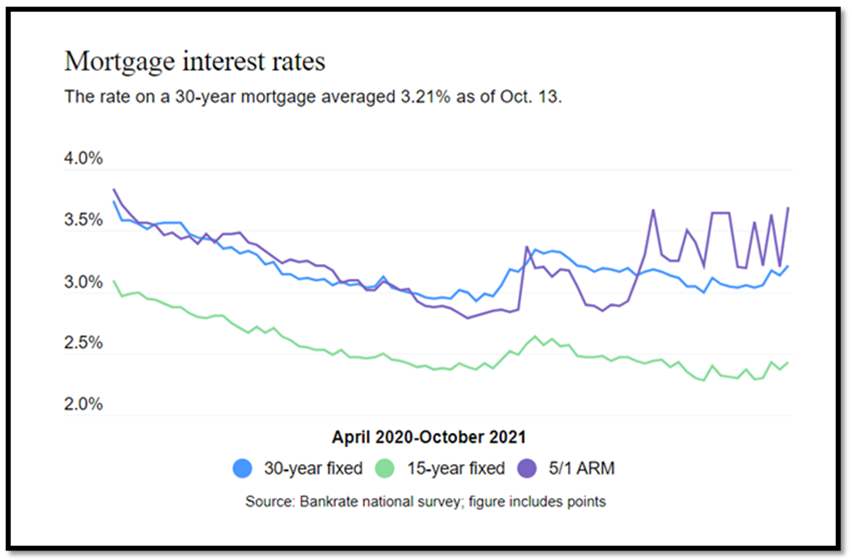 Kyle's Quick Take – Mortgage Market Week in Review
Overall rates are rising a bit as investors digest inflation data, and just how transitory this inflation actually is. The latest reports are: Wages are rising 4.6% year over year; the Producer Price Index (which measures inflation at the wholesale level) set a record at 8.6% year over year; Cass Freight showed that shipping costs were up 31% year over year; and the Consumer Price Index is up 5.4% (Core rate, which strips out food and energy, is up 4%). Add in the fact that the Fed is actively and transparently planning out their Taper strategy for reducing their Bond buying program (QE4), and honestly it's quite amazing that rates aren't considerably higher than what they are!
WHAT YOU NEED TO KNOW FOR WHERE RATES WILL GO:
Good Economic News or Inflation

= Bad for Mortgage Interest Rates.

Bad Economic News or Deflation

= Good for Mortgage Interest Rates.
Puget Sound Real Estate: Charts and Data
Absorption Rates per NWMLS Real Time Data
Absorption Rate is calculated as: (Pending Sales) / (Active + Pending Sales)
Residential in Seattle: 59.45%
Condos in Seattle: 34.60%
Residential in Bellevue/Redmond/Kirkland: 76.42%
Condos in Bellevue/Redmond/Kirkland: 68.77%
Residential in Everett/Marysville/Lake Stevens: 74.32%
Condos in Everett/Marysville/Lake Stevens: 67.67%
Residential in Tacoma/Lakewood/Federal Way: 60.02%
Condos in Tacoma/Lakewood/Federal Way: 54.79%