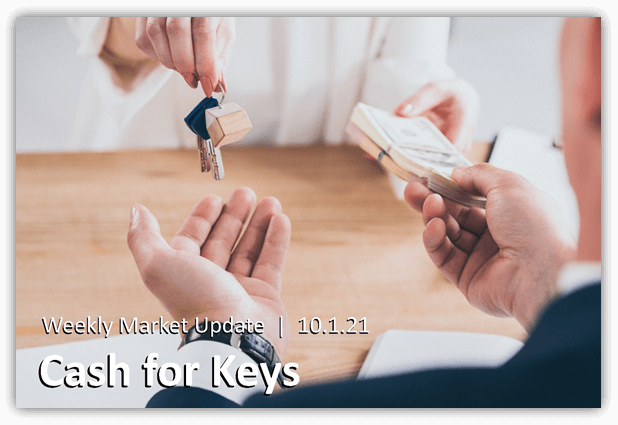 By: Kyle Bergquist
For months King, Piece, and Snohomish Counties have had inventory levels of less than 1 month according to the NWMLS (see charts below). Part of the reason is that buyers are highly active and trying to take advantage of the Pandemic's super low mortgage interest rates. Another reason is that there is a measurable percentage of sellers who may have listed, but decided not over the past 18 months to due to COVID concerns. And a third reason (among probably lots of others) is the Eviction Moratorium. There are many landlords who would love to take advantage of this all-time record high NW real estate market and sell, but that's a little harder to do with the current eviction moratoriums! Crazy Anecdotal Story: We have had multiple sellers justify their list price by letting our borrower/buyer know that it's because they need to compensate the tenants to move out early! And I'm not talking like $500 or $1,000…but literally TENS OF THOUSANDS of dollars to tenants so that they move out and the landlord can close the sale to a hopeful owner/occupant. This is actually practice is known as Cash for Keys, and it isn't new.
We hosted a conversation on homelessness this past Wednesday with Seattle Mayoral candidates Bruce Harrell and Lorena Gonzalez, and one of the questions was their thoughts on the upcoming Eviction Moratorium ending (currently scheduled to end January 15, 2022). Their stance on this is a big deal, because with 60,000+ renters currently behind on rent; and of those 60,000, 38,400 are likely to face eviction when the moratorium ends, the Seattle housing market could see a flood of inventory hitting the shelves in early 2022 as landlords try to recoup losses from missed rental payments. Anyway, I asked the candidates what their plans were to mitigate the potential consequences of the Eviction Moratorium (both for homelessness reasons and housing market reasons) and their answers were quite clear – Lorena wants to extend the moratorium, and Bruce was interested in figuring out a path out of the moratorium that would take care of tenants and landlords alike…namely through diversion tactics (Think: Compensating landlords to forgive the missed rent in lieu of renegotiating the rental agreement).
At the end of the day, if the Moratorium is extended we could stay in an inventory-crunch for a bit longer. We might also have more and more Cash for Keys type transactions occurring, which would provide a tailwind to an appreciating 2022 housing market (ironically defeating Lorena's agenda of more affordable housing in and around the Puget Sound). On the flipside, if the moratorium is not extended and diversion tactics are not implemented effectively, we could see the 2022 housing market go the other way with listings/housing supply increasing as landlords evict tenants. Ultimately, the best solution (in my opinion) would be to find a path out of the current Eviction Moratorium by implementing effective diversion tactics to take care of the small landlords and tenants alike…as well as our PNW Housing Market.
Summary
Keep an eye on the Eviction Moratorium, the Mayoral race, and their DETAILED plans for solving this issue. With 60,000 Seattle area renters behind on rent, it could have a profound impact on our Puget Sound housing market, and on homelessness.
Interest Rates
Per Bankrate's survey of large lenders, the 30 year mortgage interest rate rose this past week to 3.17%, with .36 in discount and origination points.
According to Bankrate, 30 Year Fixed Rates have fallen .17% since their 52 week high of 3.34%
(That's a savings of $46.67 per month on a $500,000 loan!)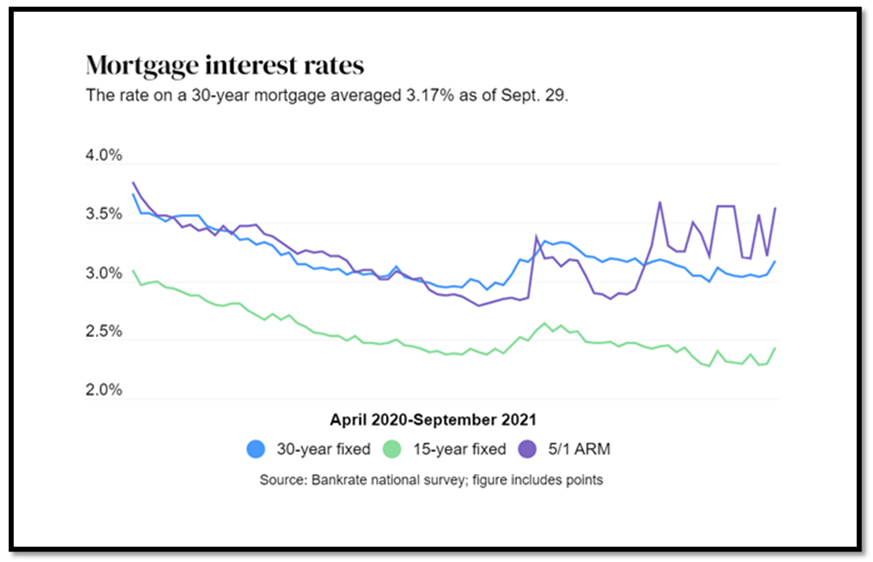 Kyle's Quick Take – Mortgage Market Week in Review
Rates skyrocketed after the Fed hinted at tapering their purchases of mortgage backed securities 10 days ago, but are on a 3 day winning streak. After plummeting, the price of the Fannie Mae 2.5% coupon has risen 59bps since Tuesday, thus slightly reducing mortgage interest rates to borrowers from Monday's highs. Even today's 4.3% inflation reading was of no concern to investors in treasuries and MBS given the already low prices/high yields priced into the market as a result of JPs last speech.
WHAT YOU NEED TO KNOW FOR WHERE RATES WILL GO:
Good Economic News or Inflation

= Bad for Mortgage Interest Rates.

Bad Economic News or Deflation

= Good for Mortgage Interest Rates.
Puget Sound Real Estate: Charts and Data
Absorption Rates per NWMLS Real Time Data
Absorption Rate is calculated as: (Pending Sales) / (Active + Pending Sales)
Residential in Seattle: 58.74%
Condos in Seattle: 35.27%
Residential in Bellevue/Redmond/Kirkland: 73.62%
Condos in Bellevue/Redmond/Kirkland: 70.53%
Residential in Everett/Marysville/Lake Stevens: 70.68%
Condos in Everett/Marysville/Lake Stevens: 69.83%
Residential in Tacoma/Lakewood/Federal Way: 58.96%
Condos in Tacoma/Lakewood/Federal Way: 58.27%