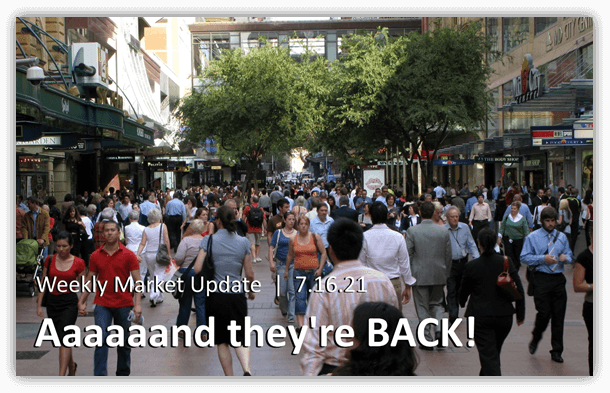 By: Kyle Bergquist
Puget Sound Real Estate: Aaaaand they're BACK!
After a year of working from WHEREVER and many wondering how the dust would settle for the Emerald City real estate market, we're getting some pretty good indicators that PEOPLE ARE BACK BABY! …and that PostCOVID Seattle looks a lot like PreCOVID Seattle!
The funny thing about humans is that we really like being around other humans… So though 2020 may have been a pilgrimage for many in search of Life Space – I.e. Why home prices in Kittitas County rose 43.8% year over year versus condo prices in Seattle falling 4.3% year over year – It looks like 2021 is the pilgrimage BACK to face to face interaction, which will bode well for home values in the city centers.
Here's the 20/20 hindsight: Despite working from home, tech firms in Puget Sound AGGRESSIVELY expanded their footprint – Amazon stated in September 2020 its growing intentions in Bellevue. Said another way, AT THE HEIGHT OF WFH, Amazon announced that it was increasing their planned footprint in Bellevue, from a previously planned 10,000 employee workforce to 25,000. FYI: Amazon occupied 12.03 million square feet of office space in the Puget Sound at the end of 2020 (enough to house 68,740 office workers), and looks to grow their footprint by another 4.5 million square feet in the years to come with their newly signed leases over in Bellevue.
Another Platinum Platypus (or whatever you wanna call a Trillion Dollar company), Facebook occupied 1.64 million square feet in Puget Sound at the end of 2020, and just signed ANOTHER lease bringing their forthcoming footprint to just over 3.3 million square feet in the near future (enough to house about 18,800 office workers).
All this growth begets more growth… With the Fab Five tech companies increasing their footprint, Puget Sound's gravitational pull for MORE tech talent is getting stronger. Not only is the Puget Sound spinning off new Unicorns every month, but more out of state tech companies are moving here to take advantage of the talent pool and putting down some deep roots - TaxBit just announced this past Wednesday that its planning for exponential growth after opening their 2nd HQ in Seattle. And finally, another sign that the backbone of the Puget Sound housing market is doing well (the high-paying job market) – Seattle's sublease market lost 307,000 square feet of office space inventory in May and June ALONE as companies move back in…"A total 180" per one industry analyst.
With Seattle's job market ROARING back to life and offices scheduled to open in the Fall of 2021, we're seeing residents flock back to the city in droves. For context: Seattle saw net demand for apartments drop by more than 7,800 units in 2020. So far in 2021, 11,275 apartments have been filled; not only filling all the new vacancies from 2020, but gobbling up an additional 3,475 units on top of that!
Summary
With the job market bringing people back to the city centers, interest still at historic lows, and competition waning slightly during the Dog Days of Summer, I'm thinking that now is as good a time as any to make an investment in the Puget Sound housing market. As always, time will tell, but I'm feeling pretty bullish right now with everyone coming back to the city and high-paying tech companies doubling down on their footprints here in the Puget Sound.
Words of Wisdom to Buyers: THIS IS YOUR MOMENT!!! LETS DO THIS!!!!!
Knowledge is Power, and The Greatest Investment on Earth is Earth.
Interest Rates
Per Bankrate's survey of large lenders, the 30 year mortgage interest rate on purchases fell slightly this past week to 3.11%, with .34 in discount and origination points.
According to Bankrate, 30 Year Fixed Rates have fallen .23% since their 52 week high of 3.34% (That's a savings of $63.01 per month on a $500,000 loan)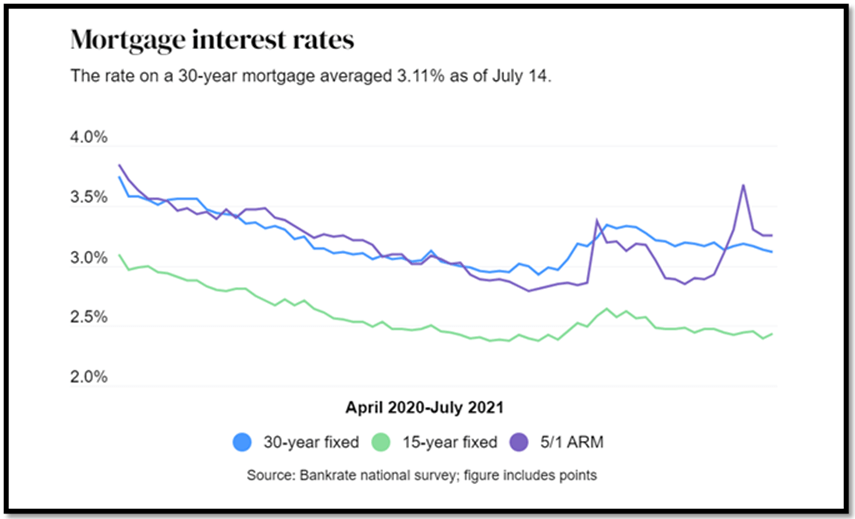 Kyle's Quick Take – Mortgage Market Week in Review
Inflation rising? No biggie…
The headline Consumer Price Index number measuring inflation in the US was the highest its been in 13 years; and the Core rate (which strips out food and energy) was the highest reading in 29 years! In a normal market this would be REALLY BAD for mortgage interest rates because investors in mortgage backed securities would require higher yields to stay ahead of inflation…but we don't live in a normal market…we live in JPs market.
As you can see on the chart below the mortgage markets had a terrible day this past Tuesday (as marked by the big ole red candlestick) because of the higher inflation readings mentioned above. BUT, JP to the rescue, we bounced right back on Wednesday with Federal Reserve Chair Jerome Powell stating that this inflation reading was purely transitory (aka temporary) and due to supply side constraints; and that our economy is a ways off from fully recovered. Investors interpreted this as the Fed will likely keep printing money and artificially increasing demand for mortgage backed securities for at least the next few months, which calmed the markets and had mortgage bond investors buying back into the mortgage bond at its current prices despite Tuesday's higher inflation readings.
At the end of the day, so long as the Fed wants rates to remain low in an attempt to invigorate our economy coming out of the COVID era, they'll be low. GREAT NEWS FOR BUYERS!
CORNERSTONE KNOWLEDGE FOR WHERE RATES MAY GO:
Good Economic News or Inflation

= Bad for Mortgage Interest Rates.

Bad Economic News or Deflation

= Good for Mortgage Interest Rates.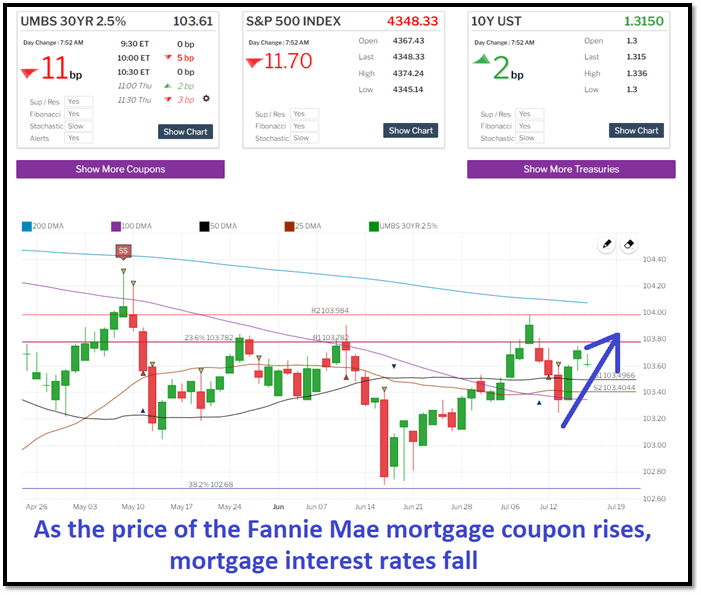 Puget Sound Real Estate: Charts and Data
Alex Black Absorption Rates per NWMLS Real Time Data
Absorption Rate is calculated as: (Pending Sales) / (Active + Pending Sales)
SFR in Seattle
SFR Pending Sales in Seattle: 1,030 homes
SFR Active Listings in Seattle: 813 homes
Absorption Rate for SFR in Seattle: 55.89%

Competition drove prices higher in the first half of 2021, but keep an eye on how a falling absorption rate may negatively affect median list prices for single family residences in Seattle. As inventory builds throughout summer and buyers take some long awaited summer vacations, don't be surprised if median list prices start to trail off a bit. The Dog Days of Summer are here, and it may be just what exasperated buyers have been waiting for.
Condos in Seattle
Condo Pending Sales in Seattle: 390 condos
Condo Active Listings in Seattle: 609 condos
Absorption Rate for Condos in Seattle: 39.04%

A rising absorption rate helped buoy condo prices coming out of the pandemic. Though they're about $50,000 lower now than their 18 month high, the condo market seems to be on stable footing again in what could have been a devasting 2020 with many people selling their condos in search of more Life Space – as offered by a single family residence. Despite the current lower median list price for a condo, a high absorption rate tells us the condo market is a solid investment once again!