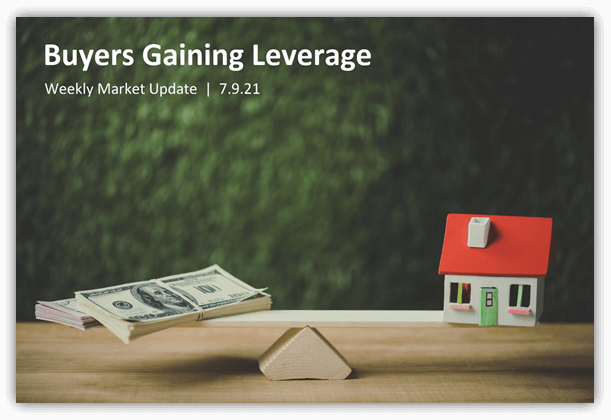 By: Kyle Bergquist
Puget Sound Real Estate: Buyers Gaining Leverage
Last week I wrote that Breakup may be upon us – Basically, that the gridlock from low inventory relative to high buyer demand may be showing signs of cracking a bit and moving [ever so slightly] back towards equilibrium. Fortuitously enough, multiple news outlets echoed my sentiments shortly after last week's WMU: Check this out from the PSBJ or this from the Seattle Times.
The Dog Days of Summer are here, and though it's unlikely the market will hit actual equilibrium between buyers and sellers, it's not going to be the frenzy that it was this past spring and early summer. The absorption rate for single family residences in Seattle has already dropped 11.72% in the last month, and I would expect to see it drop further based on historical norms. Reason why: Kids are out of school in the summer, and the weather is nice.
From a sellers perspective, this is the PERFECT time to list a home! The days are long, the weather is nice, and if they had kids in school, that made listing their home in the springtime hard to do. So SEIZE THE DAY SELLERS, AND LIST THAT HOME!!!
Buyers on the other hand have been getting emotionally crushed for months. Many buyers have made north of 5 to 10 offers so far, oftentimes over-ask, and have yet to get one of their offers accepted. But now that their kids are out of school and economies are opening up again, it's time to go on that long awaited summer vacation.
Thus, we're left with a marketplace that has sellers finally listing, but buyers going on vacation = a slight return to equilibrium.
Summary
On July 1st, 2019 Seattle had just under 2 months of inventory on the shelves (1439 active listings and 745 pendings). Compare that to July 1st, 2021 where there are 720 active listings, and 1,189 pendings, and that translates into about 3 weeks of inventory. The market is softening but ONLY RELATIVE to its record absorption rates from this past February through June. With mortgage interest rates trending lower over the past month, buyers today are gaining relative leverage when compared to buyers from this past Spring – Today's buyers have fewer competing offers to deal with and more purchasing power than buyers had in the Spring, and that's an amazing window of opportunity for the buyers who are continuing to grind.
Words of Motivation to Buyers: THIS IS YOUR MOMENT!!! YOU GOT THIS!!!!!
Knowledge is Power, and The Greatest Investment on Earth is Earth.
Interest Rates
Per Bankrate's survey of large lenders, the 30 year mortgage interest rate on purchases fell slightly this past week to 3.13%, with .36 in discount and origination points.
According to Bankrate, 30 Year Fixed Rates have fallen .23% since their 52 week high of 3.36%
(That's a savings of $63.09 per month on a $500,000 loan)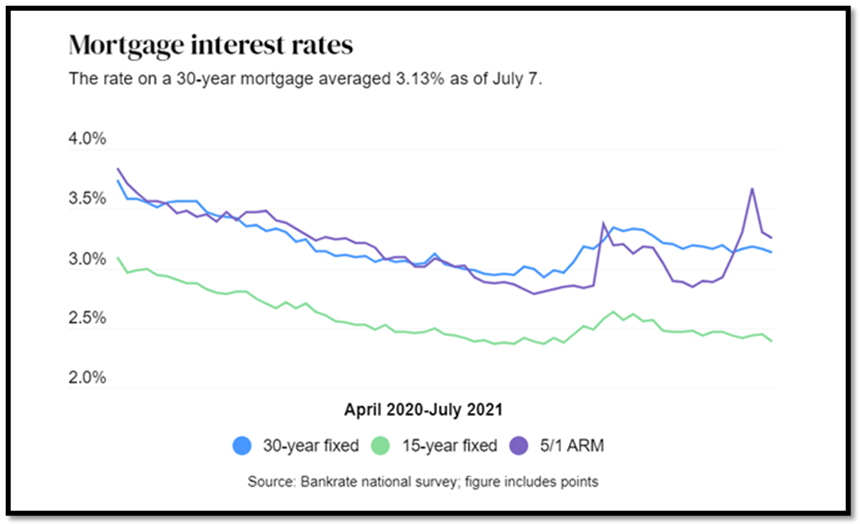 Kyle's Quick Take – Mortgage Market Week in Review
The price of the Fannie Mae 2.5% coupon rose sharply this past week, breaking above all moving averages = mortgage interest rates fell nicely (and more than the survey above reflects).
To understand why mortgage interest rates are falling today we need to review why they rose in the first place. They began rising in February because investors were leery that as economies opened back up and consumers started revenge-spending some of their record savings from the past 18 months, that inflation would follow. They weren't wrong, inflation did follow. But as things are playing out, it's not going to be as bad as what investors feared…so they move back into purchasing mortgage bonds, thus driving mortgage interest rates lower.
Moreover, as the Fed discusses potentially increasing interest rates, that's going to mean corporations are paying more on their debt than they are currently, which equals lower profits. So some money flows out of the stock market and into the safety of the bond market.
It's anyone's guess what rates will do moving forward, but I wouldn't bet on them falling too much further from current levels unless things start to really sour in the stock market. There are lots of factors at play here, but so long as the economy continues to do well and recover, there's not going to be enough money to drive rates much further down.
WHAT YOU NEED TO KNOW FOR WHERE RATES WILL GO:
Good Economic News or Inflation

= Bad for Mortgage Interest Rates.

Bad Economic News or Deflation

= Good for Mortgage Interest Rates.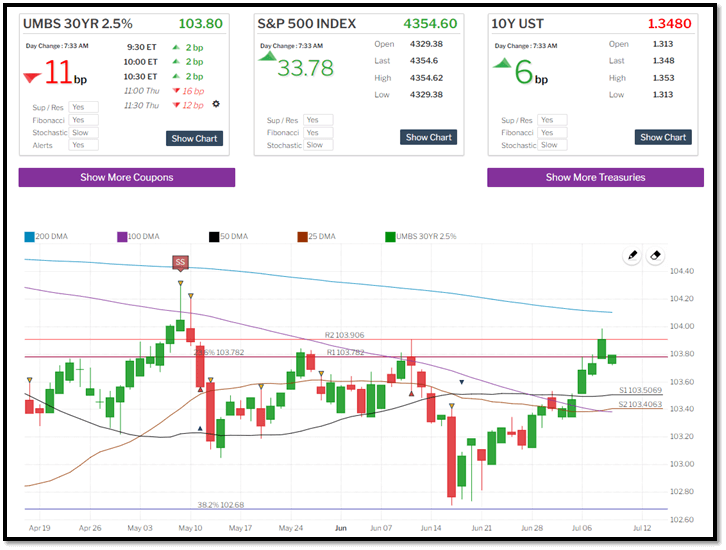 Puget Sound Real Estate: Charts and Data
Alex Black Absorption Rates per NWMLS Real Time Data
Absorption Rate is calculated as: (Pending Sales) / (Active + Pending Sales)
SFR in Seattle
SFR Pending Sales in Seattle: 1,065 homes
SFR Active Listings in Seattle: 730 homes
Absorption Rate for SFR in Seattle: 59.33%

Competition drove prices higher in the first half of 2021, but keep an eye on how a falling absorption rate may negatively affect median list prices for single family residences in Seattle. As inventory builds throughout summer and buyers take some long awaited summer vacations, don't be surprised if median list prices start to trail off a bit. The Dog Days of Summer are here, and it may be just what exasperated buyers have been waiting for.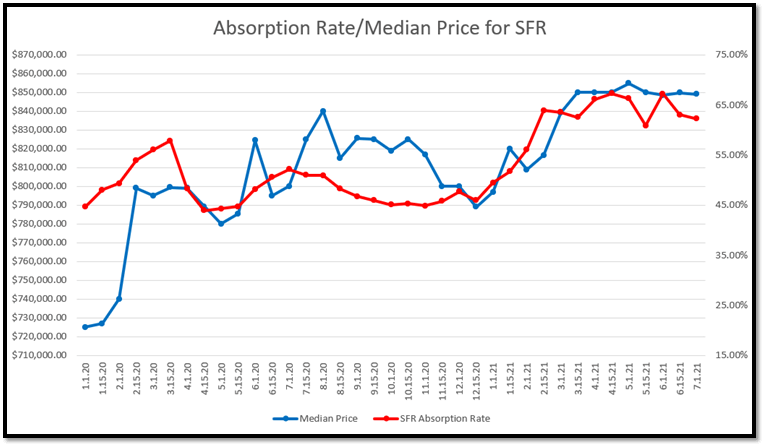 Condos in Seattle
Condo Pending Sales in Seattle: 374 condos
Condo Active Listings in Seattle: 598 condos
Absorption Rate for Condos in Seattle: 38.48%
A rising absorption rate helped buoy condo prices coming out of the pandemic. Though they're about $50,000 lower than their 18 month high, the condo market seems to be on stable footing again in what could have been a devasting 2020 with many people selling their condos in search of more Life Space – as offered by a single family residence. Despite the current lower median list price for a condo, a high absorption rate tells us the condo market is a solid investment once again!