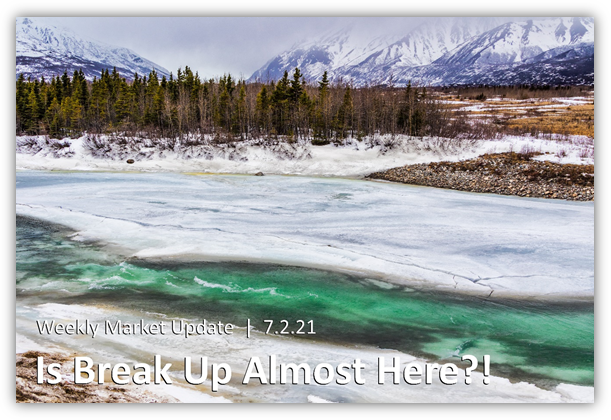 By: Kyle Bergquist
Puget Sound Real Estate: Is Breakup Almost Here???
The Nenana Ice Classic is an annual contest held in Nenana, Alaska. It's an event in which Alaskans attempt to guess the exact time the Tanana River ice will break up at Nenana. In 2014 the jackpot was a record $363,627, and since it's inception in 1906 over $10m in prize money has been given away to those who have guessed the winning time.
Much like residents in Nenana celebrate ice breakup on the Tanana River to signify the beginning of Spring and Summer and all the hope and economic prosperity that comes with warmer weather in the tundra, Puget Sound homebuyers, real estate agents, and yes, even lenders are eagerly awaiting breakup here in the Puget Sound Housing Market. For months the local housing market has been frozen and setting all sorts of records for gridlock – Inventory in the Tri County area is so low that if no new houses came on the market, there would be no homes for sale after only TWO WEEKS! …And it's been that way for a couple months now; median days on market for all listings in Seattle has been at SEVEN for 14 of the last 15 weeks; and the absorption rate for SFR in Seattle has been north of 60% since February 15th, 2021. All this high demand coupled with low inventory has resulted in homes appreciating in the Greater Seattle Metropolitan Area at an all time record high of 20.2% year over year!
For homeowners already in the market, this is fantastic news. They've been reaping the rewards of their real estate investments head over heels in 2021, but for everyone looking to stake their claim in the local housing market and/or for those who make their living in the local housing market, it's been tough sledding this year with oftentimes homebuyers having to write 5+ offers before one is finally accepted…Thus, realtors, lenders, and escrow agents have been working their tails off JUST to get something into contract. But are things slowly drifting back towards equilibrium? If I were in Nenana I'd be placing my bet for break up happening in about 2 weeks. The absorption rate, though still high, has fallen about 7.5% in the last 30 days, and historically speaking inventory gains traction in the summer months - The three year trailing average for inventory gains July through the end of September is +25.4% more inventory hitting the shelves.
Summary
As more and more sellers come to market post-July 4th, it would make sense that the market overall would drift away from the degree of Sellers' Market it is now. This is great news for homebuyers frozen out of the market by the extreme competition, as it may mean that instead of competing against 20 to 30 other offers every time, they may only be competing against 5 to 10. Now, 5 to 10 offers is still a very competitive market and should keep prices stable to rising, but you don't need me to tell you that's a few times bertter likelihood a homebuyer's offer will be accepted after Puget Sound Breakup versus before.
Words of Motivation to Buyers: YOU'RE ALMOST THERE!!! YOU GOT THIS!!!!!
Knowledge is Power, and The Greatest Investment on Earth is Earth.
Interest Rates
Per Bankrate's survey of large lenders, the 30 year mortgage interest rate on purchases fell slightly this past week to 3.16%, with .36 in discount and origination points.
According to Bankrate, 30 Year Fixed Rates have fallen .2% since their 52 week high of 3.36%
(That's a savings of $54.92 per month on a $500,000 loan)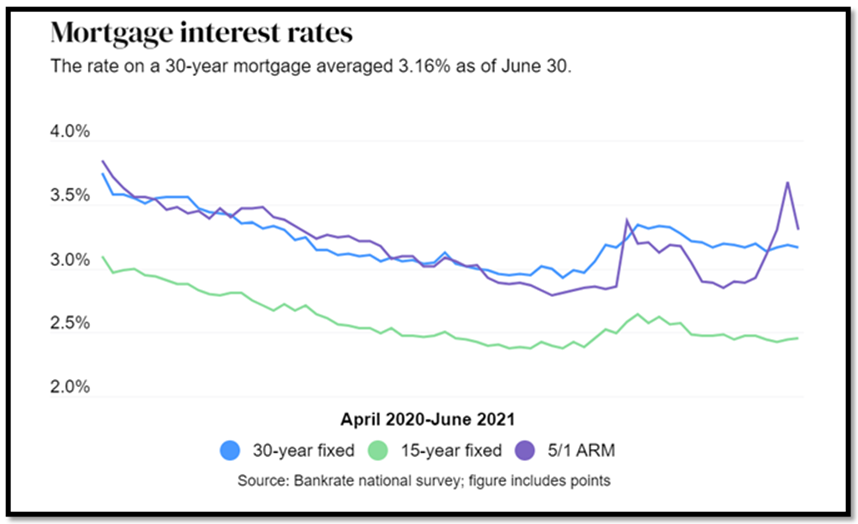 Kyle's Quick Take – Mortgage Market Week in Review
The price of the Fannie Mae 2.5% coupon moved barely higher this week, but broke above THREE levels of technical resistance. There's only the 50 day moving average left…if we can break above that moving average mortgage interest rates will be posed to drop next week.
On the news front, both the ADP and BLS jobs reports came back better than expected this past week. Primary reason, states are starting to curtail their Pandemic Enhanced Unemployment. With the drop in unemployment income, people are going back to work – surprise surprise. Normally this would be bad news for the mortgage bond (as it's good news for the economy), but it appears that these better than expected jobs report numbers were already priced into the market.
Stay tuned and cross your fingers we can get one last nudge later today to put us up over the 50 day moving average! COME ON LOW INTEREST RATES!!!
WHAT YOU NEED TO KNOW FOR WHERE RATES WILL GO:
Good Economic News or Inflation

= Bad for Mortgage Interest Rates.

Bad Economic News or Deflation

= Good for Mortgage Interest Rates.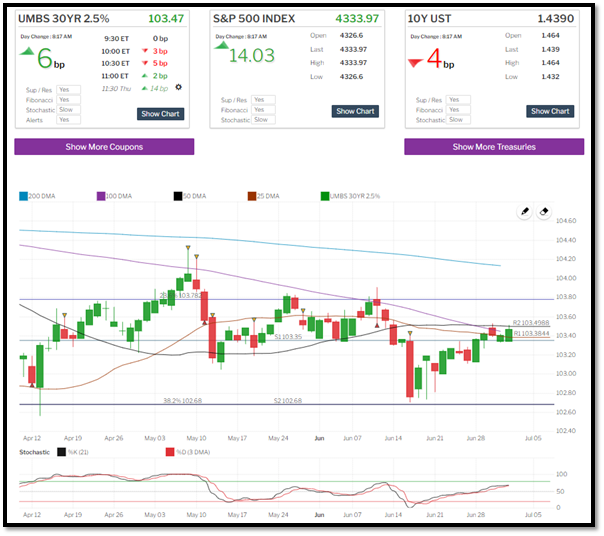 Puget Sound Real Estate: Charts and Data
Alex Black Absorption Rates per NWMLS Real Time Data
Absorption Rate is calculated as: (Pending Sales) / (Active + Pending Sales)
SFR in Seattle
SFR Pending Sales in Seattle: 1,130 homes
SFR Active Listings in Seattle: 682 homes
Absorption Rate for SFR in Seattle: 62.36%

Competition is driving prices higher…already about $60,000 higher since our winter low. So long as the absorption rate can stay high, escalation clauses will likely keep pushing prices even higher than where we're at today in the weeks to come.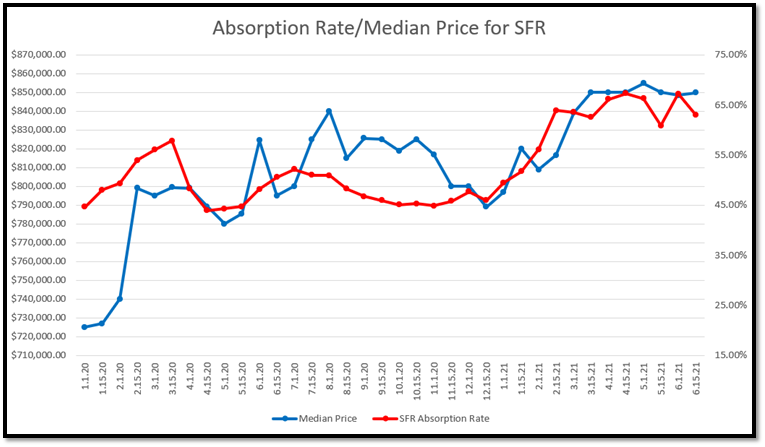 Condos in Seattle
Condo Pending Sales in Seattle: 395 condos
Condo Active Listings in Seattle: 559 condos
Absorption Rate for Condos in Seattle: 41.40%

A relatively high absorption rate gave us a strong floor for median condo prices to jump higher earlier this year. So long as the absorption rate can stay strong, escalation clauses will likely keep pushing median condo prices higher than where we're at today in the weeks to come.