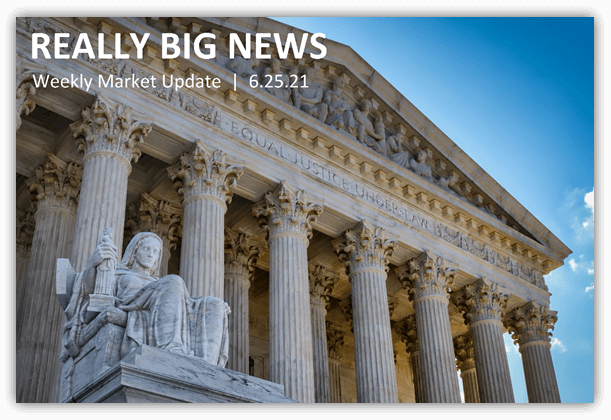 By: Kyle Bergquist
Puget Sound Real Estate: REALLY BIG NEWS
Possibly the biggest 2021 news event no one heard of: The Supreme Court has ruled that the Director of the FHFA serves at the will of the President, and is therefore replaceable by the President without cause. What does this mean? It means Mark Calabria is out, and Sandra Thompson is in as the Federal Housing Finance Agency Director.
Why is this such a huge deal and worth reading about? Here's the bulleted storyline:
The Biden administration and Calabria had contrasting views when it comes to the conservatorship of the GSE's (Government Sponsored Entities). Backstory: Fannie Mae and Freddie Mac got their Brittany Spears on in September 2008 when the FHFA placed both Fannie and Freddie into government conservatorship. By doing so, the FHFA kept both enterprises solvent…which was super important given they were the banks behind about 60% of all home mortgages in America at that time…and as you'll remember, that was a tough time for real estate and mortgages. Read more about that whole thing HERE or just watch The Big Short.
Fannie Mae and Freddie Mac were originally created by the US Government to provide liquidity to the real estate markets by standardizing the 30 year mortgage – For example: PRMI funds a loan using PRMI money and lines of credit, but then packages the loan up (with hundreds of others) and sells it to Fannie and Freddie. This way we get our money back and can go fund more loans. This is why Fannie and Freddie own a majority of all homes in America, because this is how mortgage banking works. Anyway, they were initially created by the government to provide back end liquidity to the real estate markets, but became public companies (who's stock you could buy on the New York Stock Exchange prior to June 16th, 2010). So in a sense, the government is now running two formerly public companies…not necessarily the government's role. BUT, because these companies are integral to the US Housing Market, they were deemed too big to fail and got scooped up by the USG.
During the 2010s there have been two camps: The camp that wants Fannie and Freddie to exit conservatorship and go back to becoming public companies, and the camp that acknowledges their importance in the world and says "Why would we let you go back to being a public company where the drive for profits makes you do dumb things, thus opening the door for the government to have to take you back when you get over your skis again?" Calabria was in the camp of letting them go back to being public companies, and Biden was in the other camp of keeping them in government conservatorship.
Summary
With this judgement by the US Supreme Court and subsequent move by Biden, it is likely that Fannie and Freddie will stay under government conservatorship for a bit longer than they would have otherwise.
THIS IS REALLY BIG NEWS
By keeping these companies under the control of the government, the government can ensure that they follow through on their original purpose of being: To provide liquidity to the mortgage markets, and open the door of homeownership to as many Americans as possible. The thing is, publicly traded companies are in pursuit of profits – this inherently means higher mortgage interest rates than what the secondary markets may necessitate, AND stricter underwriting guidelines to avoid costly risk. These two underlying factors are mitigated when controlled by the government. I think this line by our NEW FHFA Director sums up the new direction of Fannie and Freddie best: There is a widespread lack of affordable housing and access to credit, especially in communities of color. It is the FHFA's duty through our regulated entities [Fannie Mae and Freddie Mac] to ensure that all Americans have equal access to safe, decent, and affordable housing. Compare this line of thinking to Mark Calabria's last biggest move which was to implement an Adverse Market Fee to all refinancers in 2020, which did nothing but increase interest rates to refinancers and profits for Fannie and Freddie, and I think you get the point.
I'll say it again: THIS IS REALLY BIG NEWS. And will translate into the door of homeownership opening to more Americans (And by the way, more demand = good for housing prices).
Knowledge is Power, and The Greatest Investment on Earth is Earth.
Interest Rates
Per Bankrate's survey of large lenders, the 30 year mortgage interest rate on purchases fell slightly this past week to 3.18%, with .33 in discount and origination points.
According to Bankrate, 30 Year Fixed Rates have fallen .24% since their 52 week high of 3.42%
(That's a savings of $66.08 per month on a $500,000 loan!)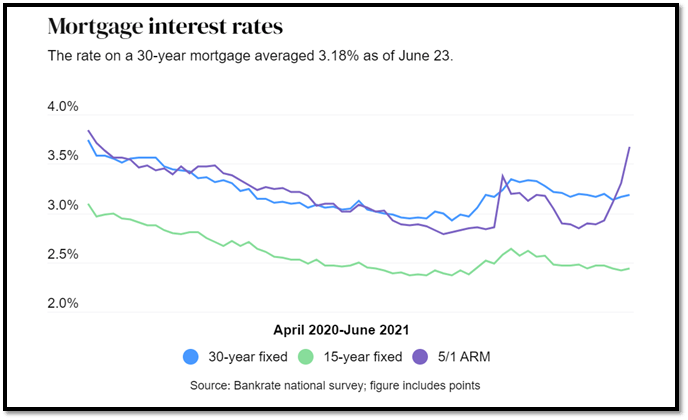 Kyle's Quick Take – Mortgage Market Week in Review
It was the best of both worlds this week – Every single day this week interest rates fell a tiny bit, in parallel with our 401ks going a tiny bit higher…It was great! Likely the biggest underlying reason was simply the dust settling from last Wednesday's (June 16th) MBS battering. As you'll recall, last Wednesday the Fed came out and hinted that they may slow their purchases of mortgage backed securities, which sent interest rates flying. But the reality was it wasn't anything we all didn't already know! OF COURSE the Fed is going to eventually stop buying mortgage backed securities and artificially keeping mortgage interest rates lower, it was simply that they said it out loud last Wednesday. So mortgage interest rates knee-jerked higher last Wednesday, but are slowly coming back down as the emotions temper.
WHAT YOU NEED TO KNOW FOR WHERE RATES WILL GO:
Good Economic News or Inflation

= Bad for Mortgage Interest Rates.

Bad Economic News or Deflation

= Good for Mortgage Interest Rates.
Puget Sound Real Estate: Charts and Data
Alex Black Absorption Rates per NWMLS Real Time Data
Absorption Rate is calculated as: (Pending Sales) / (Active + Pending Sales)
SFR in Seattle
SFR Pending Sales in Seattle: 1,206 homes
SFR Active Listings in Seattle: 808 homes
Absorption Rate for SFR in Seattle: 59.88%

Competition is driving prices higher…already about $60,000 higher since our winter low. So long as the absorption rate can stay high, escalation clauses will likely keep pushing prices even higher than where we're at today in the weeks to come.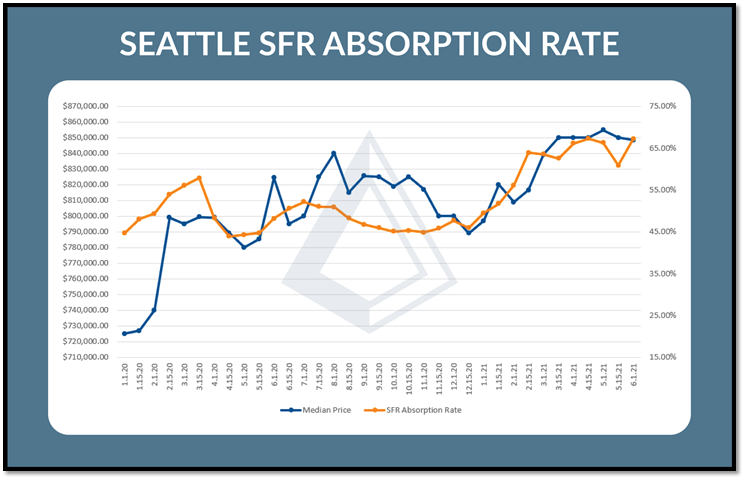 Condos in Seattle
Condo Pending Sales in Seattle: 410 condos
Condo Active Listings in Seattle: 587 condos
Absorption Rate for Condos in Seattle: 41.12%

A relatively high absorption rate gave us a strong floor for median condo prices to jump higher earlier this year. So long as the absorption rate can stay strong, escalation clauses will likely keep pushing median condo prices higher than where we're at today in the weeks to come.