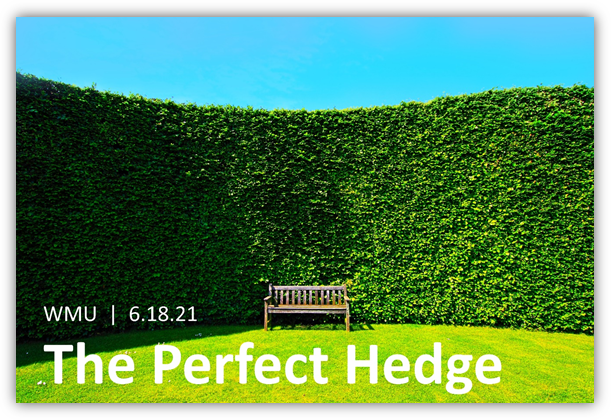 By: Kyle Bergquist
Puget Sound Real Estate: The Perfect Hedge
"Rents jump for single-family homes in Seattle, but fall for apartments" - It's no secret, given enough time the cost of renting will rise. There may be dips here and there (thus, the latter half of the headline above), but the reality is Seattle ranks number one in the nation at a 91.8% increase in apartment rents over the past decade; and over the past 12 months renting a single family home (not an apartment) has risen 4.3%.
Rents rise in line with what the market can tolerate. Check this out: The average rent for all apartment types in Seattle right now is $1,895 according to RentCafe. The median household income in Seattle right now is $102,852 according to the US Census. Therefore, as a whole we're looking at roughly 18.5% of income being spent on rent every month (now, this ratio likely much higher for renters given that renters as a whole generally earn less than homeowners as a whole, and we only have income data for renters and homeowners combined, not separated by group). Either way, this doesn't change the overall logic of things here. So, let's assume that rents will remain 18.5% of the median household Seattle income. If Seattle household median income rises another 38.74% in the next decade (like they did from 2010 to 2020), then we can derive that in 2030 rent in Seattle will be about 18.5% of $142,696, or about $2,200 per month (up from the current $1,895 average rent). That may not seem too terrible, but compare that to the alternative of being a homeowner with a 30 year fixed mortgage… Not only was that homeowner able to keep the same payment over the next decade (and therefore their ratio of housing expense to income FELL), but that homeowner was also able to write off mortgage interest, property taxes, and potentially their mortgage insurance as well, which equals more money back in their pocket every April 15th, thus pushing their housing expense to income ratio even LOWER!
So not only is owning a home likely going to mean some solid returns by way of home price appreciation, it's the perfect hedge against increasing wages and the buzz word of the year: INFLATION.
Summary
The cost of renting is going to increase in line with wage increases and inflation… That 18.5% of income spent on housing rent number isn't going down anytime soon. BUT, by owning a home, your ratio of income spent on your monthly mortgage payment WILL go down since your monthly mortgage payment is fixed, and your income should rise in time. So not only is purchasing a home the only investment a non-qualified investor can make on margin (which is part of why it's considered the best investment on earth), but that 30 year fixed mortgage you used to purchase your home with, will save you a ton of money over the next 30 years compared to the alternative living option of renting.
Knowledge is Power, and The Greatest Investment on Earth is Earth.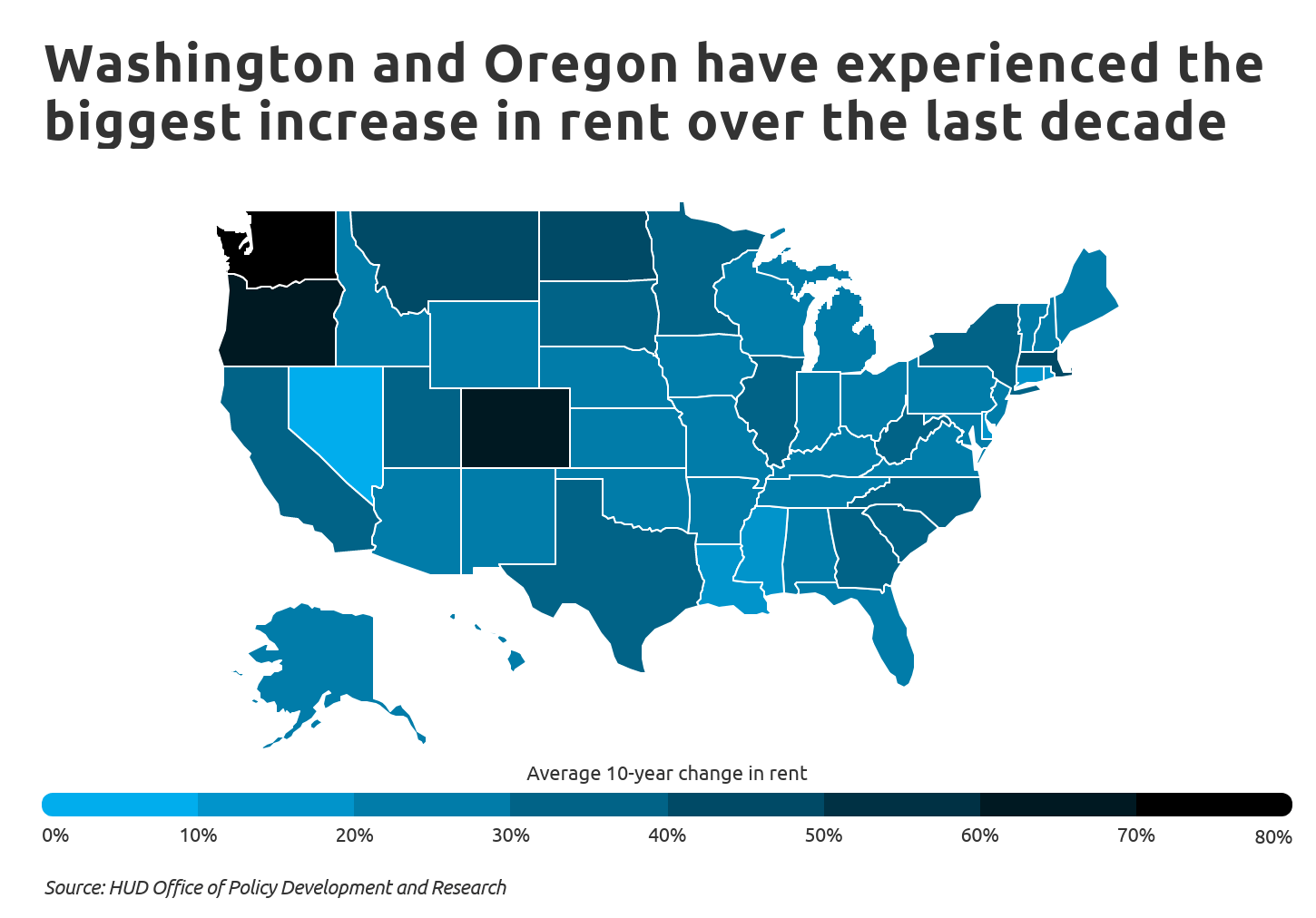 Interest Rates
Per Bankrate's survey of large lenders, the 30 year mortgage interest rate on purchases rose slightly this past week to 3.16%, with .34 in discount and origination points.
According to Bankrate, 30 Year Fixed Rates have fallen .27% since their 52 week high of 3.43%
(That's a savings of $74.32 per month on a $500,000 loan!)
Kyle's Quick Take – Mortgage Market Week in Review
Last week I started this section off with the line: Gotta love the Fed. I don't feel that way this week.
On Wednesday the Fed held one of their 10 annual Federal Open Market Committee meetings to discuss monetary policy in the US. That meeting did not go well for mortgage interest rates. The primary reason it didn't go well was because JP (Jerome Powell) reset inflation expectations: From the previously expected 2.4% inflation rate in 2021, to 3.4%. To be fair, in a vacuum this resetting of expectations should've meant mortgage interest rates would skyrocket by around 1% (they only went up around maybe .25%), so that's good I suppose, but still not a great day in the markets.
Counter-balancing the higher inflation estimates was the idea that they're thinking of raising rates starting next year (which is what hurt the stock market, and therefore had money from the stock market going into the mortgage bond which limited the devastation that could have been); and the idea that next year after many of the production/supply bottlenecks would be resolved, and inflation should come back down to around 2.1%.
In the end, the Fed spooked mortgage interest rates into rising this past week, but given the economic fundamentals and expectations aren't actually all that different from what the market already knows, my guess is rates will slowly trend back down over the next week or two unless some other inflation readings start beating expectations.
WHAT YOU NEED TO KNOW FOR WHERE RATES WILL GO:
Good Economic News or Rising Inflation

= Bad for Mortgage Interest Rates.

Bad Economic News or Falling Inflation

= Good for Mortgage Interest Rates.
Puget Sound Real Estate: Charts and Data
Alex Black Absorption Rates per NWMLS Real Time Data
Absorption Rate is calculated as: (Pending Sales) / (Active + Pending Sales)
SFR in Seattle
SFR Pending Sales in Seattle: 1,224 homes
SFR Active Listings in Seattle: 737 homes
Absorption Rate for SFR in Seattle: 62.42%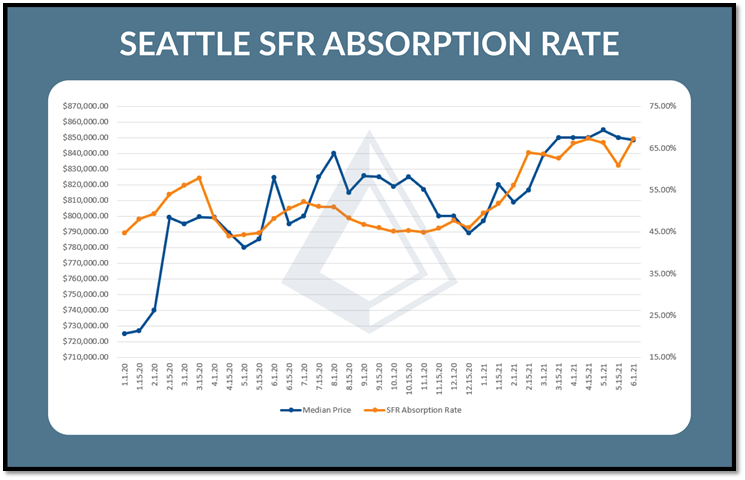 Condos in Seattle
Condo Pending Sales in Seattle: 417 condos
Condo Active Listings in Seattle: 546 condos
Absorption Rate for Condos in Seattle: 43.30%