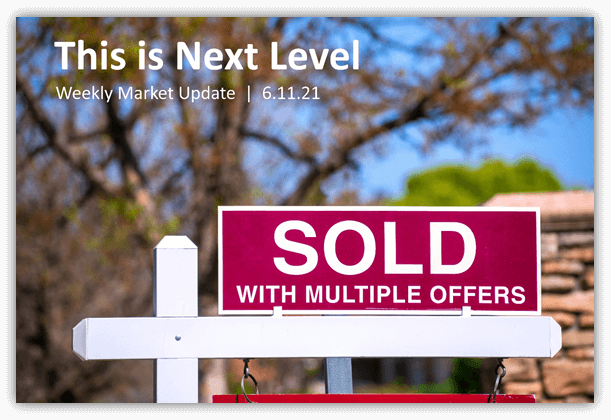 By: Kyle Bergquist
Puget Sound Real Estate: This is Next Level
Just when we thought things couldn't get more competitive, the data is in to show it can. Historically speaking, Q1 of any given year is generally the most competitive time to buy a home. Buyers are out and ready to buy, but sellers are thinking that maybe selling their home when it gets dark at 4pm in predictably inclement cold and soggy weather while the kids are still in school is not the best idea = More buyers than sellers in Q1 = Competitive Sellers' Market here in Puget Sound.
But as the weather starts to turn in March and April, Sellers start to come out and play which can reduce overall competition. Don't get me wrong, it's usually still a sellers' market in the Spring, but instead of 20 offers on a great home priced to sell, maybe there are only 5 to 10. Unfortunately, despite it being June, that slight move towards equilibrium has yet to arrive. In fact, it's gotten even MORE COMPETITIVE than it was in Jan/Feb/and March!
I've theorized that maybe our market today is because Sellers are still a little weary with COVID concerns, and therefore somewhat reluctant to open their homes up to a hundred or so people every weekend, but the data doesn't support that. According to the NWMLS, in the TriCounty area (King, Snohomish, and Pierce County), there were:
6,563 total closings and 8,143 pendings in May 2021 = 14,706 total inventory
3,057 total closings and 6,798 pendings in May 2020 (during the Pandemic) = 9,855 total inventory
6,244 total closings and 8,002 pendings in May 2019 (PrePandemic) = 14,246 total inventory
So as you can see, there are actually MORE homes on the market this year than in the previous few years! Ergo, our highly competitive market isn't due to a lack of Sellers overall…it's due to a lack of sellers relative to buyers. Supply rose; demand simply rose higher. Despite more homes being sold this May versus previous May's, average inventory in the TriCounty area is .43 months (that's like TWO WEEKS of inventory). In 2020 there was an average of 1.43 months of inventory, and in 2019 there was an average of 1.51 months of inventory in the TriCounty area (a balanced market here in Puget Sound – Months of Inventory that equate to list prices moving sideways – Is about 2.5 to 3 months…as evidenced by the 2018 Puget Sound housing market).
Summary
The Seattle Housing Market is as strong a Sellers' Market as we've seen since the early 90s. Low interest rates, a year of built up savings, and first time homebuyers eager to stake their claim in the housing market have Seattle ranked as the 8th most competitive market in the Nation. Add these factors to the idea that our market should be producing about 14,250 listings in May, and last year we only produced 9,855; and all of a sudden there's simply a surplus of 4,395 buyers relative to our surplus of 456 sellers this year. Thus it's no surprise that almost 80% of all listings receiving multiple offers (For comparison, only 74.8% of homes received multiple offers in March…so here's your datapoint to prove that the market is even MORE competitive now than it was earlier this year). Forecasting what's to come: Matt Gardner – Chief Economist for Windermere Real Estate – states that King County is expected to add another 42,188 new homeowners within the next 5 years. Unless a truckload of sellers suddenly come out of the weeds, it could take a while for our housing market to digest the imbalance we're seeing today…Especially given what's projected to come on the demand-side, relative to some of the New Home Construction numbers I was able to find for the housing market supply-side (see below).
Knowledge is Power, and The Greatest Investment on Earth is Earth.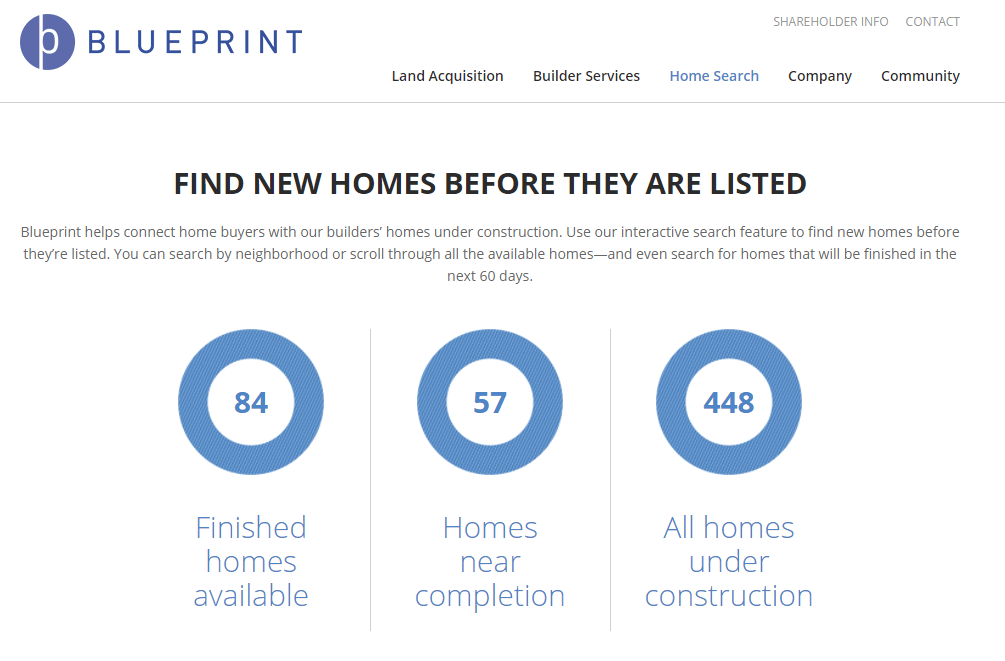 Interest Rates
Per Bankrate's survey of large lenders, the 30 year mortgage interest rate on purchases fell slightly this past week to 3.13%, with .35 in discount and origination points.
According to Bankrate, 30 Year Fixed Rates have fallen .31% since their 52 week high of 3.44%
(That's a savings of $85.27 per month on a $500,000 loan!)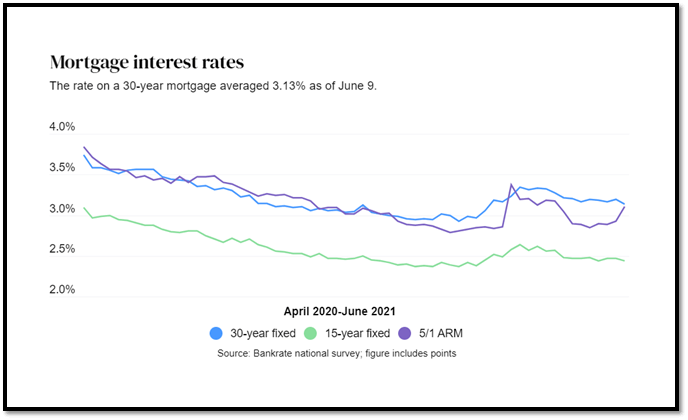 Kyle's Quick Take – Mortgage Market Week in Review
Gotta love the Fed. Inflation comes out at 5% this week, and we're still primarily trading the Fannie Mae 2.5% mortgage coupon. On the surface this means large endowments, institutional investors, or anyone looking to park a bunch of cash somewhere safe (yet stay ahead of inflation) are taking a 2.5% loss on their money relative to this week's inflation reading. The two biggest reasons this is true is because:
Investors believe that the inflation we're seeing today is transitory due to supply chain constraints and the fact it's being measured against last years numbers (which were bordering deflation). And…
The Fed keeps buying mortgage bonds and treasury bills to keep rates right where they are…to the tune of $20+ Billion per month
So long as investor sentiment remains that this inflation is transitory and the Fed keeps doing what they're doing, mortgage interest rates should continue falling (especially if/when the inflation data starts sending us lower readings every month as the benchmark rates move higher from a year ago).
WHAT YOU NEED TO KNOW FOR WHERE RATES WILL GO:
Good Economic News or Rising Inflation

= Bad for Mortgage Interest Rates.

Bad Economic News or Falling Inflation

= Good for Mortgage Interest Rates

.
Puget Sound Real Estate: Charts and Data
Alex Black Absorption Rates per NWMLS Real Time Data
Absorption Rate is calculated as: (Pending Sales) / (Active + Pending Sales)
SFR in Seattle
SFR Pending Sales in Seattle: 1,238 homes
SFR Active Listings in Seattle: 745 homes
Absorption Rate for SFR in Seattle: 62.43%

Competition is driving prices higher…already about $60,000 higher since our winter low. So long as the absorption rate can stay high, escalation clauses will likely keep pushing prices even higher than where we're at today in the weeks to come.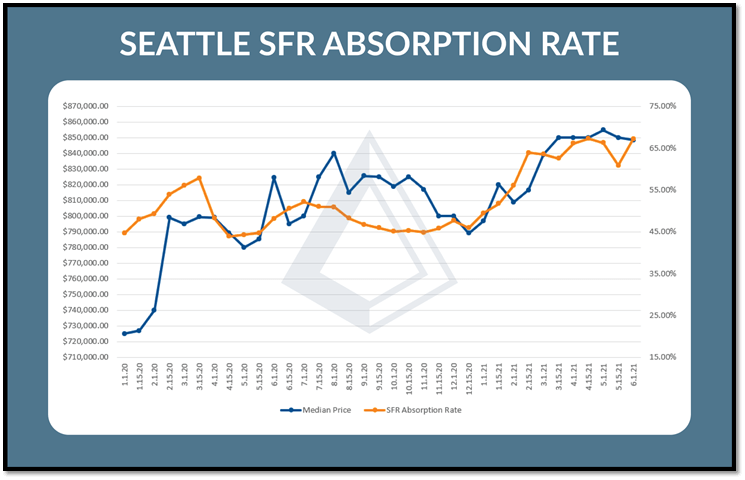 Condos in Seattle
Condo Pending Sales in Seattle: 412 condos
Condo Active Listings in Seattle: 576 condos
Absorption Rate for Condos in Seattle: 41.7%

A relatively high absorption rate gave us a strong floor for median condo prices to jump higher earlier this year. So long as the absorption rate can stay strong, escalation clauses will likely keep pushing median condo prices higher than where we're at today in the weeks to come.