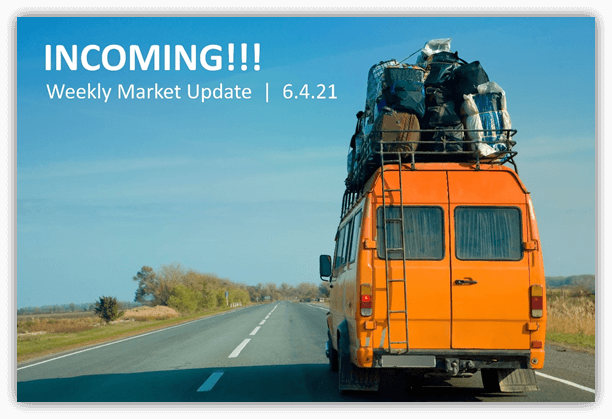 By: Kyle Bergquist
The Puget Sound Real Estate Market
Puget Sound Real Estate: INCOMING!!!
My in-laws are in town from Sacramento, and as we normally do at least once on our visits we dive into the local real estate markets and what's going on. Sacramento (and especially it's outlying areas) is BOOMING from in-migration of Bay area tech workers who don't necessarily need to live in the Bay or close to work anymore. Given the median list price of a home in Sacramento is $480,000 (compared to the median list price of a home in San Francisco at $1,792,500 or San Jose at $1,325,000)*, it's absolutely no surprise that Sacramento is living it's best life right now – Up 18.1% in the last 12 months according to Realtor.com!
Given the dynamics at play in Sacramento, it's a fair assumption to think Seattle is the SFO of the PNW and that people would be moving out in search of cheaper housing. Well, you'd be wrong…Kinda. Some people are moving out (it's why Chelan, Kittitas, and other Counties not named King are up 20%+ year over year); but that doesn't mean the floor is falling out from under Seattle's feet. In fact, Seattle ranked NUMBER ONE IN THE NATION for fastest growing big city in 2020!** Seattle grew by 16,400 or 2.2% between July 1, 2019 and July 1, 2020, which puts us at the top of the 50 City List. So demand for housing increasing = Housing prices increasing, right?
Well, here's the thing: Despite being number in population growth, Seattle homes are only up 3.4% year over year according to Realtor.com. A big part of that reason is because Seattle saw UNPRECEDENTED apartment supply growth in the later half of the 2010s – second only to Dallas on a unit per capita basis for most of the later 2010s. So even though we had a ton of population growth which should put upward pressure on housing prices, upward housing pricing pressure was thwarted by a massive, and record-breaking release of new apartment stock (see chart below).
Summary
Seattle might not be appreciating as fast as one would think - especially after ranking number one in the nation for population growth. But with new apartment stock down over 50% from its 2018 high (only about 8,250 units released in 2020 compared to 17,450 in 2018), if the population gains continue then expect to see apartment supply dissipate in the coming years, which WILL put upward pressure on Seattle area housing prices once again. That said, this is specific for Seattle. The surrounding areas and suburbs didn't have as massive apartment gains as Seattle did, which is a big reason why their prices are currently up 20%+ year over year and Seattle's prices are not (among other reasons).
BTW – If you're looking for one stat to support a thesis of continued population growth and therefore future home price appreciation in Seattle, look no further than a cornerstone stat for any housing market, the job market. Despite millions of new Class A Office Space built in Seattle the last couple years, our Class A vacancy rate is currently .6%, and demand for office space is higher now than it was before the Pandemic started. Job market is ROCKING, which means the housing market should fare just fine.
Knowledge is Power, and The Greatest Investment on Earth is Earth.
*Median list prices provided by Altos Research
**Fastest Growing Big City by Seattle Times
Interest Rates
Per Bankrate's survey of large lenders, the 30 year mortgage interest rate on purchases rose slightly this past week to 3.19%, with .31 in discount and origination points.
According to Bankrate, 30 Year Fixed Rates have fallen .28% since their 52 week high of 3.47%

(That's a savings of $77.26 per month on a $500,000 loan!)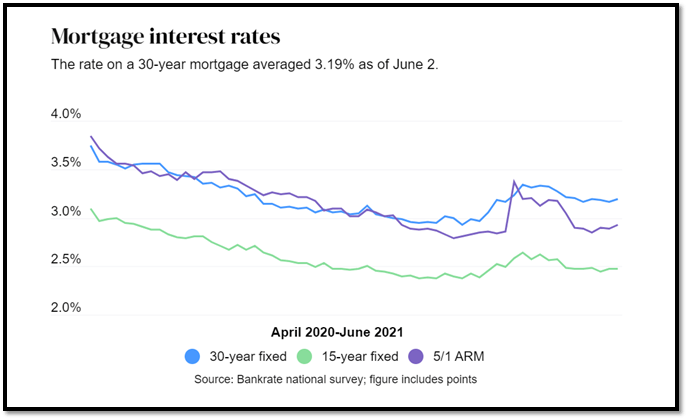 Kyle's Quick Take – Mortgage Market Week in Review
When all was said and done this past week, the mortgage bond is trading at about the same level as it started; meaning interest rates moved virtually sideways.
Yesterday (Thursday the 3rd) Fed President John Williams said everything looks like it's going in the right direction but that we aren't there yet, thus implying that the Fed will continue its current monetary policy which is to buy a bunch of mortgage backed securities and treasury bills (Fed demand for mortgage bonds and treasuries helps keep mortgage interest rates low to the homebuyer/homeowner).
The Bureau of Labor statistics report this morning did nothing but confirm what John Williams said yesterday: Things are moving in the right direction as far as employment goes, but it wasn't so incredible that the Fed needs to tighten up their monetary policy. Mortgage bonds are trading favorably today (meaning rates are trending slightly lower today), because the BLS report mentioned above squashed any fears that the labor markets would beat expectations and give motivation for the Fed to change their bond-buying course anytime soon.
WHAT YOU NEED TO KNOW FOR WHERE RATES WILL GO:
Good Economic News or Inflation

= Bad for Mortgage Interest Rates.

Bad Economic News or Deflation

= Good for Mortgage Interest Rates.
Puget Sound Real Estate: Charts and Data
Alex Black Absorption Rates per NWMLS Real Time Data
Absorption Rate is calculated as: (Pending Sales) / (Active + Pending Sales)
SFR in Seattle
SFR Pending Sales in Seattle: 1,227 homes
SFR Active Listings in Seattle: 726 homes
Absorption Rate for SFR in Seattle: 62.83%

Competition is driving prices higher…already about $60,000 higher since our winter low. So long as the absorption rate can stay high, escalation clauses will likely keep pushing prices even higher than where we're at today in the weeks to come

.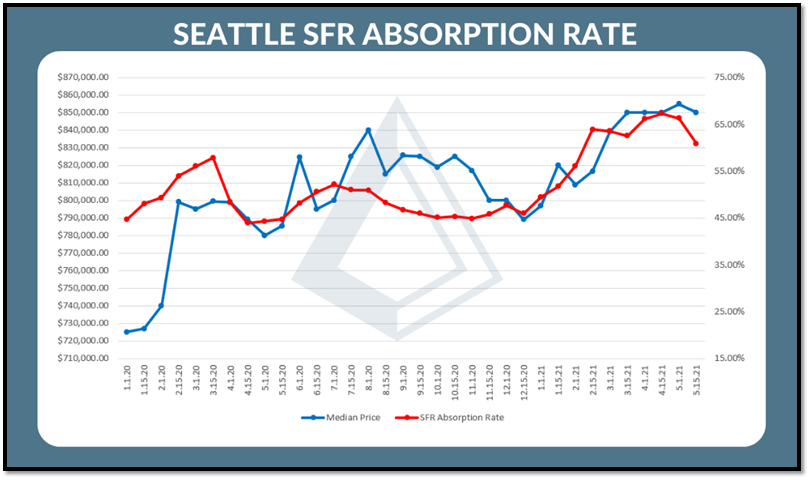 Condos in Seattle
Condo Pending Sales in Seattle: 408 condos
Condo Active Listings in Seattle: 575 condos
Absorption Rate for Condos in Seattle: 41.51%

A relatively high absorption rate gave us a strong floor for median condo prices to jump higher earlier this year. So long as the absorption rate can stay strong, escalation clauses will likely keep pushing median condo prices higher than where we're at today in the weeks to come.