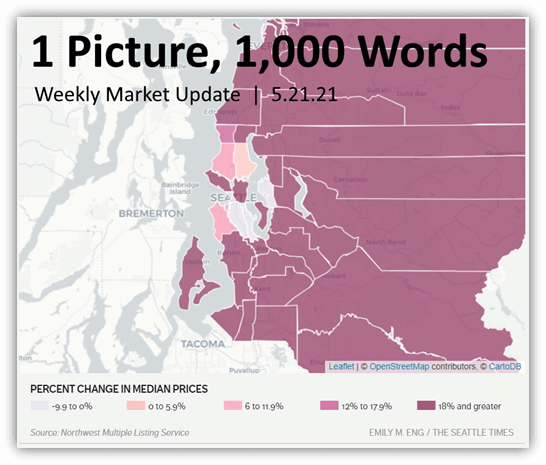 By: Kyle Bergquist
The Puget Sound Real Estate Market
Puget Sound Real Estate: 1 Picture, 1,000 Words
If a picture's worth a thousand words, need I say more this week?
Yes, new listings are on the rise in 2021, but overall active listings are still DOWN despite hundreds of new listings over the past few weeks! Last May 15th Seattle had 845 active SFR listings per the NMLS; May 15, 2021, there are only 724 – a decline of 14.32% in active SFR listings to choose from within the Seattle city limits. The condo market has a bit more inventory (active listings are up from 480 last year to 594 this year: +23.75%), but the truth of the matter is that condo buyers are outpacing condo sellers (Condo Pendings are also up from 174 last year to 387 this year: +122.41%).
Even though there is a lot more activity on the Seller side of the equation this year, it's no match for the pent-up buyer demand here in the NW Housing Market. The SFR Absorption Rate has climbed 36% year over year, and the Condo Absorption Rate has climbed 48.25% year over year.
I've learned over the past 10 years writing this Weekly Market Update that median list prices will start to fall in the Puget Sound region when we're at about 2.5 to 3 months of inventory. Right now most counties in Washington have less than 1 month of inventory, with the TriCounty area (King, Pierce, and Snohomish) being right around 2 WEEKS of inventory. This doesn't translate into every single listing flying off the market in 24 hours with escalation clauses bidding the final sale price $100k higher than the list price, but it does translate into enough competition that homebuyers are resetting their expectations, and re-evaluating what's most important to them and how much they're willing to pay for it. Unsurprisingly, this has many King County residents moving North into Snohomish County, or South into Pierce County; which as you can imagine, has prices rising there too.
Summary
Without a doubt one of the biggest impressions left by the Pandemic was the value of "Life Space" – The price people are willing to pay for general space in life – A metric that takes into account housing prices and local population density. Read more about Life Space HERE. This is, after all, one of the main drivers for why home prices in Bellevue are up 38.7% year over year, versus prices in Seattle proper only being up 7.4%, despite a considerably lower median list price per home in Seattle versus Bellevue; as well as a huge factor for why Chelan County median home prices are up 24.88% year over year, and prices in Kittitas County being up 33.57% year over year despite inventory being over 1 month in both counties relative to Seattle's 2 weeks of inventory. Life space is important, and Snohomish and Pierce Counties have it. So for those homebuyers not looking to drop $1.3m on a median priced home in Bellevue, or who aren't in the market for a weekend home in Chelan or Kittitas, or who don't want to spend a Puget Sound high of $255.89 per square foot of Life Space in Seattle; it should come as no surprise that we see headlines like Pierce County Becomes Destination. Add into the mix the expanded upcoming light rail routes creating reliable commute times into the city centers (Bellevue and Seattle), and the appeal of Pierce and Snohomish Counties is growing for today's King County Homebuyer. Thus, we find home prices in Snohomish County up 28.57%, and Pierce County up 23.46% year over year.
Knowledge is Power, and The Greatest Investment on Earth is Earth.
Interest Rates
Per Bankrate's survey of large lenders, the 30 year mortgage interest rate on purchases fell slightly this past week to 3.18%, with .31 in discount and origination points.
According to Bankrate, 30 Year Fixed Rates have fallen .38% since their 52 week high of 3.56%
(That's a savings of $105.13 per month on a $500,000 loan!)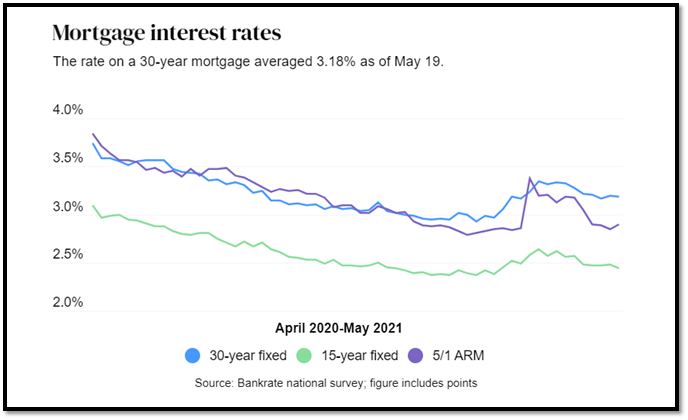 Kyle's Quick Take – Mortgage Market Week in Review
Mortgage interest rates stabilized this past week, and effectively moved sideways on equal push and pull narratives coming from the Fed.
One on hand there's concern that inflation may be here for longer than anticipated, but not because the economy is roaring back to life. It is, to an extent, but the inflation fears are mostly rooted in supply chain bottlenecks which will push the prices of consumer goods higher.
On the other hand, Fed President Raphael Bostic (for example) came out on Monday stating that he believes the inflation we're seeing right now is transitory, and will not last.
In summary, no one (including the Fed) knows where inflation is headed, so everything moved sideways – neither up, or down, just sideways until there's more data to shed light on where inflation may be headed.
NOTE: Inflation = bad for mortgage interest rates. No inflation = good for mortgage interest rates.
Puget Sound Real Estate: Charts and Data
Alex Black Absorption Rates per NWMLS Real Time Data
Absorption Rate is calculated as: (Pending Sales) / (Active + Pending Sales)
SFR in Seattle
SFR Pending Sales in Seattle: 1,167 homes
SFR Active Listings in Seattle: 751 homes
Absorption Rate for SFR in Seattle: 60.84%

Competition is driving prices higher…already about $60,000 higher since our winter low. So long as the absorption rate can stay high, escalation clauses will likely keep pushing prices even higher than where we're at today in the weeks to come.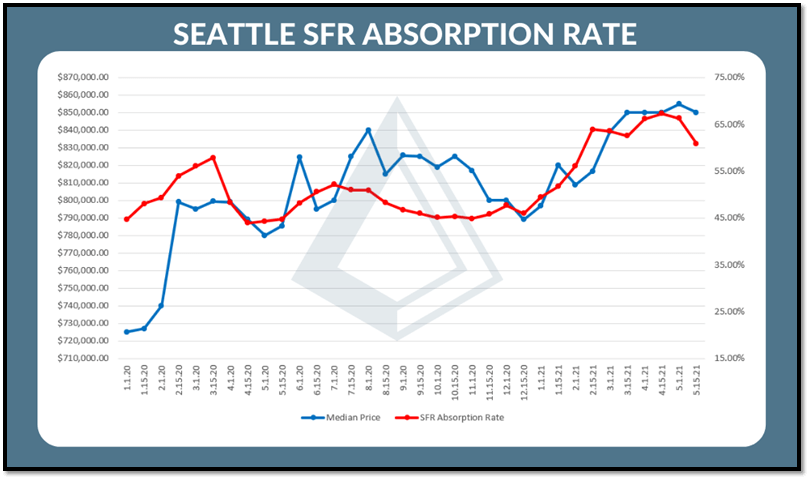 Condos in Seattle
Condo Pending Sales in Seattle: 405 condos
Condo Active Listings in Seattle: 578 condos
Absorption Rate for Condos in Seattle: 41.20%

A relatively high absorption rate gave us a strong floor for median condo prices to jump higher earlier this year. So long as the absorption rate can stay strong, escalation clauses will likely keep pushing median condo prices higher than where we're at today in the weeks to come.