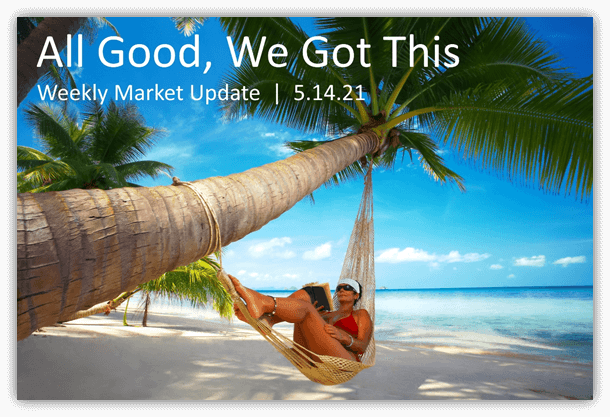 By: Kyle Bergquist
The Puget Sound Real Estate Market
Puget Sound Real Estate: All Good, We Got This
Last Friday the Labor Department's jobs report came in and needless to say, it turned some heads. The new jobs added in April was about 70% LOWER than March's numbers, which definitely justifies said head-turning. Economists love using these jobs reports as a metric in how they gauge the health of an economy, but they don't necessarily take them at face value. So what are economists seeing inside this head-turning and disappointing jobs report?
To unpack the report we need to talk about leisure. When most of us think about leisure we think of lounge chairs and beaches (or whatever your own personal nirvana might be), but there are jobs on the backend that provide this hospitality. The Expectation-Setters for the jobs report reasonably thought that with economies opening back up and more and more people traveling these days, that these businesses involved in leisure and hospitality would be hiring lots and lots of their people back. Well, despite having the highest percentage of jobs to claw back post-quarantine, it seems they're having a tough time getting their employees back to work. Here's why:
A lot people are enjoying their first vacation in a year and a half so there's definitely demand warranting the additional jobs. But the biggest cohort of leisure and hospitality employees still out of work are women. Women made up the biggest chunk of pandemic related job losses (a she-cession, if you will) because compared to men they took on the bulk of childcare responsibilities on the homefront. With the summer holiday around the corner, it appears that the women who make up a significant portion of the leisure and hospitality labor pool are NOT currently eager to return to the job hunt since those jobs don't pay enough to warrant going back to work RIGHT WHEN kids start needing additional childcare with the summer vacation. Looks like the Expectation-Setters MAAAAAAY have underestimated how many women don't want to go back to work quite yet.
Summary
At some point the job-increases month over month are going to start leveling off. I'm not convinced that we're at that point quite yet, but it does look like we may move sideways for a bit as women involved in the leisure and hospitality sector hold off on getting a job due to summer childcare, despite the higher demand in the sector. Ultimately where the alarm bells should start to ring would be in the fall once the kids are back (fingers crossed) in full time in-person school. In the meantime, the jobs number needs to account for the women who want to work, but are opting not to work in order to take care of their kids throughout the summer holiday…thus, we find ourselves in a climate of higher unemployment and fewer jobs being added than demand might be warranting…especially in the Leisure and Hospitality sector. What this means for NW Housing: Disappointing labor numbers over the next couple months will lend itself to lower interest rates, thus keeping borrower purchasing power high and helping keep prices around the Puget Sound rising.
Interest Rates
Per Bankrate's survey of large lenders, the 30 year mortgage interest rate on purchases fell slightly this past week to 3.19%, with .33 in discount and origination points.
According to Bankrate, 30 Year Fixed Rates have fallen .37% since their 52 week high of 3.56%
(That's a savings of $102.40 per month on a $500,000 loan!)
Kyle's Quick Take – Mortgage Market Week in Review
It's not reflecting in the data quite yet, but there were some inflation fears this past week which actually caused mortgage interest rates to spike on Wednesday. Despite headlines saying interest rates fell slightly, unless the mortgage market recoups Wednesday's losses quickly, expect to see headlines next week that stat mortgage interest rates are rising on inflation fears.
Puget Sound Real Estate: Charts and Data
Alex Black Absorption Rates per NWMLS Real Time Data
Absorption Rate is calculated as: (Pending Sales) / (Active + Pending Sales)
SFR in Seattle
SFR Pending Sales in Seattle: 1,174 homes
SFR Active Listings in Seattle: 673 homes
Absorption Rate for SFR in Seattle: 63.56%

Competition is driving prices higher…already about $60,000 higher since our winter low. So long as the absorption rate can stay high, escalation clauses will likely keep pushing prices even higher than where we're at today in the weeks to come.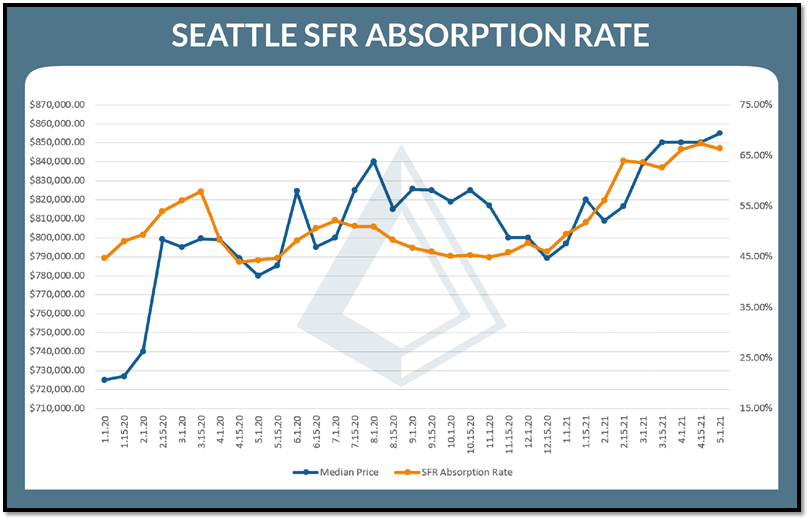 Condos in Seattle
Condo Pending Sales in Seattle: 385 condos
Condo Active Listings in Seattle: 593 condos
Absorption Rate for Condos in Seattle: 39.37%

A relatively high absorption rate gave us a strong floor for median condo prices to jump higher earlier this year. So long as the absorption rate can stay strong, escalation clauses will likely keep pushing median condo prices higher than where we're at today in the weeks to come.