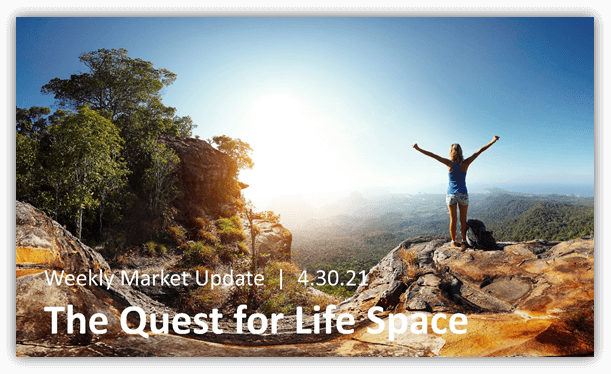 By: Kyle Bergquist
The Puget Sound Real Estate Market
Puget Sound Real Estate: The Quest for Life Space
There's been a pebble in my shoe for the past few years: If Seattle housing prices are too expensive, and the outflow of Seattle residents is why home price appreciation rates are higher everywhere BUT Seattle, how is Bellevue (with a 63.64% higher median priced home than Seattle) literally the highest appreciating market in Puget Sound? Did you know that according to the NWMLS Bellevue home prices are rising at about a 30% clip compared to Seattle home prices which are rising at about a 4.5% clip year over year?
Maybe it's because Bellevue is actually CHEAPER than Seattle? SAY WHAAAA?!?! Ok, you ready for this?
The headlines aren't wrong, there are plenty of people moving out of Seattle in search of affordability, but maybe affordability isn't just a Median Home Price thing? Maybe affordability isn't even a price per square foot thing - According to Altos Research, the average price per square foot for a home in Bellevue is $611 versus Seattle where it's $506 – Said another way, on a per foot basis Bellevue is actually 20.75% more expensive than Seattle. So how is Bellevue cheaper, and therefore why are prices being bid higher and faster there than in Seattle? We all have a pretty good idea of what the answer is, we just haven't been able to pin it down. So without further ado, please welcome a brand new metric that explains everything: Life Space.
At the onset of the pandemic there was a fear that prices in the city centers would fall since people could work from anywhere, and therefore maybe people move out of cities altogether. There was also fear in the condo markets that prices there would fall as people search for larger living spaces. Those two items were partially true. People did move out of the city centers (which is why home prices in Kittitas County rose 43.8% year over year); and condo prices did fall (down 4.3% year over year in Seattle). But overall home prices in the metro Puget Sound rose quite a bit, and condo prices in every city except Seattle did pretty well! So, how to make sense of it all:
The 2020 housing market can be summed up as the "Quest for Life Space". What do I mean by that? I mean the amount of space people have to live their lives – and not just in their home. For example, Seattle has 8,645 people jammed into every square mile. For comparison, Bellevue has 3,849 people per square mile. That equates to 3,224 sqft per person in Seattle compared to 7,243 sqft per person in Bellevue. I can already feel the light bulbs going off, and I know you know where I'm going with this. Once we account for population density, all of a sudden Seattle becomes much more expensive on a Life Space metric than everywhere else in Puget Sound. Prices in Bellevue are getting bid higher faster than in Seattle because the price per foot of Life Space is only $186.39 versus the price per square foot of Life Space in Seattle is $255.89. Once you factor this metric into the cost of housing, it makes sense that Bellevue home prices are appreciating 6.5 times faster than in Seattle. Curious why Bothell and Renton are also blowing past Seattle in appreciation rates? True, the lower Dollar cost of a home does play role here, but add on top of that the low cost of Life Space?... and there's A LOT of room to run for housing prices in these markets.
Seattle: Population of 724,305 to 83.78 square miles = 8,645 residents per square mile = 3,224 sqft per person = $255.89 per sqft of Life Space (median list price of a home of $1,350,000)
Bellevue: Population of 144,403 to 37.51 square miles = 3,849 residents per square mile = 7,243 sqft per person = $186.39 per sqft of Life Space (median list price of a home of $825,000)
Bothell: Population of 45,749 to 13.63 square miles = 3,356 residents per square mile = 8,307 sqft per person = $96.94 per sqft of Life Space (median list price of a home of $805,250)
Renton: Population of 101,484 to 25.23 square miles = 4,022 residents per square mile = 6,931 sqft per person = $92.37 per sqft of Life Space (median list price of a home of $640,250)
The Finish Strong Summary
The Pandemic had people re-evaluating their life and living situations, and what people realized is that Life Space is really important. Resident migration wasn't due to housing prices or living spaces as much as it was due to the cost of per foot Life Space. People didn't move to less expensive homes during the Pandemic. They moved to areas offering less expensive Life Space.
If this just blew your mind and you would like to nominate me for a Nobel Prize in Economics for my groundbreaking research above, I would be honored. Here's the link to nominate yours truly: https://www.nobelprize.org/nomination/economic-sciences/#:~:text=The%20candidates%20eligible%20for%20the,can%20nominate%20himself%20or%20herself.
Thank you!
Interest Rates
Per Bankrate's survey of large lenders, the 30 year mortgage interest rate on purchases fell slightly this past week to 3.20%, with .34 in discount and origination points.
According to Bankrate, 30 Year Fixed Rates have fallen .36% since their 52 week high of 3.56%
(That's a savings of $99.67 per month on a $500,000 loan!)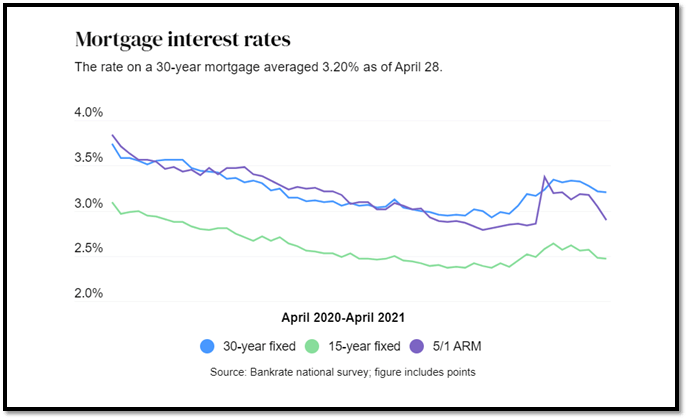 Kyle's Quick Take – Mortgage Market Week in Review
It's not necessarily what the Fed does that affects interest rates, it's what they say. Somewhat contrary to what you might be thinking, when the Fed says they're going to continue leaving interest rates at or near zero in a growing economic climate (which they did this past week), more often than not mortgage interest rates will RISE in the short run. SAY WHAAAA?! That's right, when the Fed keeps the target short term interest rate near zero, interest rates on credit cards, car loans, school loans, and personal loans are the ones affected (in a positive way). With lower interest rates on credit that people use to "buy things now", consumers are SLIGHTLY more apt to spend. But even more impactful, by lowering short term interest rates, companies and corporations can afford to take out bigger loans for capital expenditures or for general reinvestment to help grow faster than they would have in a higher interest rate climate; PLUS the expense side of their ledger has a much smaller line item expense for interest when interest rates are at/near zero…thus giving them higher profits despite bigger loans! Theoretically, all this translates into a future more profitable earnings season on Wall Street, and therefore money generally flows out of the mortgage markets and into the higher risk/higher return stock market where investors (in theory) can earn a higher return due to the Feds easy money policy. At the time of this writing (Thursday morning), the 2.5% Fannie Mae Mortgage coupon has lost 23bps (meaning mortgage interest rates are rising), while the S&P is up 28 points since the Fed announcement.
With all that said, despite the daily uptick in rates due to the Fed announcement, mortgage interest rates are trending lower as of the past few weeks as fears of rampant inflation dissipate.
Puget Sound Real Estate: Charts and Data
Alex Black Absorption Rates per NWMLS Real Time Data
Absorption Rate is calculated as: (Pending Sales) / (Active + Pending Sales)
SFR in Seattle
SFR Pending Sales in Seattle: 1,188 homes
SFR Active Listings in Seattle: 605 homes
Absorption Rate for SFR in Seattle: 66.26%

Competition is driving prices higher…already about $60,000 higher since our winter low. So long as the absorption rate can stay high, escalation clauses will likely keep pushing prices even higher than where we're at today in the weeks to come.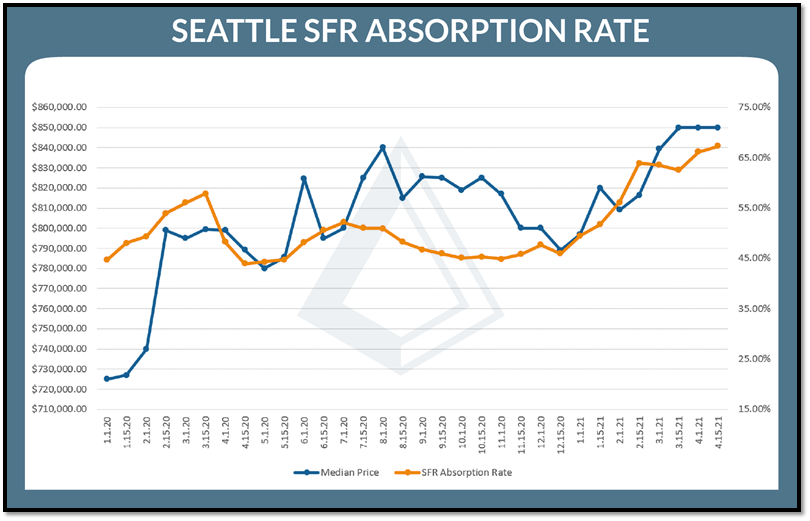 Condos in Seattle
Condo Pending Sales in Seattle: 381 condos
Condo Active Listings in Seattle: 573 condos
Absorption Rate for Condos in Seattle: 39.94%

A relatively high absorption rate gave us a strong floor for median condo prices to jump higher earlier this year. So long as the absorption rate can stay strong, escalation clauses will likely keep pushing median condo prices higher than where we're at today in the weeks to come.