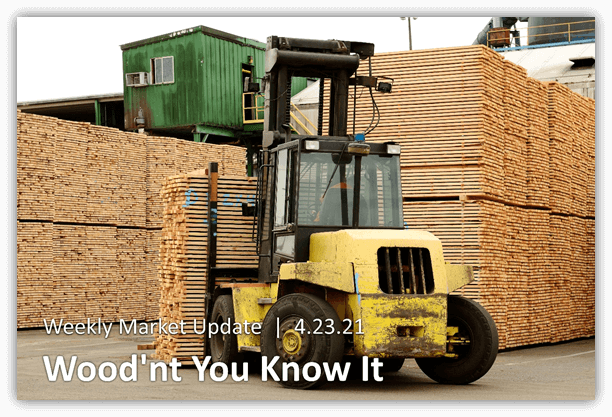 By: Kyle Bergquist
The Puget Sound Real Estate Market
Puget Sound Real Estate: Wood'nt You Know It
As if the Puget Sound Housing Market needed one more reason to be red hot this year – Well, here's one more: Timber costs have risen 296% in the last 365 days. But how exactly does that translate into our NW Housing Market?
If you were thinking you might be able to get out of buying a new home by remodeling your current one, ya might want to think again. Not only is finding a good general contractor hard to do, but finding a good architect to draw up the plans might be even harder. This step alone might put your project start date a year to 18 months down the road…
But even then, that's assuming you have the permits in time to begin construction when the GC's ready. The Seattle permit office has been closed with everyone working remotely since the Pandemic began. Because of this, turn times on getting plans approved and permits granted is months, to sometimes over a year out per one of Seattle's larger custom home builders.
And finally, let's pretend we made it through the 2+ year lead up to

BEGINNING

your project. Unfortunately, it's likely that you're going to receive an updated estimate that's considerably higher than the one you were planning on initially. Labor is in short supply versus demand (which has labor prices higher), and timber, for example, is now $1,300/1,000 bd ft compared to a year ago when it was only $328.50/1,000 bd ft.
We spoke about it a few weeks ago, but there's an element of prices moving parallel to the prices of substitutes. For example, if rents are rising, then renters who were thinking they might want to buy eventually oftentimes find themselves pushing up their homebuying timeline a bit to get out of their rising rental costs, thus increasing demand for the Puget Sound Housing Market, and therefore pushing up prices in the housing market as well. With regards to construction costs and lead times, this is just another substitute that as costs of remodeling increase (both financial and time), then we're going to find more would-be remodelers jumping into the housing market to simply buy what they want instead of trying to create it on their own. So wood'nt you know it, we have one more variable increasing demand in the Puget Sound Housing Market that ultimately helps push housing prices even higher.
Shameless Plug
When Theresa Sheridan and myself left Guild Mortgage in 2018, we believed mortgage banking could be done better – Better service, and lower rates. We literally built PRMI Puget Sound FOR. THIS. MARKET. By offering Underwriter Credit Approvals and 15 Day Close options on select loan files, we're built to position homebuyers in the best light for when they make their offer. Our clients have gone head to head with cash buyers many times over and won the deal – and not based on price alone. Sometimes cash buyers are in the mood to negotiate, so all things being equal, an underwriter credit approval with a 15 day close takes out a lot of the leverage a cash buyer may presume they have…thus, tipping the scales to our preapproved and financed homebuyers.
Interest Rates
Per Bankrate's survey of large lenders, the 30 year mortgage interest rate on purchases fell slightly this past week to 3.21%, with .34 in discount and origination points.
According to Bankrate, 30 Year Fixed Rates have fallen .35% since their 52 week high of 3.56%
(That's a savings of $96.93 per month on a $500,000 loan!)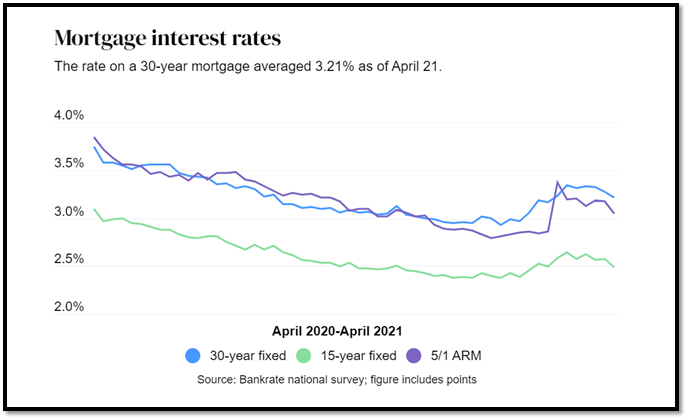 Kyle's Quick Take – Mortgage Market Week in Review
Overall mortgage interest rates fell slightly this past week. But to understand why they fell, we need to look at why they started rising in the first place back in February. The reason rates rose back in February is because there was a lot of optimism in the markets with vaccines rolling out. Furthermore, Biden was intent on passing another round of multi-Trillion Dollar stimulus. More spending + more optimism = fears of increasing inflation. With fears of increasing inflation, investors sold out of their lower yield bond holdings in favor of some higher yield bonds, thus, the higher mortgage interest rates we've been seeing.
However, now as the dust is settling on the stimulus (and its impact), as well as a clearer picture on what life looks like with vaccines, those inflationary fears are starting to ease a bit; which has investors' demand for low yield mortgage bonds increasing a bit, and mortgage interest rates trending lower as of the past few weeks.
BEWARE: Though the US Fed is buying $120B of mortgage backed securities and Treasury Bills every month, the EU Central Bank is winding down their bond-buying purchases. As yields increase on European Bonds, because we are a global marketplace, look for that to put upward pressure on US Bond yields as well.
Puget Sound Real Estate: Charts and Data
Alex Black Absorption Rates per NWMLS Real Time Data
Absorption Rate is calculated as: (Pending Sales) / (Active + Pending Sales)
SFR in Seattle
SFR Pending Sales in Seattle: 1,123 homes
SFR Active Listings in Seattle: 613 homes
Absorption Rate for SFR in Seattle: 64.69%

Competition is driving prices higher…already about $60,000 higher since our winter low. So long as the absorption rate can stay high, escalation clauses will likely keep pushing prices even higher than where we're at today in the weeks to come.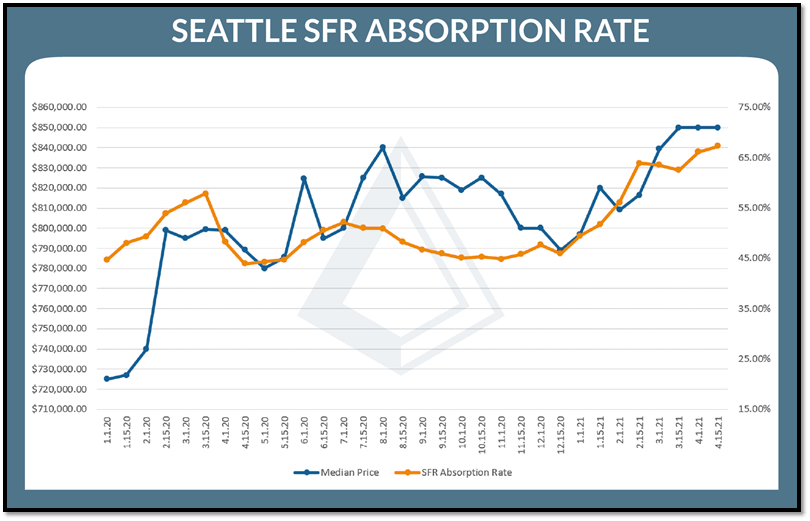 Condos in Seattle
Condo Pending Sales in Seattle: 369 condos
Condo Active Listings in Seattle: 620 condos
Absorption Rate for Condos in Seattle: 37.31%

A relatively high absorption rate gave us a strong floor for median condo prices to jump higher earlier this year. So long as the absorption rate can stay strong, escalation clauses will likely keep pushing median condo prices higher than where we're at today in the weeks to come.