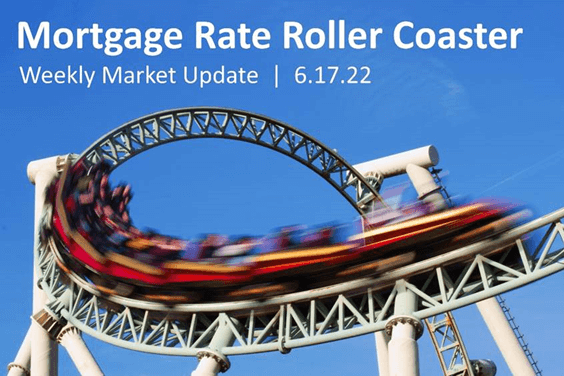 by: Kyle Bergquist
Puget Sound Real Estate: Mortgage Rate Roller Coaster
This past week was one of the most volatile weeks for mortgage interest rates in years. Last Friday the Consumer Price Index came out at 8.6%. A new 40 year record for high inflation, and completely unexpected. The higher inflation reading crashed the mortgage markets, and caused mortgage interest rates to skyrocket – from 5.55% before the CPI reading to 6.28% on Tuesday according to Mortgage News Daily… That's almost a .75% increase in mortgage interest rates in THREE TRADING DAYS! That doesn't happen. That's not a thing. Until it was, earlier this week.
But then our boy JP (Jerome Powell) over at the Fed got aggressive on Wednesday. The previous guidance was for a .5% increase in the Federal Funds Rate; but the Fed came out swinging to the tune of a .75% increase in the Federal Funds Rate due to the higher than expected inflation reading on last Friday. That was the highest single meeting increase in 28 years! FYI – Mortgage interest rates LOOOOVE when the Fed increases the Federal Funds Rate. It means that the Fed is fighting mortgage rates' arch nemesis, inflation. So then on Wednesday, after increasing almost .75% since Friday, mortgage interest rates tumble. We didn't recoup all that we had lost, but the mortgage bond did get back about half of what it lost in the preceding few days.
So after all was said and done, as of this morning, maybe mortgage interest rates are around .375% worse than they were before last Friday's inflation reading. Not great, but also not .75% worse like it was earlier this week, so a decent silver lining.
Ok, so where are we headed after all this? Honestly, and maybe this is just my wishful thinking, but we're probably headed for lower interest rates in the second half of 2022. It's quite possible Tuesday was our low water mark for mortgage bonds – aka, the highest rates we're going to see in a while. Here's why:
The Fed got serious about reducing inflation on Wednesday.

Inflation is terrible for mortgage interest rates. For example, if inflation is at 8.6% and I own 5.5% mortgage bonds, I'm losing 3.1% of my future purchasing power! So when mortgage bonds gain an ally like the Fed in the fight against inflation, well, that's really good news for mortgage interest rates.

FYI – When the Fed increases the Fed Funds Rate, they're increasing the interest rate on short term credit, which puts downward pressure on the stock market – consumer credit cards rates are higher so people spend less, and business debt is more expensive so businesses reinvest less and grow more slowly. These two elements slow inflation.

The yield curve inverted.

This means that yields on 2 year treasury notes were HIGHER than yields on 10 year treasury notes. Higher yields in the short run signal that investors are more concerned about how the economy will shape up in the short run than they are concerned about the economy in the long run. Which leads me to my next point…

A Recession is likely on the way due to points 1 and 2 above.

See the chart below… Since 1975, an inverted yield curve has always been followed by a recession. Recessions are usually good for mortgage interest rates because money generally flows out of higher risk/higher return stock markets, and parks itself in lower risk/lower return mortgage bond markets, which drives mortgage rates lower. Furthermore, the number 1 factor affecting consumer confidence is the housing market, so in the midst of a recession policy makers like doing what they can to reduce mortgage interest rates in an attempt to reduce housing costs, increase purchasing power, drive housing prices higher, and ultimately help the American consumer feel more confident about things.
Summary
It's darkest before the dawn, and its quite possible that this past week was the week before daybreak for mortgage interest rates. There's still a lot of dust to settle, but looking ahead there are three strong economic tailwinds that should be supporting lower mortgage interest rates as we march into the second half of 2022.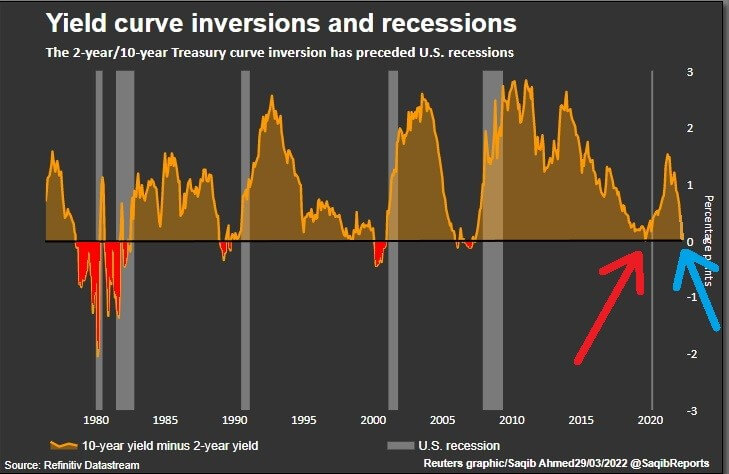 Interest Rates
Per

Bankrate's

survey of large lenders, the 30 year mortgage interest rate

rose this past week to 5.78%, with .44 in discount and origination points.
Kyle's Quick Take – Mortgage Market Week in Review
See update above for all that's going on in the mortgage markets.
WHAT YOU NEED TO KNOW FOR WHERE RATES WILL GO:
Good Economic News or Inflation

= Bad for Mortgage Interest Rates

.

Bad Economic News or Deflation

= Good for Mortgage Interest Rates.
Puget Sound Real Estate: Charts and Data
A picture is worth a thousand words…
Absorption Rates per NWMLS 6.15.22
Absorption Rate is calculated as: (Pending Sales) / (Active + Pending Sales)
Residential in Seattle: 53.18%
Condos in Seattle: 39.14%
Residential in Bellevue/Redmond/Kirkland: 41.65%
Condos in Bellevue/Redmond/Kirkland: 52.13%
Residential in Everett/Marysville/Lake Stevens: 52.24%
Condos in Everett/Marysville/Lake Stevens: 54.03%
Residential in Tacoma/Lakewood/Federal Way 53.25%
Condos in Tacoma/Lakewood/Federal Way: 54.25%