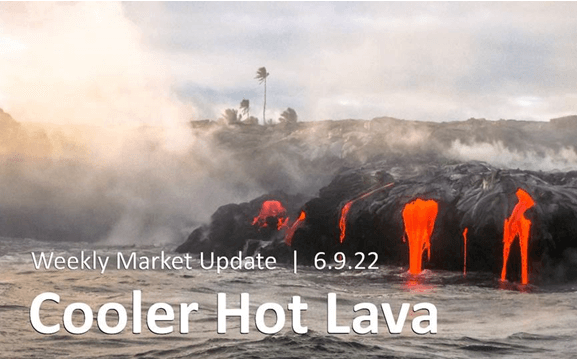 by: Kyle Bergquist
Puget Sound Real Estate: Cooler Hot Lava
We did it! We have achieved something not seen in MONTHS!!! For the first time in a long time, we have a RELATIVELY balanced market. Note to Buyers:
THIS IS THE MOMENT YOU'VE BEEN WAITING FOR!!!
Don't let the headlines get ya (Red Hot Market is Cooling). Honestly, a better headline would be Cooler Hot Lava. The truth of the matter is the median price of a home in Seattle rose $5,550 from April to May, despite already having been at an all-time record high in April! It's only if we compare that increase to month over month increases of $135,000 February over January, $45,000 March over February, or $49,950 April over March; …that a $5,550 increase can be spun to make it look like things are borderline dire. We're now simply entering a market where maybe someone doesn't need to waive their financing, or where there aren't 25 offers to compete against, or where someone doesn't have to make a split second million-dollar buying decision before the home is scooped up by someone else…Honestly, I've debated buying Mike and Ikes at the checkout stand longer than buyers have been able to debate making an offer on a home. Instead, we now have a market that has simply been tempered by more sellers showing up to play. Thus, for weary homebuyers who maybe put things on hold for a couple months, this is the time to jump back in and make things happen! Couple datapoints for perspective:
Inventory as measured by absorption rates in Seattle is at 23.5 days. That's only concerning if you compare it to the 11.2 days of inventory we had on April 1st of this year. But compare it to a balanced market of 4 to 6 MONTHS of inventory, and 23.5 days is still an insanely hot market.
Today's 653 homes for sale in Seattle is more than twice as many homes as were for sale on April 1st (304 homes for sale)! But compare that to last June 15th where we had 710 homes for sale on the market, and despite considerably higher mortgage interest rates we're not even caught up to last year's record-hot market! Btw, we had 873 homes for sale on June 15th, 2020; and about 1,350 homes for sale on June 15th 2019 (our most recent Pre-COVID market).
High demand and low inventory have the median price of a home in King County sniffing the $1m mark for the first time ever. TAKE NOTE: Not a $1m in Seattle proper, Bellevue, Redmond, Sammamish, etc…but $1m FOR THE WHOLE COUNTY COMBINED.
Summary
This isn't a Buyer's Market, but it's becoming a market a Buyer can Buy in. Historically speaking, we've hit Peak Competition. Now that things are loosening up buyers need to expect that prices may slightly decline throughout the rest of the year as sellers show up to the market and compete for buyer attention. It happens almost summer (just look at the price charts below) – Prices peak, then start slightly declining throughout the remainder of the year until next Jan/Feb. There is no need to be alarmed, this does not mean our market is shifting or the bubble is bursting; it's simply its annual cycle of giving buyers some competition-reprieve…Absolutely nothing more than Cooler Hot Lava.
Check out all the updated charts and graphs below with May's NWMLS data!
Interest Rates
Per

Bankrate's

survey of large lenders, the 30 year mortgage interest rate

rose this past week to 5.36%, with .4 in discount and origination points.
Kyle's Quick Take – Mortgage Market Week in Review
The Consumer Price Index reading for May comes out tomorrow (Friday). Inflation as measured by the CPI fell from 8.5% to 8.3% in last month's reading, but Goldilocks fears have mortgage interest rates trading higher:
If inflation comes back hotter than expected, then investors will want higher yields on their mortgage backed securities, which will drive mortgage interest rates to borrowers higher.
If inflation comes back cooler than expected, then investors will move money out of mortgage markets and over into the stock market in hopes that cooler inflation may mean the Fed won't have to be as aggressive in fighting inflation.
Mortgages can't win! …Unless maybe inflation comes back exactly in-line with expectations?
I don't know, but I know we're only a day away from finding out!
WHAT YOU NEED TO KNOW FOR WHERE RATES WILL GO:
Good Economic News or Inflation

= Bad for Mortgage Interest Rates.

Bad Economic News or Deflation

= Good for Mortgage Interest Rates.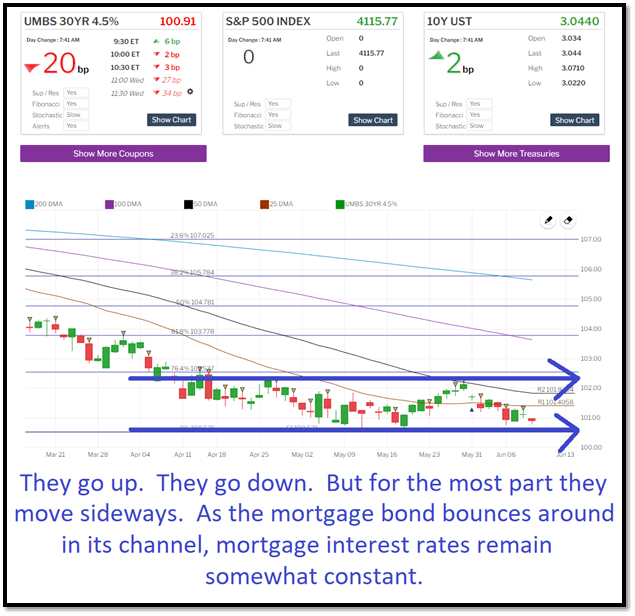 Puget Sound Real Estate: Charts and Data
A picture is worth a thousand words…
Absorption Rates per NWMLS 6.1.22
Absorption Rate is calculated as: (Pending Sales) / (Active + Pending Sales)
Residential in Seattle: 60.62%
Condos in Seattle: 42.71%
Residential in Bellevue/Redmond/Kirkland: 49.38%
Condos in Bellevue/Redmond/Kirkland: 56.36%
Residential in Everett/Marysville/Lake Stevens: 60.67%
Condos in Everett/Marysville/Lake Stevens: 72.88%
Residential in Tacoma/Lakewood/Federal Way: 62.16%
Condos in Tacoma/Lakewood/Federal Way: 60.71%