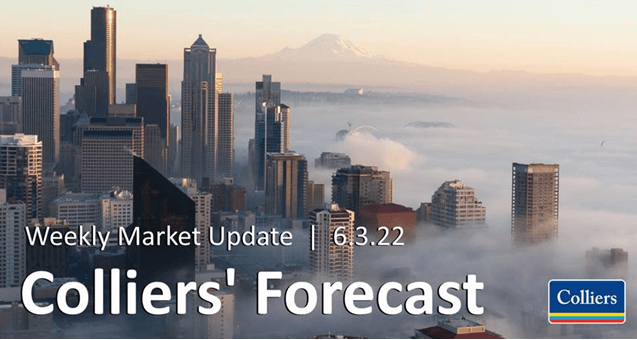 by: Kyle Bergquist
Puget Sound Real Estate: Colliers' Forecast and Takeaways
Colliers is a professional services and investment management company with approximately 15,000 employees in more than 400 offices in 68 countries. The firm provides services to commercial real estate users, owners, investors, and developers, and had annual revenues of $4.09 billion in 2021. Basically, Colliers is huge-time, and when they speak on the Puget Sound economy, I listen. Here are my 3 big takeaways after reading their latest and greatest Puget Sound Economic Forecast:
Gen Z Loves SeaTown
Of the top 50 most populous cities in the U.S., Seattle had the highest percentage population growth rate at 21.5% over the past 10 years - from 608,660 residents in 2010, to 742,400 in 2021. But will it continue? Colliers seems to think so. Citing a recent Axios survey, when Gen Z college students were asked where they most wanted to move after graduating, Seattle was their #1 destination. With Gen Z's total population of 68.2 million people between 9 and 24 years old, Gen Z loving on Seattle is a big deal! They are, after all, expected to comprise 30% of the US workforce by 2030; with Apple, Amazon, and Google topping the list of companies they want to work for (Microsoft was their 6th or 8th most desired employer depending on which age group you're looking at). So in summary, it looks like we have a huge contingent of Gen Z techies looking to move into Puget Sound in the coming years here.
Rents are Skyrocketing
As Gen Z graduates college and moves to Seattle, they need a place to live. This has driven apartment occupancy to a sky-high 97% in Puget Sound, which has resulted in a year over year increase in apartment rents of 12.7%. Given the 5 month concrete strike earlier in the year, construction delays will likely only exacerbate the apartment shortage, which means rents will likely continue to rise. Add in high building costs and higher borrowing costs due to higher interest rates for new development, and there doesn't look to be much reprieve anywhere on the horizon as far as apartment rents are concerned. NOTE: Nothing motivates someone to become a First Time Homebuyer like increasing their apartment rent, so as apartment rents continue to increase, look for a dependable stream of new Puget Sound homebuyers entering the market in the coming years.
Life Science Moving In
Life science employment rose 23.5% from 2015 to 2019 in Washington State, and investment in Puget Sound life sciences is picking up speed. South Lake Union just added 500,000 square feet of lab space with the completion of Dexter Yard, with another 2 million square feet of lab development already approved. Five Washington life science companies went public last year, and overall investment funding in the industry has topped $3B each of the last two years – Investment funding in Puget Sound life sciences has never topped $3B annually until 2020 and 2021. Jobs in life sciences pay pretty well too: The average life science salary in Seattle is $109,793 per year (this does not account for bonus, stock option, or relocation package income).
Summary
With an already very tight housing market, continued population growth, increasing apartment rents, and well-compensated industry growth will continue to push the Puget Sound Housing market higher. With mortgage interest rates expected to decline in the second half of 2022 and into 2023, increased purchasing power and affordability should support these higher home prices moving forward.
Interest Rates
Per

Bankrate's

survey of large lenders, the 30 year mortgage interest rate

moved sideways this past week at 5.27%, with .38 in discount and origination points.
Kyle's Quick Take – Mortgage Market Week in Review
China's re-opening and better than expected job numbers put an end to the 7 week losing streak the stock markets had been experiencing. As money flowed into the stock market, it came out of the bond markets. It isn't reflected in the weekly mortgage interest rate surveys yet, but interest rates rose throughout the week this past week (NOTE: As the price of mortgage bonds fall, mortgage interest rates to consumers rise).
WHAT YOU NEED TO KNOW FOR WHERE RATES WILL GO:
Good Economic News or Inflation

= Bad for Mortgage Interest Rates.

Bad Economic News or Deflation

= Good for Mortgage Interest Rates.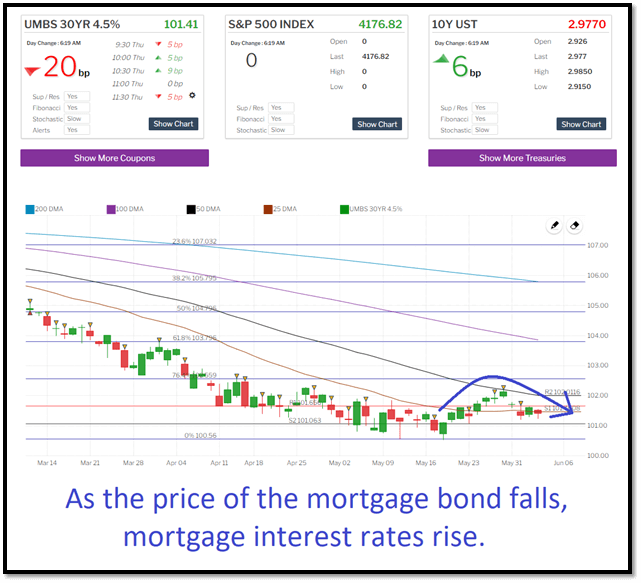 Puget Sound Real Estate: Charts and Data
A picture is worth a thousand words…
Absorption Rates per NWMLS 6.1.22
Absorption Rate is calculated as: (Pending Sales) / (Active + Pending Sales)
Residential in Seattle: 60.62%
Condos in Seattle: 42.71%
Residential in Bellevue/Redmond/Kirkland: 49.38%
Condos in Bellevue/Redmond/Kirkland: 56.36%
Residential in Everett/Marysville/Lake Stevens: 60.67%
Condos in Everett/Marysville/Lake Stevens: 72.88%
Residential in Tacoma/Lakewood/Federal Way: 62.16%
Condos in Tacoma/Lakewood/Federal Way: 60.71%