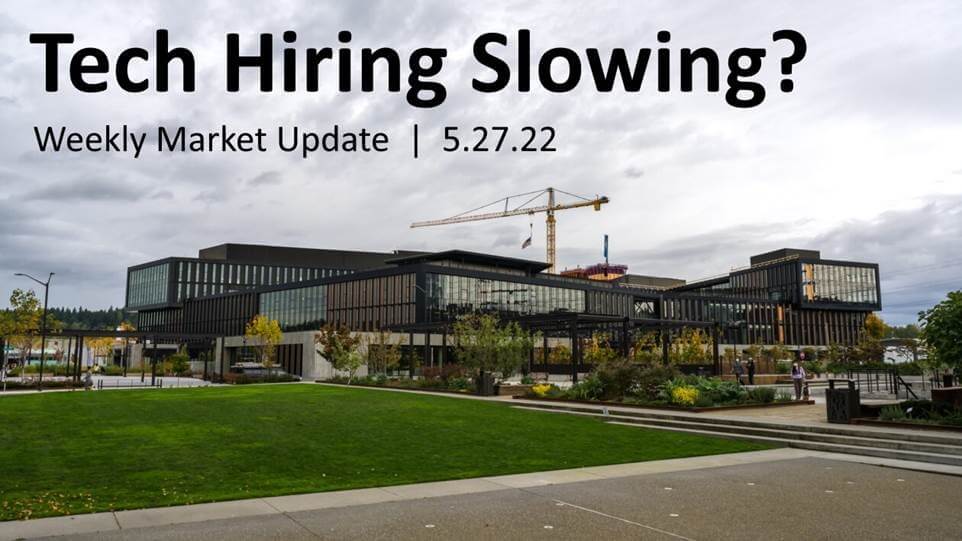 by: Kyle Bergquist
Puget Sound Real Estate: Tech Hiring Slowing?
There's been a lot of chatter about a possible pending Recession and Bear Market. Firstly, we should define the two, because they aren't the same.
Recession – When GDP falls for 2 successive quarters
Bear Market – When there is a 20% decline in a particular market from its peak (We're going to be discussing Bear Markets in reference to US stock markets here, but a Bear Market could apply to any market)
Bear Markets generally precede an official Recession, because the reality is traders are pretty smart and they can interpret early warning signs of a Recession before the GDP data actually comes out proving we're in a Recession. Honestly, if I learned anything from Who Wants to Be a Millionaire back in high school, it's that asking the audience usually isn't wrong…and in the case here, the audience is the broader stock market composed of all its investors.
As of this writing, the broader stock market is not in a Bear Market (though we did sniff Bear Market territory in intraday trading on May 20th). The S&P 500 Index is down 15.4% since hitting it's all time high in intraday trading on January 3rd, 2022. With that said, the tech-heavy Nasdaq is squarely in a Bear Market – down 25.6% from it's all time high reached on November 15th, 2021. Why is it so important that we distinguish between Nasdaq and S&P? Because the backbone of the Puget Sound Housing Market is tech, and the Nasdaq is a tech index…so if that's not doing well, then that could have an impact on our housing market.
As recently as the beginning of the year, Puget Sound tech companies were FLYING! …Worth Trillions of Dollars, and hiring like crazy. The top 10 local tech companies had 26,174 positions posted on Indeed in early January. NOTE: The University of Washington only graduates 378 Computer Science degrees per year. Meaning we were importing MOST of the those jobs from out of Puget Sound, thus driving demand for local housing through the roof. Amazon alone, for example, grew it's local headcount from 66,700 in 2019 to 85,000 in 2021 – a 27.44% increase in employees! But with the pendulum swinging back the other way from the extreme Pandemic growth curve Puget Sound Tech enjoyed over the past couple years, do we need to be concerned about the PNW Housing Market? If we can agree that one of the major drivers of the Puget Sound Housing Market is tech growth, then we should all agree that if growth slows that could have a negative effect as well, right?
"Economic headwinds have caused several tech companies to pump the brakes on the intense hiring and recruiting they've engaged in over the past few years…" Though we don't have exact numbers on how many fewer hires companies plan on making in the second half of 2022 and 2023, Puget Sound stalwarts Microsoft, Meta/Facebook, and Salesforce/Tableau have all announced hiring freezes or that they will be decreasing their hiring activity moving forward. Amazon also announced that it's looking to sublet up to 30 million square feet of warehouse space as sales wane post-Pandemic. At the end of the day, slower revenue growth = fewer hires = less demand for Puget Sound housing = uncertainty.
The Takeaway
As volatility in the markets abound on fears of aggressive Fed policy to fight inflation, and as Pandemic Tech growth wanes; Puget Sound tech companies are clamping down on hiring. But that doesn't necessarily mean we should be too concerned about the Puget Sound Housing Market. Reason #1: Amazon, like many local tech companies, hired thousands of employees during the Pandemic when their offices were closed. Now those employees are facing in-office requirements of at least 3 days per week (in Amazon's case anyway)…meaning employees who were previously eligible to work remotely (and therefore live wherever they wanted) are moving back in, thus helping offset any slowdown in Puget Sound Tech Hiring as it relates to the Puget Sound Housing Market. Reason #2: Despite all the headlines and the Nasdaq being in a Bear Market, 8 of the top 10 tech companies in Puget Sound have MORE jobs posted on Indeed now than they did in January! …with total job postings equaling 27,557…a 5.28% INCREASE in job postings! So even if companies are planning to "slow" their hiring, or even if some of those postings on Indeed are "frozen", with only 378 homegrown Computer Science degrees per year, it looks like there is still PLENTY of housing demand moving into the Puget Sound Housing Market, thus fortifying current home prices here in the PNW.
Interest Rates
Per

Bankrate's

survey of large lenders, the 30 year mortgage interest rate

fell this past week to 5.27%, with .37 in discount and origination points.
Kyle's Quick Take – Mortgage Market Week in Review
Inflation isn't low, but it's not increasing as fast as it once was. And in fact, it's on a slight decline! The Consumer Price Index declined .2% from 8.5% to 8.3%; the Producer Price Index declined .2% from 11.2% to 11%; and today's Personal Consumption Expenditure decreased .3% from 6.6% to 6.3%. Slowing/slightly decreasing inflation + volatility in the stock markets has mortgage bonds trading higher and mortgage interest rates falling.
WHAT YOU NEED TO KNOW FOR WHERE RATES WILL GO:
Good Economic News or Inflation

= Bad for Mortgage Interest Rates.

Bad Economic News or Deflation

= Good for Mortgage Interest Rates.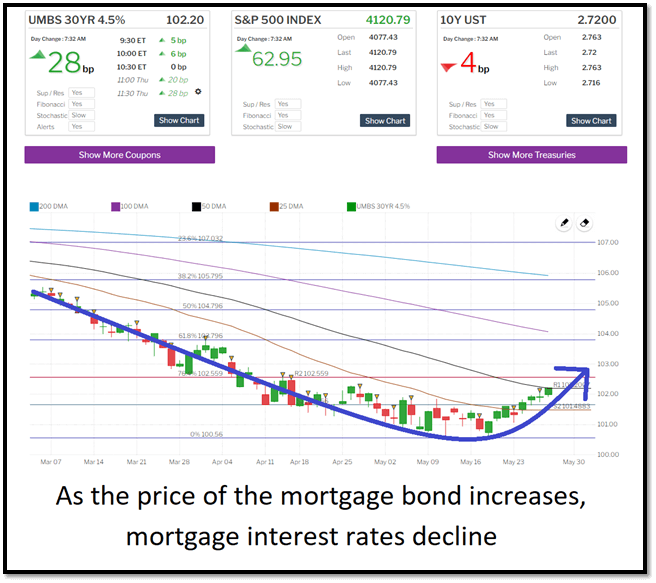 Puget Sound Real Estate: Charts and Data
A picture is worth a thousand words…
Absorption Rates per NWMLS 5.15.22
Absorption Rate is calculated as: (Pending Sales) / (Active + Pending Sales)
Residential in Seattle: 61.15%
Condos in Seattle: 48.19%
Residential in Bellevue/Redmond/Kirkland: 54.44%
Condos in Bellevue/Redmond/Kirkland: 58.01%
Residential in Everett/Marysville/Lake Stevens: 62.42%
Condos in Everett/Marysville/Lake Stevens: 69.84%
Residential in Tacoma/Lakewood/Federal Way: 59.95%
Condos in Tacoma/Lakewood/Federal Way: 51.20%