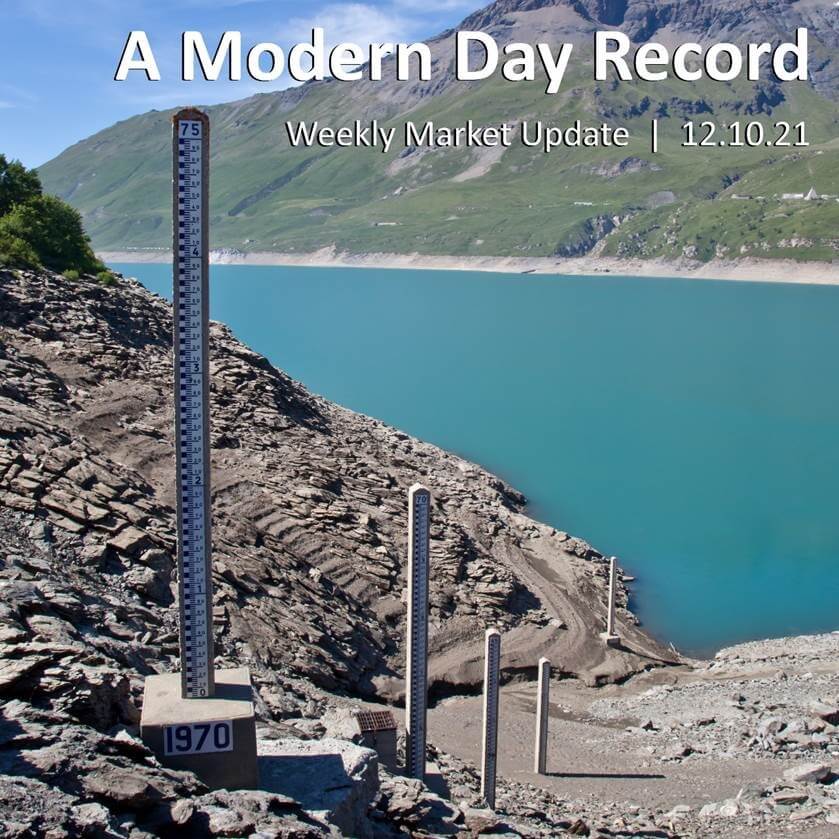 by: Kyle Bergquist
Puget Sound Real Estate: A New Low Water Mark and A Modern Day Record
Median home prices are effectively moving sideways (plus or minus a few thousand dollars depending on which Puget Sound submarket you're looking in), but don't be fooled into thinking the housing market is softening. Updated absorption rates, which measure buyer activity relative to seller activity are at record highs, which has inventory levels at record lows. Inventory usually falls a bit during the late Fall and Winter months due to seller's reluctance to go to market during these months, but we haven't seen inventory levels this low since, well, ever. King County has .38 months of inventory (as calculated by active listings divided by closings). That means that if no new listings come on the market, all homes in King County would be sold in 1.65 WEEKS. So how few homes are actually for sale right now? As of December 9th, 2021 the NWMLS showed that there were only 290 homes for sale within the Seattle city limits – down 44.97% in just 25 days! (On 11.15.21 we had 527 homes for sale in Seattle).
Even more dramatic has been the drop in inventory for markets surrounding Seattle:
Bellevue/Redmond/Kirkland: 42 available homes for sale (down 48.15% since November 15th)
Everett/Marysville/Lake Stevens: 68 available homes for sale (down 48.09% since November 15th)
Tacoma/Lakewood/Federal Way: 214 available homes for sale (down 33.54% since November 15th)
To be clear, you saw that right. There are 42 single family residences for sale in ALL of Bellevue, Redmond, AND Kirkland COMBINED; and so on and so on for the other markets bulleted above. So if it feels like your Zillow or Redfin online searches aren't refreshing and/or showing you any new homes, it's because there are literally only a handful of new homes coming to market every week. And as discussed in THIS Weekly Market Update a couple weeks ago, the absence of exciting new inventory to bid on generally causes the overall median sale prices to fall or plateau out.
Summary
The NWMLS released their statistics for the November Puget Sound Housing market last week. Overall prices moved sideways, but that's only due to the lack of exciting new inventory. The real story is absorption rates and inventory levels. The City of Seattle is at their modern day all time record low, and we still have at least 30 days for buyers to buy up the remaining stock before sellers actually start coming back to the market in a meaningful way in the New Year, meaning it's likely we're not even at the bottom yet. The absorption rate in Seattle hit a recent record high of 69.79% on December 1. For context, on December 1, 2020 we were at an absorption rate of 47.70%, and on December 1, 2019 we were at 39.45%. Buyers are HUNGRY FOR HOUSING in Seattle, but to be fair, Seattle doesn't hold a candle when compared to the Eastside or North End. The absorption rate for Bellevue/Redmond/Kirkland is 84.39%, and for Everett/Marysville/Lake Stevens its at 87.48%. That means at current buyer activity, if there were no new listings, the Eastside housing market would run out of homes in 5.55 days, and the north end housing market would run out of homes for sale in 4.31 days. Not weeks. Not months. Days.
The takeaway: You already know. Despite housing prices themselves moving sideways, the market is highly HIGHLY competitive. Assuming interest rates don't skyrocket in the coming months or inventory doesn't explode in the New Year like it did in May of 2018, the NW Housing Market in poised for some pretty significant price leaps in 2022.
Interest Rates
Per Bankrate's survey of large lenders, the 30 year mortgage interest rate rose this past week to 3.24%, with .34 in discount and origination points.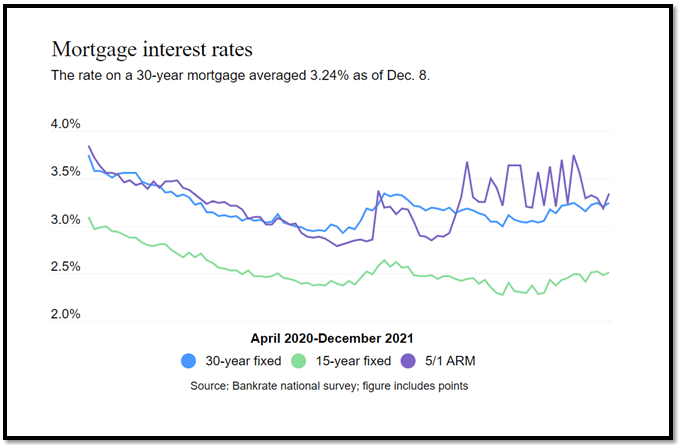 Kyle's Quick Take – Mortgage Market Week in Review
With Omicron fears subsiding, the mortgage bond market has started to shift its focus back to inflation. With inflation taking center-stage again, and Government reassurances that lockdowns are not in the foreseeable future, money is flowing back into the stock market at the mortgage market's expense, which has mortgage interest rates trending higher once again.
WHAT YOU NEED TO KNOW FOR WHERE RATES WILL GO:
Good Economic News or Inflation

= Bad for Mortgage Interest Rates.

Bad Economic News or Deflation

= Good for Mortgage Interest Rates.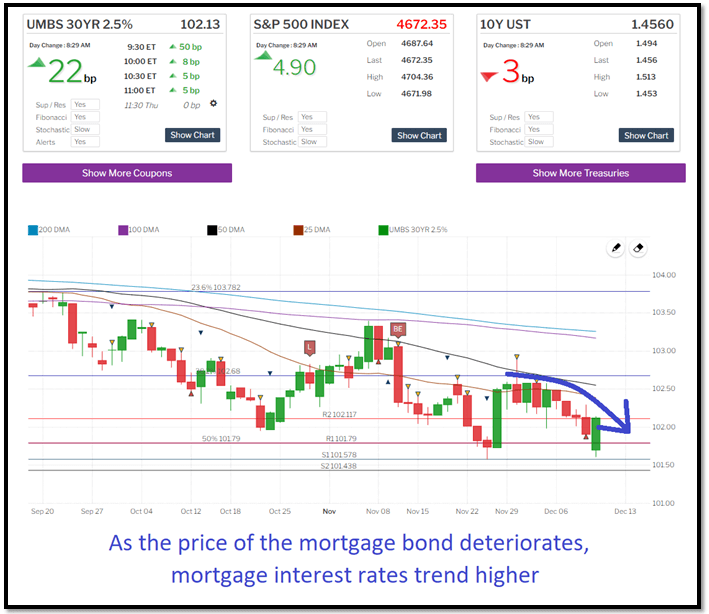 Puget Sound Real Estate: Charts and Data
A picture is worth a thousand words…
Absorption Rates per NWMLS Real Time Data
Absorption Rate is calculated as: (Pending Sales) / (Active + Pending Sales)
Residential in Seattle: 68.92%
Condos in Seattle: 39.87%
Residential in Bellevue/Redmond/Kirkland: 80.30%
Condos in Bellevue/Redmond/Kirkland: 81.37%
Residential in Everett/Marysville/Lake Stevens: 84.10%
Condos in Everett/Marysville/Lake Stevens: 81.74%
Residential in Tacoma/Lakewood/Federal Way: 64.17%
Condos in Tacoma/Lakewood/Federal Way: 67.80%