Your borrowers don't need to look far to find a local lender that offers both precision and speed.

As one of Colorado's top Mortgage Loan Originators, my team and I have extensive knowledge of the Colorado housing market as well as strong ties to real estate professionals throughout the state.
We have in-depth knowledge of a wide range of loan products as well as a streamlined process refined over many years of mortgage lending to make the entire process simple and quick for you and your clients.
Closings in as little as 16 days (Appraisal turn around times permitting)
Secure electronic document signing from almost anywhere
Proficient in numerous loan products including Down Payment Assistance, FHA, VA, USDA, and Bank Statement
Contact me and my team if you're experiencing difficulties with a slow lender or if your clients require customized mortgage solutions.


Nick Barta
Division President | Loan Originator
NMLS/MA MLO #25540

Cell: (303) 709-9625
Office: (303) 740-8300
Email: nbarta@securityff.com
Website: www.nickbarta.com





Making Home Loan Applications Simple

Borrowers can apply and prequalify for a home loan from anywhere using their computer or smartphone thanks to our quick and secure online application.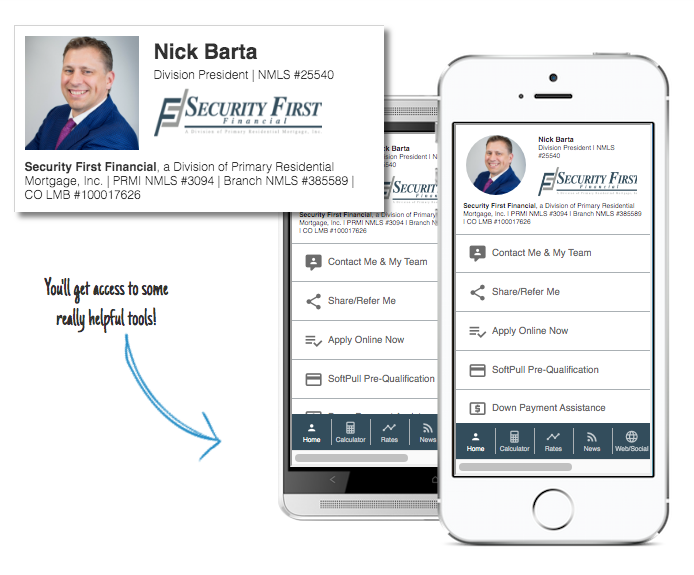 Download my new mobile business card app now to unlock helpful tools and to have instant access to me and my team...
Complimentary Marketing Tools for Real Estate Agents

ListReports® for Agents

Marketing materials for a wide range of properties can be created quickly and easily with the help of ListReports' advertising tactics and cutting edge technologies.

In addition, you'll get access to open house materials, fresh property websites, property reports, and more.

ListReports will lead you into the modern era of the house-hunting business by showcasing your most popular listings to potential consumers.


Homebot
Homebot is aware that a substantial amount of your new business originates from relationships you already have with homeowners. Every month, their automatic digests, which have an interaction rate of over 50%, offer a real-time wealth picture of the homes of your clients.

Help buyers learn about a variety of topics, including the state of the local market, comparisons between their preferred neighborhoods, options for short-term rentals, and much more.


MBS Highway Realtor
You'll be able to co-brand useful real estate reports, financial scenarios, graphs, and essential market data with MBS Highway Realtor.

Your client will appreciate this knowledge and it will help them see the advantages of buying a home. Custom co-branded marketing materials will help you strengthen your relationship with current clients and generate more revenue through word-of-mouth referrals.