Keeping It Local so You Close on Time
Your borrowers don't need to look far to find a lender that offers both precision and speed.
Our in-house processing means your loans stay local, and our branch is dedicated to giving your clients a quick close. No matter where you are in the loan process, we'll provide you with constant communication so you don't have to worry.
You'll be able to close on time and win with your clients.
Offering Smarter, Faster Financing for Your Buyers
Our online application lets borrowers apply for a home loan from anywhere using their computer or smartphone.
Fast
Applications are approved, processed and funded faster than ever.
Buyers can complete the mortgage application from a mobile device.
No scanning, faxing, emailing or running around.

Simple
Our straightforward online application walks your buyers through every step.
Regular updates keep buyers informed as the loan progresses.
They can click for help at any time.

Accurate
Bank and payroll records get pulled directly from your buyer's financial institution.
You can focus on only qualified buyers with proven income and assets.
Ironclad security ensures your buyers' personal information is protected.
Get your buyers approved and funded the smart way...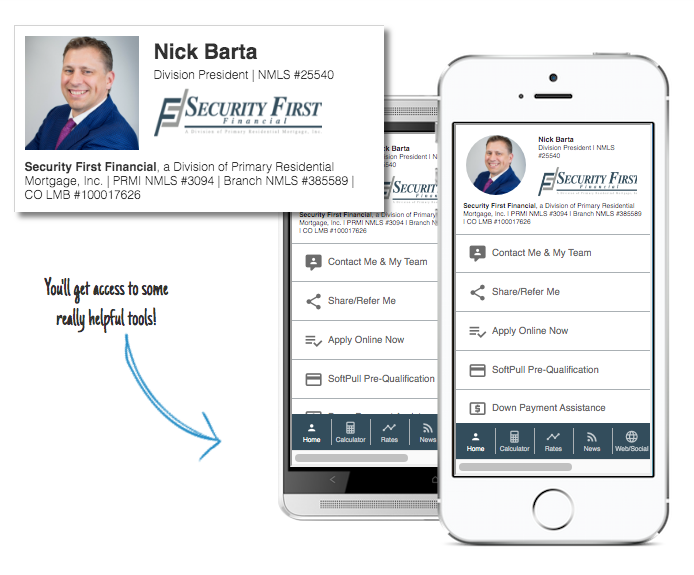 My new mobile business card app works like a digital business card and is a very easy way for you to pass on my information to your prospects and clients.
Once you download my app, I will turn you on as my co-branded partner so that when you open my app to share/refer me to your borrower, you will be top of mind and remain accessible to them anytime they go into my App.

In addition to it being very easy to refer me by touching "Share/Refer Me," it is also easy to connect with me and my team, share my application with your clients, and perform easy payment calculations with my powerful mortgage calculators, right from your mobile phone.
The best part is, I am notified immediately whenever you refer me by using my mobile app. This way I can quickly reach out to your referrals to introduce myself and my services.
Download my new mobile business card app now to unlock helpful tools and to have instant access to me and my team...