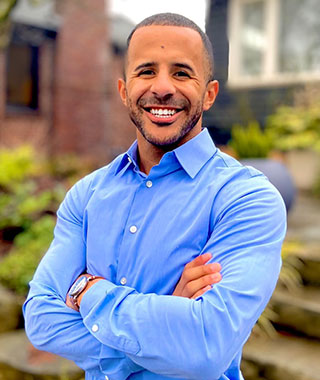 Hello! I'm Quincy Hawkins, the youngest of three boys and the proud son of two U.S. Air Force veterans. I grew up on military bases around the world, and I was raised by my parents to always be honest, have integrity in my word and respect others.
Over the past decade, I've been a leader in the construction and hospitality industries, and I've had the opportunity to live and work all over the country. I couldn't be happier to now be in the Pacific Northwest, helping build and diversify homeownership for people who share my commitment to creating wealth for all communities.
I bring my unique ethnic background, personal history and professional experience to every new relationship with homebuyers. I'll always be your champion and advocate, working with you to navigate the exciting road to homeownership. You have my word.
State Licenses:
NMLS # 2031919
Oregon - Oregon-Department of Consumer & Business Services Division of Finance and Corporate Securities, #ML-1729. Oregon-Departamento de Servicios para Consumidores y Negocios, División de Finanzas y Valores Corporativos, #ML-1729.