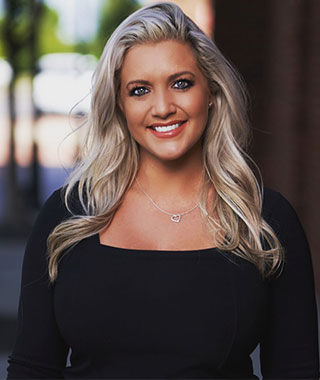 Senior Loan Officer and Loan Partner Michelle Wilson is a bright and positive member of the PRMI Hendersonville team. Michelle is a proud problem solver who works hard to find all the answers for her clients. She looks at her clients as friends and life-time contacts to serve.
Michelle was born in Merrillville, Indiana and grew up in Mississippi. She went to Mississippi State and Delta State University. She's been a Nashville resident since 2002.
In her free time Michelle loves being with her animals and traveling. One of her favorite things to do is go to football games with her family!
Fun Fact: She is a Christmas FANATIC! It's her favorite time of the year. The smells, colors, lights, hot cocoa - everything!
State Licenses:
NMLS # 1842170 // GA MLO # 72130
California - Licensed by the Department of Financial Protection and Innovation (DFPI) under the California Residential Mortgage Lending Act 4130403. A copy of our Privacy Policy and Notice is accessible by going to Primary Residential Mortgage's website and clicking on the "Privacy Policy" link located at the bottom of the page. https://www.primeres.com/privacy-policy Autorizado por el Departamento de Protección Financiera e Innovación (DFPI), bajo la Ley de Préstamos Hipotecarios Residenciales de California 4130403. Usted puede obtener una copia de nuestras Políticas de Privacidad y Avisos, si visita nuestra página de internet Primary Residencial Mortgage y abre el enlace que dice "Privacy Policy" y que se encuentra localizado en la parte baja de la página. https://www.primeres.com/privacy-policy
Florida - Florida Office of Financial Regulation MLD646. Oficina de Regulación Financiera de Florida MLD646.
Georgia - Georgia Residential Mortgage Licensee. Georgia Department of Banking and Finance 6521. Licenciatario de hipoteca residencial de Georgia. Departamento de Banca y Finanzas 6521
Kentucky - Kentucky-Department of Public Protection the Office of Financial Institutions, #MC23741. Kentucky-Departamento de Protección al Público, Oficina de Instituciones Financieras, #MC23741.
Louisiana - Louisiana-Office of Financial Institutions #771. Louisiana-Oficina de Instituciones Financieras #771 .
Mississippi - Mississippi Department of Banking and Consumer Finance, 3094. Departamento de Banca y Finanzas del Consumidor de Misisipi, 3094.
Tennessee - Tennessee-Department of Financial Institutions 109282. Tennessee-Departamento de Instituciones Financieras 109282.
Texas - This office is licensed and examined by the Office of Consumer Credit Commissioner of the State of Texas. Esta oficina está autorizada y es examinada por la Oficina del Comisionado de Crédito al Consumidor del Estado de Texas.