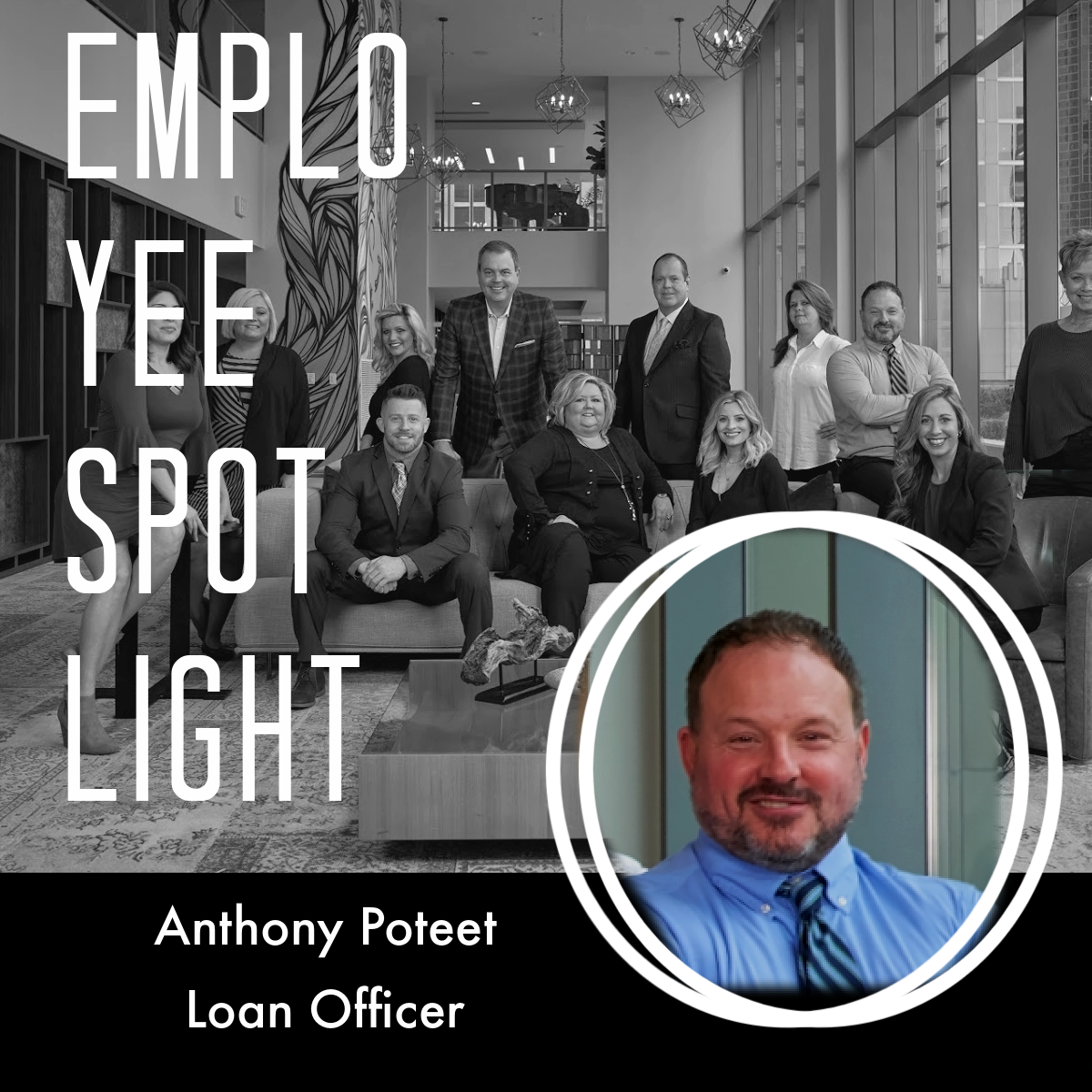 by: Hendersonville Branch
Q: Introduce yourself.
AP: I am Anthony Poteet and I have worked with PRMI almost 2 years now. I am a father of 4, a husband, and a dedicated advocate for foster families in our community.
Q: What role do you play in PRMI's office?
AP: I am a senior Loan Originator and all around "Class Clown".
Q: What 3 words would best describe your personality?
AP: Excellent question. Hmmmm, that is like asking a rainbow to pick its favorite color. Can't be done.
Q: What's your best personal trait?
AP: Honesty, I believe in complete up front discussions. I lay out all options and various roads that can be taken. Some of those may not even include something I can do, but it is simply the right thing to do for clients.
Q: What do you think is PRMI's most valuable service we provide?
AP: A top notch team. We have the experts on our team that know how to get things done correctly, and on time.
Q: What makes you stand out from our competition?
AP: Low pressure environment. I do not sell loans to people, I "Sell" service. I am looking to help people find a home, not sell them a mortgage. Anyone can close mortgages, but not everyone can ensure that the client has a low stress and friendly experience.
Q: What's your Hobbies and your favorite thing about your hobbies?
AP: I run a non profit in my free time, helping foster families in our communities. Seeing children be placed in stable environments with a chance to succeed is what makes my world go round. I also love to hike and just slow the world down a little.
Q: What makes PRMI your home?
AP: Having flexible options. I don't ever feel pressure to put the company above my family. That is very important to me.
Q: What is your favorite part of your day?
AP: Morning coffee. I love to get a little "Entry" time into my day getting started.
Q: Tell us your funniest/most embarrassing PRMI work moment.
AP: My first April 1 day working for PRMI, my boss told me I had a message from a Ronald asking about his loan. He gave me the number, I called it and it was Mcdonalds. RONALD MCDONALD. April fools!
Q: If you weren't working at PRMI, what would you be doing?
AP: I would be running my own business.
Q: Who is an inspiration to you?
AP: Bugs Bunny. He always seems to take high pressure situations and moves through them like a hot knife through butter. Never stressed out, never panics, never overreacts, just looks trouble in the eye, and says "What's up Doc?". What more could you ask for?
Q: If you could meet anyone in the world, who would it be?
AP: Hmmmmm, again excellent question, but I think I would want to hang out with Brad Pitt. I know, random.
Q: Guilty pleasure?
AP: Movies, I love watching movies and checking out for a while.
Q: Favorite thing to do while in Nashville?
AP: I love checking out local restaurants not chainy ones, the local off the beaten path dives.
Q: You have an unlimited budget and can live anywhere in the world – where would it be?
AP: Since I can live anywhere, I actually choose two places. First Choice, Tybee Island, Georgia. I love the beach, and I don't like touristy. My personality is calm, I like a calm beach, with few people, and a great view, Tybee is the best. Second Choice is Montana at the base of the Rockies. Wide open spaces, fresh air, clear skies. I may call out tomorrow and make a drive.
Q: Your favorite meal of all time?
AP: I am easy, give me a good pizza. I mean a real, 100% authentic, not made at Papa Johns pizza, either New York or Chicago pizza. Man, nothing compares.
Q: Favorite holiday?
AP: Valentine's Day and my kids Birthdays. I love pampering my wife and letting her know how important she is, and I love being able to provide for my kids.
Q: What makes a home to you?
AP: A sense of safety, stability, love, and compassion. When I walk through the door, I want to feel like I belong there. When I bought my home, I had lived in an apartment for 3 years prior. The first morning, I sat on the front porch drinking coffee, and I got up and started working the flower bed, I can still smell that day. It was perfect.