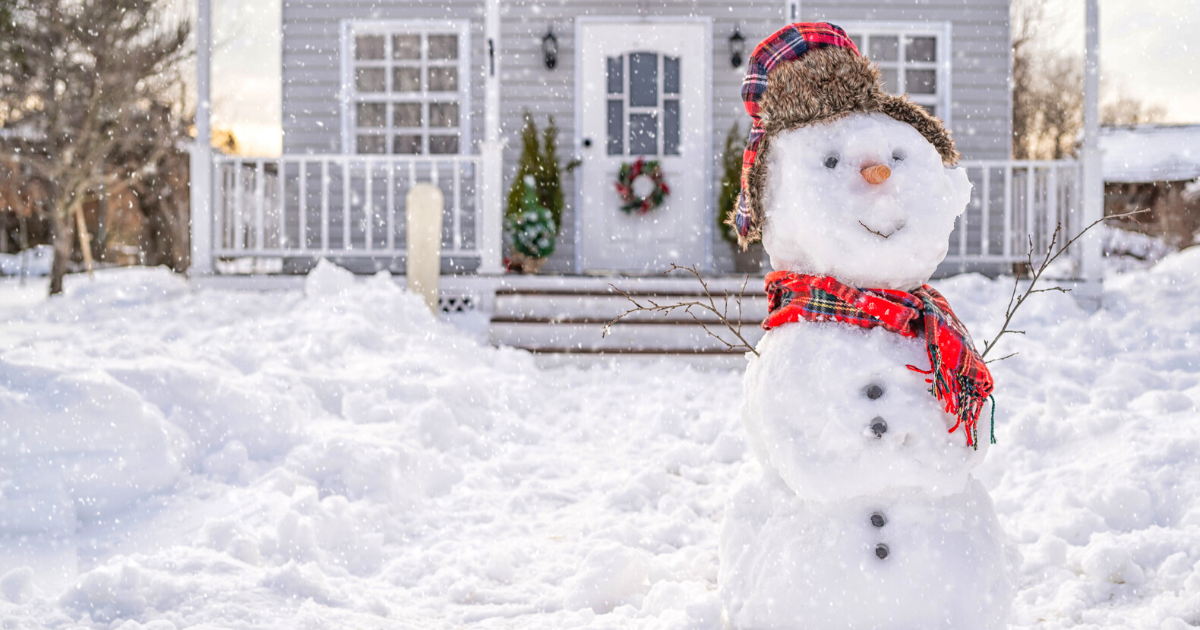 By: Security First Financial, A Division of Primary Residential Mortgage, Inc.
Selling during the winter is a great way to display your home to motivated buyers who have fewer options. Use these tips from Security First Financial to make your home more appealing to winter buyers.
Winter Curb Appeal
Keep driveways and walkways clear of snow to make your home feel inviting. Take extra care to make sure there's no ice where home shoppers might slip and fall.
Note: Don't use too much salt or it could get tracked through the house and stain your carpet.
While you're watching for ice, check your rain gutters for ice dams. Clear any that you see. Otherwise, snow, water and debris can accumulate in your gutters and cause them to get heavy and fall off the house. Full gutters also raise the likelihood of dangerous icicles forming.
If possible, show your home during the day so it will be brighter and warmer. If you're showing at night, make sure it is well lit (inside and out), and consider adding some festive holiday lights, if appropriate.
Welcome With Warmth
Consider keeping your house a bit warmer than usual during showings to compensate for the door opening and closing frequently. Buyers coming in from the cold will appreciate the warmth and comfort.
Keep It Clean and Cozy
Make sure your home is extra clean and cozy when potential buyers visit.
Clutter can accumulate quickly. Before any open house, do a quick pass to clear up any clutter, even if you deep cleaned recently.
Designate a space near the door for clearing off snow and ice from clothing. Include a place for people to take off their boots to avoid tracking winter sludge through the house.
And consider putting down washable rugs in high traffic areas so people can keep their shoes on while they explore the home
Light a candle or bake some cookies to ensure the place smells good.
Play soft music to mask white noise.
Show your home staged with furniture arranged for hosting a group of friends or family to ensure maximum coziness.
Winterize and Show the Prize
Be sure to winterize your home.
Shut off the water supply to any exterior plumbing or air conditioning features to avoid freezing damage that can cause leaks.
Use insulating foam to seal up any crevices that may allow for a draft.
Service your furnace and air conditioning units.
Brighten it Up
Brighter spaces feel warmer and more welcoming. Make sure your home is well lit and inviting. Add lamps or temporarily use higher wattage light bulbs. Avoid blue or pale lights with cool tones. Opt for white, yellow or orange lights to increase the warm tone.
Lean Into Your Online Listing
While foot traffic at an open house may be reduced by winter temperatures, people will browse online listings all year round. Use that to your advantage. Work with your agent to create the best listing possible.
Use well lit, high-resolution photos of your home in your listing.
Make sure to include multiple photos of kitchens and bathrooms, and showcase appliances if they are newer.
Mention energy-efficient home features in your listing. (Ex. solar panels, thermal-pane windows or a smart thermostat)
If possible, include exterior photos of your home in warmer months.
Use a wider angle to make the spaces look larger and more open in photos.
We wish you well in your efforts to sell your home. If you'll be purchasing a new home, we're happy to help with all your financing needs.
Contact your local Security First Financial Loan Officer today about all your financing options.
---
Original blog post by Primary Residential Mortgage, Inc.:
https://www.primeres.com/about/blog/article/2021/01/11/tips-for-selling-your-home-in-the--winter