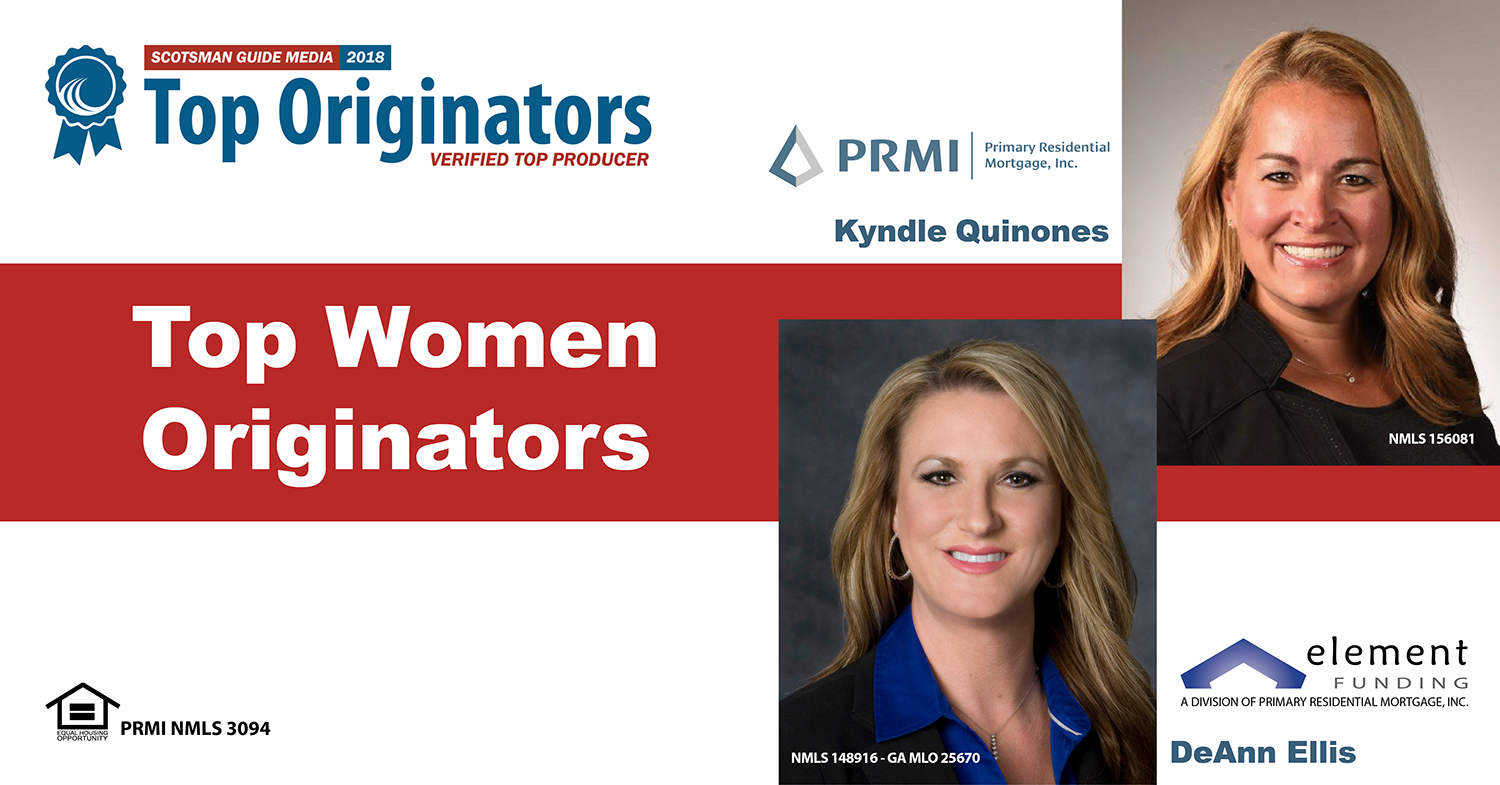 By: Primary Residential Mortgage, Inc.
Scotsman Guide Recognizes Top Women Originators in 2018
PRMI proudly recognizes two originators who received this unique award
SALT LAKE CITY – May 14, 2019 – Primary Residential Mortgage, Inc. is proud to have two of its female Loan Originators, DeAnn Ellis (NMLS #148916 MLO #25670) and Branch Manager, Kyndle Quinones (NMLS #156081), recognized among Scotsman Guide's Top Women Originators in 2018.
PRMI proudly recognizes two originators who received this unique award
Scotsman Guide recognized the small percentage of women originators in the mortgage industry and decided it was time for them to be awarded for their diligent work. "A 2017 snapshot showed that 61 percent of mortgage originators were men, while 39 percent were women," said Scotsman Guide. "These women are proving to be champions of the mortgage industry."
"I'm thrilled to see Scotsman Guide's inaugural recognition of women," said PRMI President of Retail, Chris Jones. "We have an incredible force of women on our team and I'm excited that Kyndle and DeAnn are being recognized for their contribution to our company and their dedication to delivering an incredible mortgage experience to their clients."
Ellis is a member of the Newton County Chamber of Commerce, East Metro Women's Council of Realtors® and the East Metro Board of Realtors® where she serves on various committees. She is also a member of Walton/Barrow Board of Realtors, Walton/Barrow Chamber of Commerce, and NAMAR (Northeast Atlanta Metro Association of Realtors).
Quinones has been a member of the PRMI Chairman's Club since she started with the company in 2016, was voted #1 Originator in the Mid Atlantic Division in 2017 & 2018 and was the #2 branch manager nationally for PRMI in 2018.
Licensed by the Delaware State Bank Commissioner to engage in business in Delaware 5644 expires on 12/31/2019. DC-Department of Insurance, Securities and Banking Department MLB3094. Florida Office of Financial Regulation MLD646. Maryland Department of Labor, Licensing and Regulation Commissioner of Financial Regulation #5511. Licensed by the Massachusetts Division of Banks as a Broker and Lender as #MC3094. Pennsylvania Department of Banking 23206. VA-Bureau of Financial Institutions: MC-2248 Broker MC-2248 NMLS # 3094 (http://nmlsconsumeraccess.org). Georgia Residential Mortgage Licensee. Georgia Department of Banking and Finance 6521.