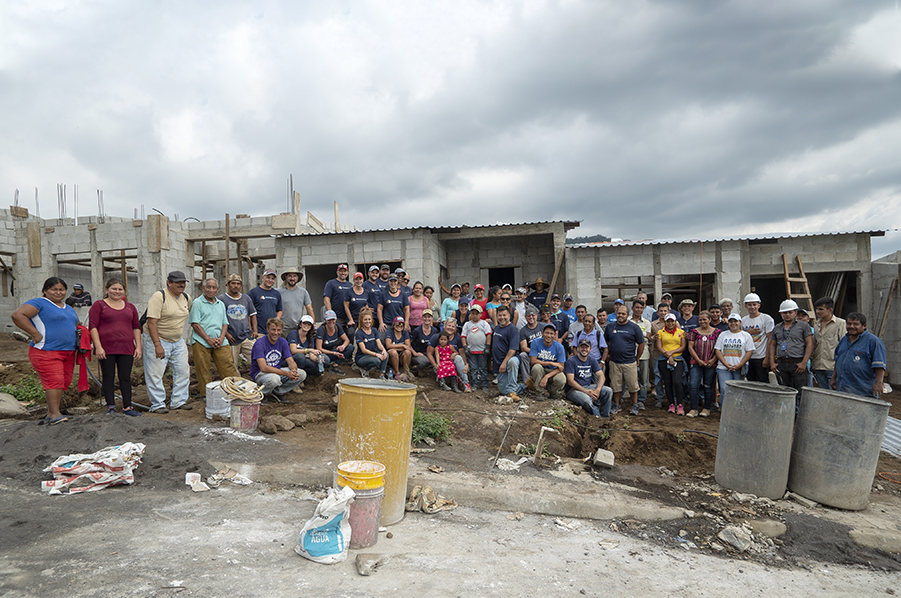 By: Primary Residential Mortgage, Inc.
At Primary Residential Mortgage, we know the importance of contributing to our communities in a way that will help them thrive, which is why we look for opportunities to serve our neighbors through PRMI Giving Network. As part of our commitment to improving communities near and far, we host an annual international humanitarian trip for PRMI employees and friends. This year, we had the privilege to visit the beautiful country of Guatemala for the second time.
The Work
In partnership with Habitat for Humanity Guatemala, PRMI's dedicated group of volunteers joined together with Habitat's team, local masons and survivors of the recent Volcan de Fuego eruption to help build new homes in Palin, Esquintla to replace those that were so tragically lost. For one special week, this group of mortgage professionals and their close friends and families traded desks and computers for gloves and shovels. Moving mountains of cinder block and earth, the PRMI volunteers worked side-by-side with their new Guatemalan friends, building homes and literally laying the foundation for a new community built out of love and support.
The Eruption
The volcano that erupted in June 2018 was a horrific tragedy that made headlines across the world. Hundreds of people lost their lives and thousands more were displaced. The scene that took place on that afternoon was something that many will never forget. Mountains of ash and pyroclastic flow came barreling towards the small town of San Miguel Los Lotes, leaving many without the chance to flee. It's estimated that the wave of debris was traveling at speeds close to 100 MPH and reached temperatures of over 800 degrees.
The Families
The stories shared with us by the survivors turned our hearts toward the affected population and changed our perspectives on our own lives and trials. Originally, the town was established by people looking to make a living by mining sand from the nearby hillsides. Even up until the disaster, most families lived at or below the poverty line. There were children, mothers, fathers, grandparents, cousins and siblings, many of whom sacrificed their own lives in order to save the lives of those they love. Each and every person in the tight-knit community had their lives changed forever that day.
The Aftermath
Once the disaster occurred, the world jumped into action offering help. Organizations flooded in from near and far. People came to the aid of those in need and helped with the immediate aftermath. As time has passed, the response both nationally and internationally has begun to wane, but Habitat for Humanity Guatemala continues working to find a sustainable solution for at least some of the survivors. In a community called "Valle de Las Flores" in Palin, Esquintla, Guatemala, 24 families will receive a seed of hope in the form of a new house for themselves and their surviving family members. This new community offers them a chance to rebuild and heal. In the words of Bernardo, a local and survivor, "The new home offers a chance at a new beginning and an opportunity to begin to find a new normalcy."
The Future
At the helm of this disaster relief initiative is Michael Estill, a Habitat Guatemala employee, who is helping this community rise again, and leading hard working teams toward the goal of completing at least half of the homes by Christmas Day 2018. The communities impacted by this volcano are still struggling and in need of assistance. We invite anyone willing to help to make a contribution through a reputable organization such as Habitat for Humanity Guatemala. If you are looking for opportunities closer to home, feel free to reach out to PRMI Giving Network for help identifying those in need in your own communities.